Erik Karlsson aims to become first defenceman since Orr to receive Ted Lindsay Award
The native of Landsbro, Sweden, led all defencemen with 25 goals and 76 assists for 101 points.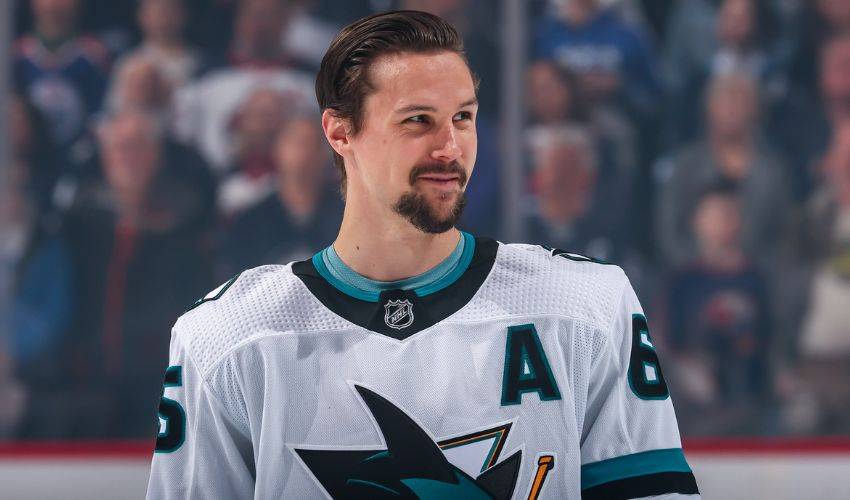 Feature photo: Getty Images
---
For Erik Karlsson, being on the shortlist for hockey's most coveted individual award is a big deal.
Over an NHL career that includes two Norris trophies, four NHL First All-Star Team nods and 761 points in 920 regular-season games, the San Jose Sharks' star blueliner has long since established himself as one of the top defencemen in the league.
One of his most treasured hockey moments came this May when he was named as one of the three finalists for the Ted Lindsay Award, the honour presented annually "to the most outstanding player in the NHL," as voted by fellow members of the NHLPA.
"I've been in this league for 14 years now and this is the first time I've been in the top three for the Ted Lindsay," said Karlsson, who is joined by fellow first-time finalist, David Pastrnak, and Connor McDavid – a three-time TLA recipient. "So, to be in this position, where teammates and the opponents you play against and battle against every day vote for you, I think that is what means the most to me. I'm very happy about it and it makes me feel really good."
Karlsson played in all 82 games for the Sharks during the 2022-23 regular season. The native of Landsbro, Sweden, led all defencemen with 25 goals and 76 assists for 101 points, becoming the first Swedish-born defenceman and only the sixth different defenceman in NHL history to reach the 100-point mark.
He established personal bests in goals, assists and points, which placed him 11th in league scoring. Karlsson's 76 assists were good for a share of third among all skaters and matched the points output of the next highest-scoring defenceman. He also led all defencemen in even-strength points (74) and even-strength goals (20). Karlsson skated in the second-most total minutes of ice time (2,100:26) among all NHL skaters.
The 33-year-old will look to become just the second defenceman (Bobby Orr, 1974-75) to receive the TLA.
"I felt good right from the beginning of the season. My body felt good, and my mind was in a good place. I knew that motivation was going to be the most important thing for me. I play this game to do what Vegas recently did. When you know that isn't going to be the case, it's hard sometimes. I found ways to keep myself motivated and reasons to play hard. Everyone on our team did a great job of that, to find ways to come to the rink every day and give their best, to play for another and go out and compete. It wasn't just myself."
Another reason for his big season, noted Karlsson, is where he finds himself in his life outside hockey.
He and his wife, Melinda, are proud parents to daughter, Harlow, and son, Stellan, and they are making the most of family time.
"That's a big part of it [success on the ice]. Outside of hockey, I'm in a good stage in my life. My kids are healthy, and they are growing and we are enjoying our time as a family. Everyone is happy around me, which takes a lot of stress away. My wife has done a tremendous job in letting me focus as much as I can on my career, which allows me to put in the time that's required to play at the level I want to. She takes on a lot of responsibility at home for a big part of the year. The connection between my professional and personal life is at a very good point. I can thank my wife, my teammates and my coaches for making it that way."
Before the start of the 2023-24 NHL season, Karlsson will take two trips, one with Melinda, the other a family vacation to Europe.
"Melinda and I are going to Nashville with some friends, kind of an adult getaway, so that will be nice. We are all going to go together to Sweden for a bit, which will be nice too, a chance to visit my family and friends back home. Other than that, it will be starting to prepare again for another season."
Karlsson – who is also a finalist for the Norris Trophy – will learn if he is the recipient of the 2022-23 TLA on June 26 at the NHL Awards in Nashville.
More on this year's TLA finalists and the history of the award here.