Ted Lindsay Award finalist Connor McDavid earns praise from teammates for leadership on and off the ice
The 2022-23 TLA recipient will be announced June 26 at the NHL Awards in Nashville.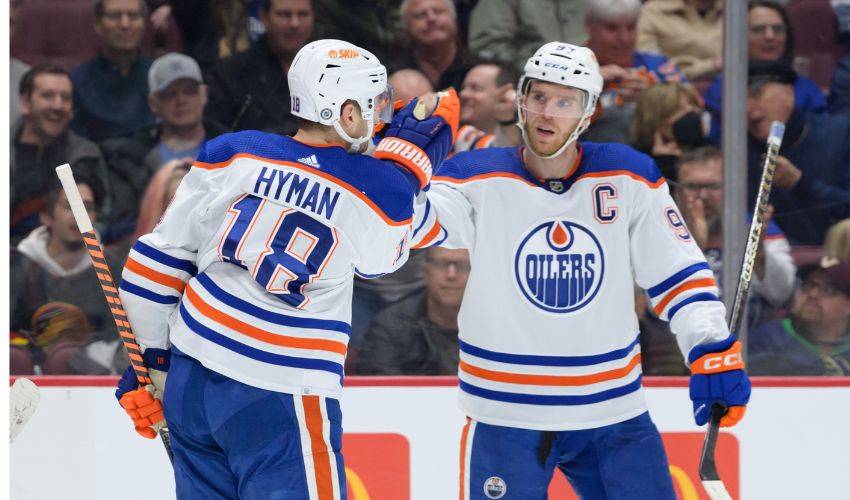 Feature photo: Getty Images
---
Zach Hyman and Darnell Nurse's praise for fellow Edmonton Oilers teammate and 2022-23 Ted Lindsay Award finalist, Connor McDavid, extends well beyond his superlative statistics and on-ice mastery.
It would be understandable if Hyman, who spent time throughout the season playing alongside one of the game's most elite stars, focused on the career-best numbers the 26-year-old McDavid posted.
But the greatness of No. 97, according to Hyman, extends far beyond what shows up on the stats page.
"He's always encouraging his teammates on and off the ice," said Hyman, who had his best offensive NHL season to date, including 36 goals, in 2022-23. "He is the ultimate captain."
McDavid is also the ultimate difference maker.
Skating in all 82 regular-season games with Edmonton, the centre helped lead the team to a second-place finish in the Pacific Division.
Netting his fifth Art Ross Trophy courtesy of the 153 points he tallied, the first overall pick at the 2015 NHL Draft became just the sixth player in NHL history to record 150 points in a single season. He added his first Maurice "Rocket" Richard Trophy to his growing list of achievements after topping the charts with 64 goals.
McDavid also topped the league in power-play points (71) and ice time per game among forwards (22:23). He tied for first in primary assists (60), and was third in shots (352), even-strength goals (39) and even-strength points (75).
"Obviously, his talent is second to none," said Hyman. "He led the league in goals, assists and points, but his ability to push himself every year to be better is what continues to separate him from everyone else."
If he were to receive the TLA again at this year's 2023 NHL Awards on June 26, McDavid would find himself in rather select company, alongside two of the greatest players to have ever skated in the NHL.
With a hat trick of TLA trophies (2016-17, 2017-18, 2020-21) already to his name, the six-time finalist would become only the third player to receive the award four or more times, joining legends Wayne Gretzky (five-time recipient) and Mario Lemieux (four-time recipient).
Achieving that status would hardly come as a surprise to Hyman.
In fact, it would be quite fitting, according to the winger, who joined the Oilers as a free agent in July 2021.
"Connor has an elite drive and a work ethic that is unmatched."
Just as important, said Hyman, is McDavid's standing as a trusted and respected leader.
"He makes everyone feel comfortable whether you're a rookie or a hall of fame vet."
A sentiment echoed by teammate and defenceman, Darnell Nurse, who has played all 559 of his NHL regular-season games with Edmonton.
"His leadership starts with his ability to lead by example and be the best player on the ice," praised Nurse. "He brings an infectious work ethic to the gym as well. He also has a great feel for the room and teammates. He knows when to be vocal, support and push teammates to achieve more."
And someone who is the ideal competition to face during practices.
Nurse, a finalist for this year's King Clancy Award, appreciates any opportunity to go up against McDavid in morning skates.
Win or lose, the blueliner views those moments as a win-win for himself.
"Going up against him in practice makes you bring your best each and every day. His work ethic in practice sets the example for the team daily and he is always pushing the team to practice at its full potential. As a teammate, it's a great advantage because you know those days are going to push you to be better prepared for each game."
Asked for final thoughts on the player who was named the youngest captain in NHL history on October 5, 2016, Nurse pointed to McDavid's team-first mentality and unwavering pursuit of excellence.
"Connor's care for the team and doing whatever it takes to win makes him a great teammate to be around each day."
The 2022-23 TLA recipient will be announced June 26 at the NHL Awards in Nashville. McDavid has been named a finalist alongside Erik Karlsson of the San Jose Sharks and David Pastrnak of the Boston Bruins.
More on this year's TLA finalists and the history of the award here.