Kraft Hockeyville's NHL preseason matchups announced for 2022 and 2023 winning communities
Games are set to take place in Sydney, Nova Scotia and West Lorne, Ontario.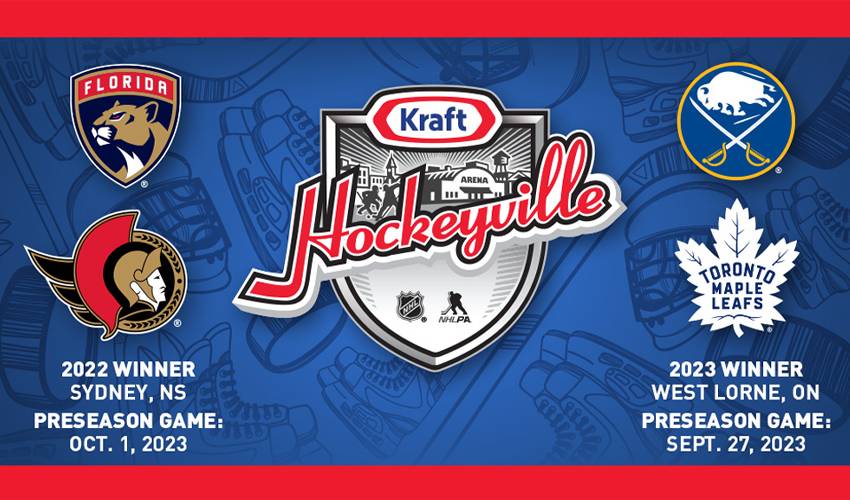 ---
KRAFT HOCKEYVILLE'S NHL PRESEASON MATCHUPS ANNOUNCED FOR 2022 AND 2023 WINNING COMMUNITIES
Kraft Hockeyville 2022 winner Sydney, Nova Scotia, matchup to feature the Florida Panthers and Ottawa Senators; Kraft Hockeyville 2023 winner West Lorne, Ontario, matchup to feature the Buffalo Sabres and Toronto Maple Leafs
TORONTO, ON (June 21, 2023) – Today, Kraft Heinz, in partnership with the National Hockey League (NHL®) and the National Hockey League Players' Association (NHLPA) announced their official 2023 NHL preseason matchups celebrating Kraft Hockeyville 2022 and 2023 winning communities. The Buffalo Sabres and Toronto Maple Leafs will face off on Wednesday, September 27, 2023 at Joe Thornton Community Centre in St. Thomas, Ontario, and the Florida Panthers and Ottawa Senators will face off on Sunday, October 1, 2023 at Centre 200 in Sydney, Nova Scotia.
"Over the past 17 years, Kraft Hockeyville continues to make an impact by uniting communities through the love of the game and helping to make the sport more accessible and inclusive for all," said Adam Butler, President, Kraft Heinz Canada. "Our partnership with the NHL and NHLPA makes it possible to celebrate these deserving communities by bringing preseason games to sport fans and to further ignite the passion of local fans and players. We look forward to seeing that excitement again this fall in Sydney and West Lorne."
In addition to their NHL® preseason game, each community received $250,000 in arena upgrades. The NHLPA Goals & Dreams fund also donated $10,000 worth of youth hockey equipment to the winners. While both Kraft Hockeyville games will be played in nearby facilities due to logistical requirements, the Canada Games Complex in Sydney, Nova Scotia and the West Lorne Arena in West Lorne, Ontario will be the beneficiaries of the grand prize arena upgrades.
"Our organization is thrilled to visit Nova Scotia this fall to bring an exciting preseason matchup to the passionate fans in the Sydney community," said Florida Panthers General Manager Bill Zito. "The Kraft Hockeyville program does a great deal of good for the growth of our game across North America and we are honored and excited to participate and get the chance to spend some time with the avid hockey fans at Centre 200."
"We are thrilled to participate in the Kraft Hockeyville preseason game as part of West Lorne, Ontario winning Kraft Hockeyville 2023," said Buffalo Sabres General Manager Kevyn Adams. "This is a fantastic opportunity for our organization to compete in a unique environment that is dedicated to strengthening communities and fostering inclusivity in our sport through the community's passion for hockey. It is an embodiment of our organizational dedication to the future of the sport and the fans who care deeply about the game."
"Hockey fans on the east coast love the game and their hospitality is second to none," said Ottawa Senators General Manager Pierre Dorion. "The Senators have been lucky enough to take part in Hockeyville before and I can't say enough about how important the opportunity of showcasing the NHL and leaving a lasting legacy piece in the community is for us. Our players are excited to have the chance to engage with the fans in Sydney when we take on the Panthers."
"Kraft Hockeyville provides us an exciting opportunity to bring the Maple Leafs closer to fans in smaller communities, who might not otherwise have the chance to see the team up close," said Toronto Maple Leafs General Manager Brad Treliving. "We're very much looking forward to participating in Kraft Hockeyville to give back to so many fans who have helped make this game what it is today."
The details of these games, including broadcast timing, are currently being finalized and will be announced at a later date, along with other important community event details.
For complete program details, please visit krafthockeyville.ca.