David Pastrnak feels honoured by Ted Lindsay Award nod
The native of Havirov, Czechia, scored 61 goals, 52 assists and 113 points during the 2022-23 NHL season, all career-best totals.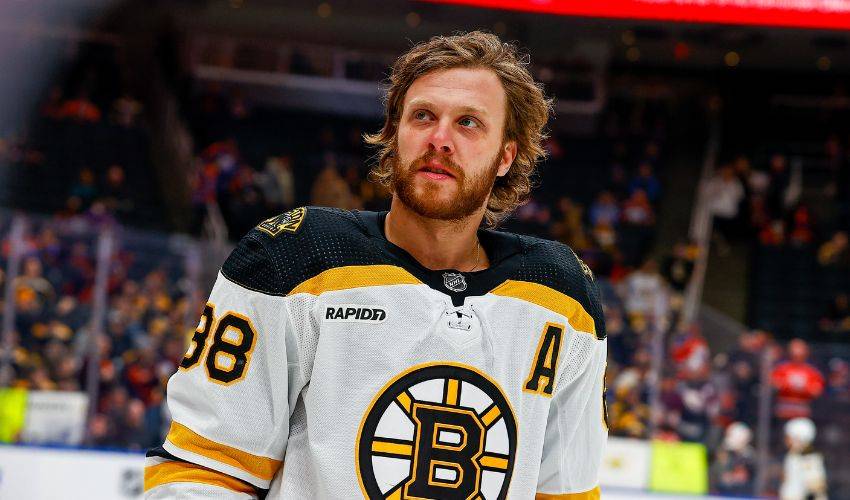 Feature photo: Getty Images
---
David Pastrnak was taken aback when he received the news he was one of three finalists for hockey's most coveted individual honour.
Given all that he achieved during a remarkable 2022-23 NHL regular-season campaign, finding out he was on the shortlist for the Ted Lindsay Award, the only award voted on by the players themselves, likely should not have come as a shock to the Boston Bruins forward.
"I'm not going to lie," started Pastrnak. "It was a bit surprising to even be in the top three, so I'm very honoured and appreciative to be recognized in this way. I'm in some unbelievable company when you look at the seasons that [fellow nominees] Erik [Karlsson] and Connor [McDavid] had. It's amazing and it's a great honour. I'm lucky and happy to be part of it. To be with those two guys is a huge honour."
The 27-year-old winger no doubt earned his status as a TLA finalist.
Pastrnak skated in all 82 regular-season games for the Bruins and helped the club set a new NHL record with 65 regular-season wins and 135 points. The native of Havirov, Czechia, scored 61 goals, 52 assists and 113 points, all career-best totals.
Pastrnak is only the second Czech-born player (Jaromir Jagr, 1995-96) in NHL history to hit the 60-goal mark. He tied for third in league scoring and placed second in goals. He topped all players in shots (407), game-winning goals (13), and he tied for first in overtime goals (4) – all career highs.
His impressive stats do not end there.
As a first-time TLA finalist and the first Bruins finalist in 20 years (Joe Thornton, 2002-03), Pastrnak would be only the third different Bruins player (Esposito, 1970-71, 1973-74; Bobby Orr, 1974-75) to receive the award.
"Everyone in hockey plays a different role, but every one of those roles is important. You can't do anything without their support, so I want to give a big thanks to my linemates and all of my teammates. The hockey community is very special and your teammates are like your second family. The guys are a big part of the season that I was lucky to have. I can't thank them enough."
Pastrnak, selected 25th overall by the Bruins in the 2014 NHL Draft, is also thankful to be in a position to be a role model for young players in his home country.
The TLA news prompted recollections of the path he took from Europe to the NHL stage.
"I'm very proud of where I come from and it's one of the main things I will never forget, what it took to get here and to play at this level. Czech Republic is where I grew up and where I took my first steps towards playing in the NHL. I will never forget that, and it means a lot to represent my country."
Pastrnak is thrilled to see fellow Czech-born skaters making an impact on NHL ice.
"We have a lot of young guys who are working toward their goal of making the NHL and it's nice to see. You look at Marty Necas on Carolina and Filip Chytil on the Rangers, [Vitek] Vanecek in New Jersey … you can see these guys finding their place on their team and doing really well. I'm really excited for them."
He is also excited about the stage he is at in his NHL life.
With nearly 600 regular-season games played, Pastrnak is now nine years removed from his 2014-15 rookie campaign.
He has happily embraced his veteran status.
"I just signed a new contract for eight years and it feels like yesterday that I signed a six-year contract. I'm 27, so I'm not the young kid in the locker room anymore and I'm being looked at in a different way now. It does fly by fast. I'm getting older, but I'm also getting more experience. It's cool as a player to be in that position. I've had great leaders to learn from my entire NHL career. At the same time, I feel like I can be looked at in that way. I learned from Patrice Bergeron, Zdeno Chara, David Krejci, Tuukka Rask, so I have to give a big thanks to those guys. They didn't only help me as a player but also as a human being."
Life, on and off the ice, said Pastrnak, has never been better.
Less than a week ago, he and his wife, Rebecca, welcomed a baby daughter, Freya Ivy.
"I love being a dad and enjoying those long days. Time is already flying by fast, but I don't like to waste time. I want to enjoy every moment. Everyone knows I like to be positive and a happy person, and she is definitely keeping me this way."