Nick Cousins on the Panthers' Cinderella run to the Stanley Cup Final
Whether it is players in lead roles or supporting ones, Cousins points to every player on the roster as having an impact on the team's fortunes.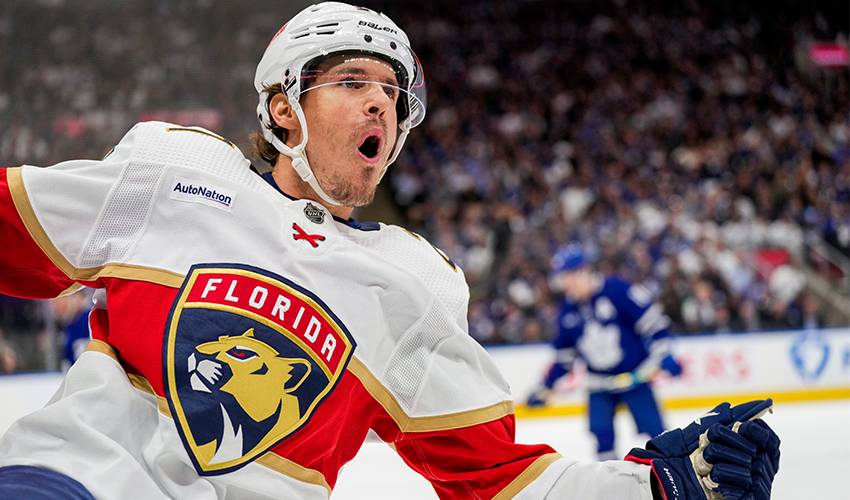 Feature photo: Getty Images
---
Nick Cousins has not quite been able to wrap his head around the thought of playing in the Stanley Cup Final.
Heading home from practice, the Florida Panthers forward, who has played in over 500 NHL games, once again pondered the reality of being one step away from winning hockey's most coveted trophy.
While he was not at a loss for words, the 29-year-old admitted that the enormity of the opportunity awaiting him and the Panthers is difficult to comprehend.
"I don't think it's sunk in yet, and I don't think it will until Game 1," Cousins told NHLPA.com. "Right now, as a team, we're just trying to rest and recover from the last series. … We're happy to have some more rest ahead of the final."
What appeared to be nearly a lost season ended with the Panthers squeaking into the playoffs, the result of the team playing some of their best hockey down the stretch.
Matched up against the Boston Bruins in the First Round, an opponent who had set the record for most regular-season wins and points in NHL history, Florida was certainly not favoured for postseason success.
"It seems like a Hollywood script. Going back to the season, when you remember how things played out, we had some tough injuries and a tough schedule going back to December and January. We finally got healthy towards the end of the season. We were probably playing or best hockey the last two weeks of the regular season. We were finding out what makes us successful as a team. Going into the playoffs, falling behind 3-1 to Boston, a lot of people probably wrote us off, but we won Game 7 in overtime and carried that momentum right through the Toronto and Carolina series. And here we are now. It's been a crazy couple of months."
Cousins, who scored the series-winner in overtime against the Maple Leafs in the Second Round, is one of the numerous players who have contributed significantly to the Panthers' unlikely Cup run.
Whether it is those players in lead roles or supporting ones, Cousins points to every player on the roster as having a major impact on the team's fortunes.
"It shows the character we have in our room, the resiliency that we've shown all year. We had [goaltender] Alex Lyon come in and give us stability when Bob [Sergei Bobrovsky] got hurt. All the credit to Alex. He kind of saved our season, if you will. Bob got healthy and ever since that Boston series, he's carried the load and he's been so solid back there, giving us a chance to win every night.
"The whole team has elevated its game. Bob is probably playing the best hockey of his career. He solidifies us back there. If there's a breakdown, he's back there to make that big save and keep the momentum going for us. It gives the team such a huge boost. We just have to make sure we keep it going. We really want this one."
For his part, Cousins – who was drafted by the Philadelphia Flyers in the third round in 2011 and has played on six teams throughout his NHL life – has teamed up with Matthew Tkachuk and Sam Bennett to create one of the most potent forward lines this postseason.
The native of Belleville, Ontario, has rave reviews for his linemates.
"Those two have really helped my game. They are both talented players who have elevated their game in the playoffs. When you look at what Tkachuk has done in the playoffs, he's been a big-game player. It seems like any time we need a momentum change, whether that's a hit or a goal, he's there for us. When you look at Bennett, his track record shows how great he is in the playoffs. I really enjoy playing with those guys and I think we've shown some good chemistry and created an identity as a line. We all want to keep things rolling."
Ahead of Florida's date with the Vegas Golden Knights in the Stanley Cup Final, Cousins' time has been filled between on-ice and off-ice preparations, along with spending as much quality time as he can with his wife, Nina, and their two-year-old daughter, Harpur Ryann.
"It's so hard this time of year, but when I come home from the rink, I try and keep my mind off the game as much as possible, but as soon as I head to the rink, I flip that switch and I'm completely dialled in. Having a daughter now, when you come home from the rink and have her to play with it puts things into perspective. It's nice to have her and my wife to come home to."
He will also have some familiar faces in the crowd for the Panthers' home games.
Cousins is hoping they get to see a storybook ending to Florida's Cinderella season.
"They're all pumped to get down to Florida. It's as exciting for them as it is for me. They've obviously been following it really closely throughout the playoffs and it's nice to have them along to share that experience with me."