Mike Matheson helps Montreal-area youth remain active this offseason
Matheson advocates for the Champions For Life Foundation's message, which focuses on teaching kids about developing physical literacy.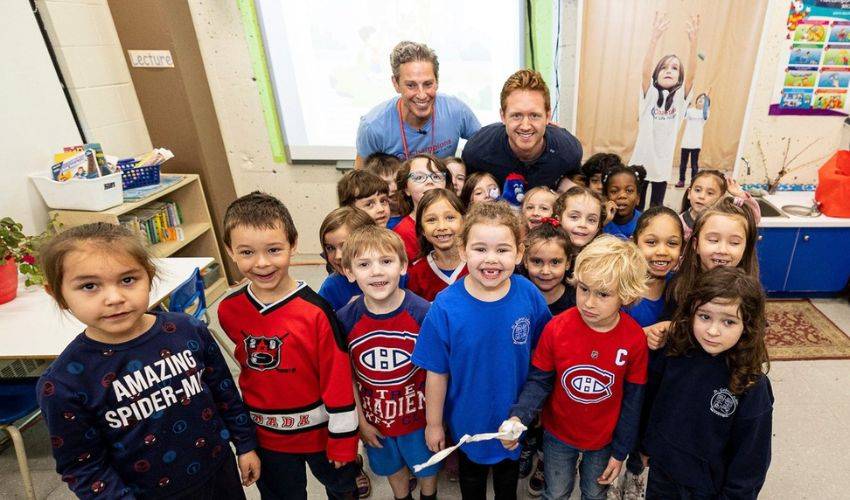 Feature Photo: IG / @canadiensmtl
---
It was a raucous and appreciative crowd that greeted Montreal Canadiens defenceman, Mike Matheson, during his recent visit to St. Gabriel Elementary School in Pointe-Saint-Charles, Quebec. The 29-year-old blueliner was visiting as a Champions for Life Foundation ambassador, educating students about the importance of staying active.
Chants of "Go Habs Go!" rang out the moment he walked through the gymnasium doors.
"It was really cool," said Matheson, of his visit to the Quebec school. "It was a lot of fun to see the kids and speak with them. Growing up in Montreal, I idolized the Canadiens. You can see what the Canadiens mean to the people here. That is hard to find elsewhere. It's so much more elevated in that sense, to see the passion people have for the team and what the team means to the city. … To get out into the community and connect with the fans, young kids, it's very important."
Matheson, who came to his hometown team via trade last July, advocates for the Champions For Life Foundation's message, which focuses on teaching kids about developing physical literacy.
Founded in 2016, the foundation is the brainchild of David Atheson – a familiar face to Matheson.
"David used to be my first trainer, who I would train with in the offseason in Montreal, up until my draft year. He ended up switching paths and I've always stayed in touch with him. This is the focus he has right now, and he asked me to be part of it. I thought it was amazing, and so we were able to get together for this event through the foundation, which is partnered with the Montreal Canadiens' Foundation."
Although he was admittedly nervous to speak in front of the large group, Matheson, who signed autographs and answered questions, felt it was important to share the message of maintaining a healthy and active lifestyle.
"It's different now with technology, which has had a lot of positive impacts in terms of being able to do things we weren't able to before, but at the same time, you add in the pandemic, that it's easier to stay home and work, and not be as active. I worry that we're shifting towards a society where staying stagnant is going to be the norm, and moving around, getting exercise and staying active is going to go by the wayside if we don't focus on it."
Matheson, married to former collegiate and international standout, Emily Pfalzer Matheson, is living up to his words on the home front.
The couple, who are having an offseason home built in Buffalo this summer, have made outdoor life a staple for themselves and their young son, Hudson.
"There is nothing that makes my son happier than being outside. That's all he wants to do. He's not even two yet, but he wants to play hockey, swinging the baseball bat off a tee that we bring with us. … All he wants to do is play outside and as a parent, I think it's important for me to emphasize that, to make things as fun as possible for him."
Just like Matheson's parents did during his formative years.
"Now that we have our own kid, you see the world from a different perspective. Growing up, we were outside playing all day long, and you had to be home when the streetlights came on. That was the rule you had. I look back on my childhood with so many great memories and so many of them are being outside playing and having fun."
The Mathesons are also looking to add some more family memories during the summer.
While getting back into the playoffs is the game plan for Matheson and his Montreal teammates, he is making the most out of the current scenario.
"This is a time for all of us to spend as much time together as we can. During the season, you don't have that time. And I'm not complaining because I am the luckiest person in the world to be able to play the game I love. But to be able to wake up, have breakfast with my son and wife, it's something you really appreciate. This is the point in the year where all of us, Emily, Hudson and our dog, get to enjoy our time together."