Kiefer Sherwood credits Kariya's lasting impact, while looking to set an example with his own career
Sherwood signed a one-year contract with the Nashville Predators in April.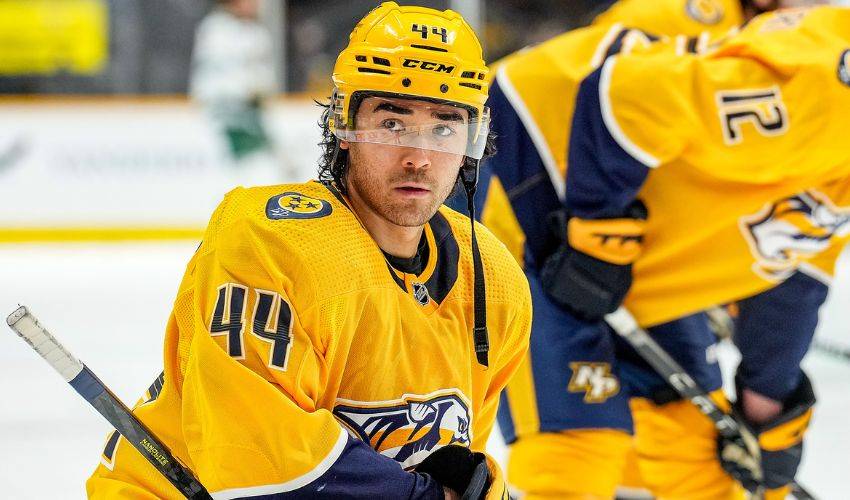 Feature photo: Getty Images
---
Kiefer Sherwood figured he would have a few things to talk about with his hockey idol, but on the night of their introduction, the Nashville Predators forward decided to add in something extra for good measure.
As a Japanese-American hockey player, Sherwood always looked up to Paul Kariya – the first NHL captain of Asian heritage (Kariya is Japanese-Canadian) who went on to play in 989 NHL games and earn induction into the Hockey Hall of Fame in 2017.
On the night of October 21, 2018, when the Anaheim Ducks feted Kariya with a jersey retirement ceremony, one of his biggest fans got the chance to do something he had always dreamed of, and he came prepared.
"To score a goal on that night, that was pretty special," said the 28-year-old forward who launched his NHL career with the Ducks in 2018-19. "I don't know if it was as nice as a lot of the goals he scored, but it did go in."
The conversation with Kariya did not disappoint.
In fact, it played out just how Sherwood expected it would.
"That was a really cool experience. Growing up, there weren't too many Japanese hockey players, and he always carried himself with so much class. He's someone I tried to pattern my game after. He's smaller in size, but his skating is what really helped set him apart. It was pretty cool. We talked a little bit, and he was exactly what you would expect, a classy, down-to-earth guy."
Sherwood is a great example of Kariya's impact on the game, which continues to see a growing number of players of Asian descent rising through its ranks.
Undrafted, Sherwood has skated in 119 career NHL games since making his NHL debut with the Ducks on October 3, 2018. At the American Hockey League level, he has produced at nearly a point-per-game pace, recording 172 points in 186 games with the San Diego Gulls, Colorado Eagles and Milwaukee Admirals.
After a solid 2022-23 season with the Nashville Predators where he posted 13 points in 32 games, Sherwood signed a one-year contract with the club in April. His younger brother, Kole, also once suited up for the Predators, playing in one NHL game for the club during the 2021-22 campaign.
"I always try to focus on where my feet are. I always try to get better no matter where I'm at. Usually, when you try to do that, things will take care of themselves. I was always a late developer, so I had to trust myself, to work hard and hopefully things would pan out. I spent time in college and got my start in Anaheim, learned some things in Colorado, and here I am now, in Nashville."
After years of shaping his game, the forward has found an effective approach to his craft.
"It was kind of an interesting start to the year, being up and then going back to the minors to reset. But I'm obviously thankful for the opportunity with Nashville. I'm embracing my identity of being hard to play against. I flourished in that role, being that player who is hard to play against, to be that type of player Nashville is known for.
"I just try to control what I can, to focus on my work, and have faith that everything will work out. If I can play with that energy and be a menace to other teams, I believe things will work out"
Those traits were handed down by his parents, Roger and Yuko.
Although his mother and father didn't play the game, they each provided invaluable lessons on how to succeed.
"My parents are more artistic, creative people. For me, they instilled a humble work ethic from the get-go. My mom came over to the U.S. when she was 19 and didn't know any English. She had to learn her career from nothing. The overlying message to me and my brother growing up was that we could do anything we set our minds to, and to commit ourselves to whatever we wanted to pursue. Both of my parents are good people, and we were lucky to have a humble, Japanese-type upbringing, where we learned certain values that really helped us. They are very supportive. It really was a blessing to learn so much at a young age."
Sherwood, who played three seasons at Miami University (Ohio) before turning pro, approached his collegiate experience in the same way.
"We played in a competitive conference. Readying yourself for the physicality and intensity of the games was key. I've never been the biggest guy – I was always small growing up – but I've worked to put on strength in the weight room and learned how to be more explosive in different ways, to gain an advantage. At the end of the day, it's not who is the biggest, but who wants it more."
Now, with a new contract for next season, Sherwood is excited about what lies ahead in his hockey life.
He is ready to put in the work.
"I'm just excited to continue to grow my game and my identity. In many ways, it feels like it's just starting. I'm 28, and I feel I can really grow my game in different aspects to make an impact. I want to win and be part of something special in Nashville."
Sherwood is also more than happy to be a role model to hockey players of Japanese descent.
"I had someone I looked up to, and if I can encourage young kids to chase after their dreams, whatever they may be, I'm glad to do whatever I can."
Throughout the month of May, the NHL and NHLPA are celebrating Asian & Pacific Islander Heritage Month by highlighting the contributions and accomplishments of current and former players of Asian descent.