In his sophomore season, Seth Jarvis brings youthful energy to the Carolina Hurricanes
Besieged by injuries to top players, Carolina has counted on players like Jarvis and others to step up in their absence.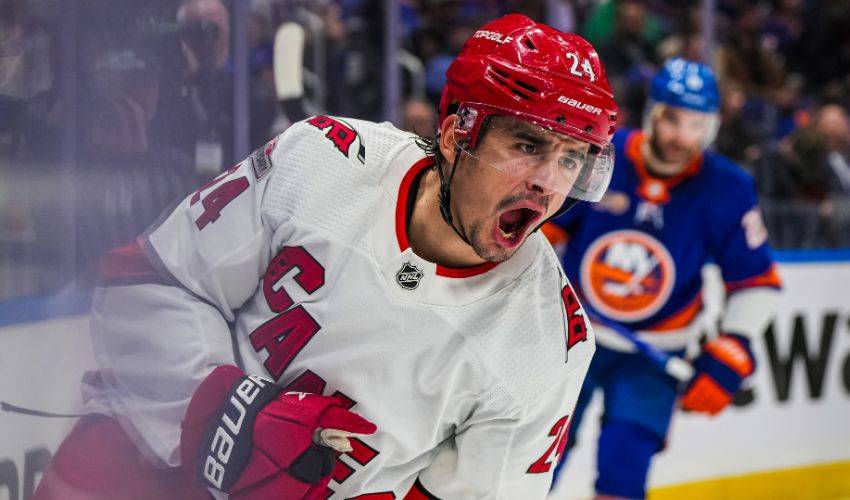 Feature photo: Getty Images
---
One of Seth Jarvis' childhood hockey dreams has been replaced by other priorities these days.
Whether it was during his minor hockey days in the hockey-crazed city of Winnipeg, or the countless hours he spent playing street hockey, Jarvis would often dream of what it would feel like to score a goal in the playoffs.
Fast forward to today, and the 21-year-old Carolina Hurricanes forward has more than achieved that lifelong hope, having netted two tallies in the First Round of the 2023 Stanley Cup Playoffs after scoring three goals in last year's playoffs.
Although, seeing the red light come on and hearing his name announced in a packed arena is not his primary objective whenever he hits the ice.
"All you think about when you're young is how great it would be to score goals in the playoffs, but blocking a shot at the end of the game or having a big penalty kill makes all the same difference. It's cool how many little details can add up to something big in a playoff game."
Jarvis, now in his second NHL season, has put that approach to good use during the playoffs.
Along with his four points and 18:41 TOI/GP to help the Hurricanes defeat the New York Islanders in six games, the 13th overall pick in the 2020 NHL Draft has delivered at both ends of the rink, utilizing his top-shelf speed and physicality to become a difference maker.
His approach has been big, sometimes literally, for the Hurricanes.
"I just want to play hard. I want to make it hard for whoever we're playing against. For the most part, that's against one of the other team's top lines, so you want to take away their chances, control the puck and have possession. The more we can play in the offensive zone, it's usually a good shift for us. I want to play a physical game. It's the time of the year where every hit matters, so you want to bring that element to any shift."
Besieged by injuries to top players, Carolina has counted on players like Jarvis and others to step up in their absence.
It has meant a great deal of turnover in the roster and new line pairings.
So far, so good.
"Everyone has done a really good job. For me, personally, it's been fun. I love the playoffs and this time of year. As a team, I think we've done a great job of everyone being ready. We have a lot of injuries, a lot of guys coming in from the AHL, guys who haven't played a lot in different situations but who are being counted on to play more, but we've found a way. Everyone has answered the bell so far."
The Hurricanes' head coach Rod Brind'Amour was quick to praise the efforts and attitudes of the team's younger players, specifically pointing to the positive attitude Jarvis brings to the locker room.
"It's great to have the young kids around, for the older guys," Brind'Amour told reporters prior to a game last week. "Yeah. He's a character and the older guys love him for the energy he brings."
Jarvis finished the regular season on a hot streak and is eager to keep the good times rolling.
When he is not playing his part in continuing that collective goal, plenty of shut-eye and a steady diet of watching hockey are on the menu.
"It's a lot of naps and a lot of sleep. It really helps at this time of the year. I shut things down as much as possible. I'll watch movies or play video games, just to keep myself occupied. I've done a good job of shutting things down and getting away from the intensity of the games. You need to have a really good balance, especially at this point of the season. I found ways to gear down and hang out with the younger guys on the team."
Tuning in to catch other playoff series is a mix of entertainment and education.
"I've been keeping up with a few series. A little bit. I have a few players on other teams that I like to watch. A lot of it, I'm watching more as a competitor than a fan."
And speaking of fans, Jarvis, who had 14 goals, and 25 assists this past regular season, has plenty of them, especially back home in Manitoba.
After a win, he certainly feels the love, or a few friendly digs.
"When I look at my phone after a game, it can get fun. I know I have a big group, not just my family, who are supporting me. I have friends and their families who are tuning in to watch us, which means a lot. I have a great support group back home. My family is always going to be there for me and it's always fun to talk to them after the games. My buddies are always the ones who seem to have something to say, telling me they could do better than me on the ice if they got the chance. We all get a laugh out of that."
But it is no laughing matter as to what Jarvis has been able to do in the playoffs, a time when big goals have more than one meaning.
"It really is awesome when you see how those little things throughout a game can be the difference between winning and losing, and just how important it is to understand and embrace that."
Jarvis and the Carolina Hurricanes began their Second Round series against the New Jersey Devils last night with a 5-1 win.