New dad Cody Ceci dials in on Oilers playoff run
Ceci and his wife, Jamie, welcomed their daughter in the week leading up to the Edmonton Oilers starting their playoff run.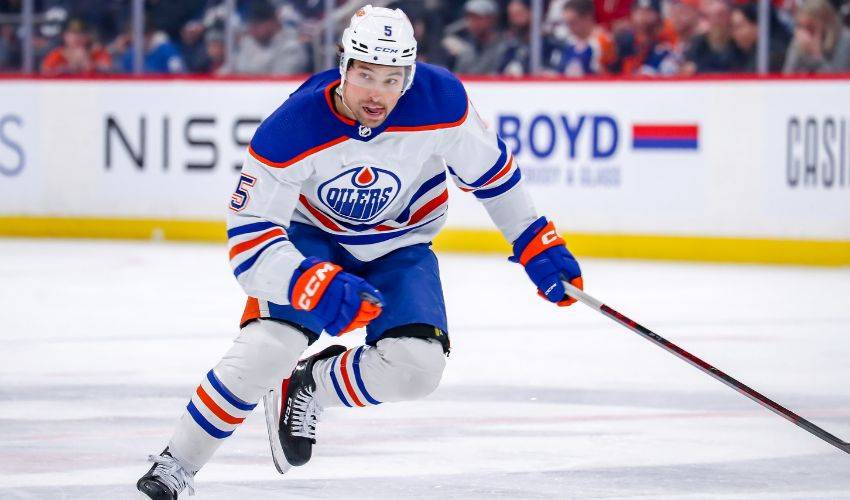 Feature photo: Getty Images
---
Despite mere days away from becoming a new dad, Cody Ceci found a few minutes recently to engage in some hockey talk.
Much like his on-ice presence, the 29-year-old Edmonton Oilers defenceman was calm, cool and collected ahead the major life event for him and his wife, Jamie.
The veteran blueliner temporarily left his teammates at the end of the regular season to head back to Alberta to be by Jamie's side. The couple welcomed their daughter, Sawyer, a few days after Ceci spoke with NHLPA.com.
"It's a new experience for us. The timing of it is pretty good," remarked Ceci, shortly prior to the start of the playoffs. "We're both just very excited. It will be a different summer for us, but we are really excited."
Ceci had plenty of well wishes, and words of wisdom, before he left the Oilers on the road in California to head back to Edmonton.
"Everyone was wishing me luck when I was leaving the trip. A few guys have had kids over the last few years, so they were giving me their advice and wishing me the best. Everyone has been very supportive. I'm just glad I was able to get the chance to come home for the birth."
While welcoming Sawyer is no doubt the biggest thrill of his year so far, there was another highlight, this one hockey-related, that Ceci recently celebrated.
On March 25, he skated in his 700th regular-season NHL game, a home tilt against the Vegas Golden Knights.
"It's all coming together really well over the past little while. It was nice to play in that 700th game. My dad came down for it and I also had some friends in town to watch the game too. It feels like it's all gone by very quickly. You take a step back and look at everything as a whole and it's been quite the experience."
Born and raised in Orleans, a suburb of Ottawa, Ceci was selected 15th overall by the hometown Senators in the 2012 NHL Draft.
Prior to his big-league life, he played four seasons in the Ontario Hockey League, the majority of the time with the Ottawa 67s.
Ceci started the 2013-14 season in the American Hockey League with the Binghamton Senators before making his NHL debut on December 12, 2013. He scored his first NHL goal four days later – an overtime tally in a Senators' 3-2 victory over the St. Louis Blues.
Since then, he has suited up with the Toronto Maple Leafs and Pittsburgh Penguins, before he signed as an unrestricted free agent with Edmonton on July 28, 2021.
This season, the 6-foot-2 defenceman has been a steady force on the Oilers' blueline.
"I never set a number of games or number of years for myself. Coming out of entry level, I was on some shorter-term deals, and I took it one year at a time. I played with a couple of teams during that time, so I was trying to get resettled after my time in Ottawa. Now, looking back, it's been quite the journey so far."
One that has gone by fast.
Not that comes as a big surprise to Ceci, who played 80 games with the Oilers this season after playing in 78 games last season.
Over the past few seasons, he has shared a similar message to his younger teammates.
"I try to relay the same thing, especially when I hit a milestone like 700 games. I tell them the same thing the older guys told me, that you want to make the most of it, and I remember all the vets saying it does go by quickly. They would tell me that in my first few years. At the time, you're just enjoying your time in the NHL and having fun. Looking back now at what they were saying, it does hold true. I'm at the point in my career now where it would be nice to win a Cup."
It is a sentiment that goes up and down the entire Edmonton roster.
"We have a great group, and everyone is focused on the goal. Sometimes, you don't have that all the way through the lineup, but we do have that. We got a pretty good taste of it last year with a deep playoff run, and now we're looking to take the next step."
Ceci will have plenty of help to allow him to focus on that goal.
He and his teammates are looking to go beyond last year's appearance in the Western Conference Final.
"Having a child is a big step in our lives. We're lucky because we have some [family] help coming in, which will give me the chance to focus on the playoffs. There is a lot to look forward to."