David Perron brings veteran mentorship to the Motor City
In Perron, the Red Wings have a respected figure with a long list of accomplishments, highlighted by a Stanley Cup win in 2019.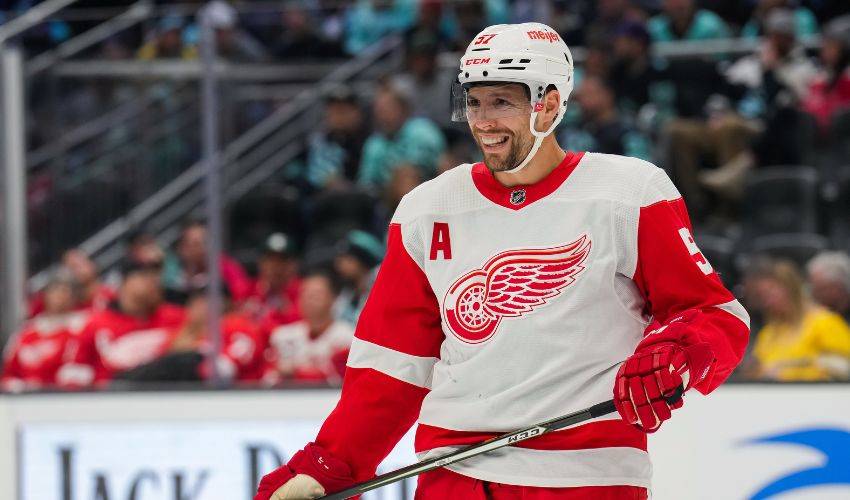 Feature photo: Getty Images
---
David Perron is on a Motor City mission.
From the moment he signed with the Detroit Red Wings last summer as an unrestricted free agent, the veteran left-winger wanted to bring more than just an offensive spark to the Original Six squad.
"It's always been about finding a way to rise above whatever situation I was in," said the 26th overall pick of the St. Louis Blues in 2007. "I think every five or six years, you have to find a way to rejuvenate yourself, to find a spot, a niche. Whether that means the style of the game is changing, you have to find a way to stay relevant, to make an impact in the game."
At 33-years-old, Perron is the oldest player on the Red Wings roster this season, meaning his veteran presence has become valued both on the ice and in the dressing room.
"As it goes on, I still want to make an impact on the ice, but I also want to have an impact on the younger guys, always pushing the right message," explained the Sherbrooke, Quebec native. "I want the guys to be comfortable around the rink. For me, personally, when I was able to come out of my shell and be more vocal, to own the moment, is something I took to another level in my career. It takes years to be able to talk in the locker room and do the little things that matter. It's all done for one reason, to become tighter as a team and be a winning organization."
In Perron, the Red Wings have a respected figure with a long list of accomplishments, before and during his NHL days, highlighted by a Stanley Cup win in 2019 with the St. Louis Blues.
Perron's experience has been noticeable on the ice this season, with the winger currently sitting second amongst forwards on the team in points with 44, only behind captain Dylan Larkin. He has scored 20-or-more goals in six NHL seasons, in addition to eclipsing the 50-point mark six times.
Now the winger, whose NHL career includes three stints in St. Louis, along with stops in Pittsburgh, Edmonton, Anaheim and Vegas, is looking to share what he's learned over the years, good and bad, with his Detroit teammates.
"I do think that it's different times from when I first started, but part of the message you want to share is very similar to my early days in the league. Really, what we are trying to do is to build a team that every year is knocking on the door. That's how you become a winning organization. It's all about winning the Stanley Cup, but I do think there are around six to 10 teams every year that are ready to make some noise and win at any moment. It is a process to get the team and organization to that level, but I've been part of it for many years in St. Louis and we are starting that here."
This past December, Perron was feted by the club in a pre-game ceremony that honoured his 1,000th NHL contest, just days after he reached the milestone in a road game against Dallas.
His son, Mason, skated with him on the Little Caesars Arena ice as part of the festivities. The alternate captain was also joined by his wife, Vanessa, and his daughter, Victoria. The couple also has a young daughter, Sofia, who was born earlier this year.
The affinity he has for his teammates, past and present, was obvious throughout the ceremony.
A video featuring former teammates Kris Letang, Marc-André Fleury, Jaden Schwartz, and Brayden Schenn played on the jumbotron. Dylan Larkin presented him with the commemorative silver stick and two mini silver sticks for Mason and Victoria. He was also gifted a Rolex from the Red Wings and an all-expenses paid golf trip by his teammates.
"It was great. Having my family on the ice, that is what made it truly special. Having my son skate with me and be out there for the national anthems, just to have those cool moments was a great time," explained Perron, who recalls a certain teammate bringing his now NHL-playing sons around the rink.
"When I started, I remember the guy who had his kids around the most was Keith Tkachuk. I would see Matthew and Brady at the rink all the time, hanging out with their dad. When he retired, he had the boys and his daughter, Taryn, skating around with him on the ice, for his last lap around the rink. There are a lot of those moments that come back to my memory. All these years, you want to play for something, and you want your kids to remember those moments. I'm lucky that they will have those memories, especially over the past few years. Hopefully, I've got a few more to go."
Closing in on another 20-goal campaign, it appears Perron does.
But personal objectives are far from his top priority. Seeing the Red Wings rise up the ranks and become a legitimate Cup contender remains his biggest motivation.
"I am extremely lucky. Other than the injuries, I'm glad about how everything has gone to this point. I'm sure winning the Stanley Cup in your first few years would be extremely special, something you've worked for and dreamed of your whole life. It took me 12 years to achieve that, and it took a lot of years of grinding it out, to get to that point where you accomplish that. Knowing that it's in you, that it was there the whole time, and finally doing it, is an amazing feeling."
Perron wants his Red Wings teammates to have that same experience.
"There were times when I was the youngest guy on the team for a few years, and now, for the past few seasons, I've been one of the oldest guys on the team. This year, I'm the oldest. I'm enjoying it every step of the way and I feel very fortunate to be where I am at. I am grateful to be in a position to help the younger guys and I am going to enjoy every moment of that. I do feel like I'm impacting the game and I want to get better at that as well."