Dylan Cozens expands his fan base beyond Whitehorse
Cozens has set several personal-best offensive numbers during his third season with the Sabres.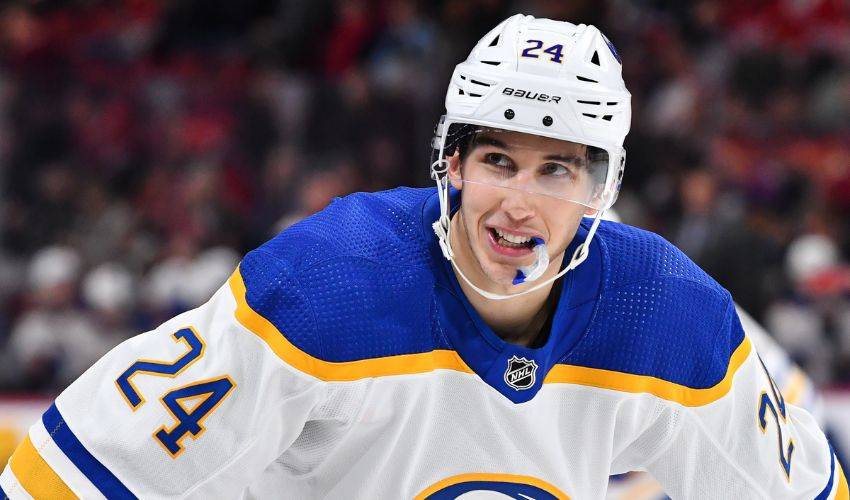 Feature photo: Getty Images
---
Dylan Cozens continues to expand his fan base.
Throughout his unique hockey journey, one that began in his native Yukon and featured high school and junior hockey stops in British Columbia and Alberta, before suiting up with the Buffalo Sabres, the 22-year-old centre has shown a propensity for becoming a popular figure wherever he's played.
Less than 200 games into his NHL career, Cozens has already become a big hit with Sabres supporters. His combination of skill and blue-collar approach to the game make the man dubbed the "Workhorse from Whitehorse" a bona fide fan favourite.
"I just want to play consistently at both ends of the ice every night," he told NHLPA.com. "I want to be a 200-foot player and a guy that's relied on in big situations. That's how I go into every game and that's what I want to do."
That approach has certainly paid off big time for Cozens in 2022-23.
After a 13-point rookie season over 41 games in 2020-21, he surpassed the 30-point mark during his sophomore campaign. This season, he has been one of the Sabres' most consistent performers, and has set several personal-best offensive numbers, including scoring his first NHL hat trick on February 26.
"I was always pretty confident in myself," said Cozens, who left his hometown of Whitehorse, Yukon for British Columbia at 14 to further his hockey career. "I struggled to finish my scoring chances last year and I wanted to go to the [IIHF] Worlds to try and get my touch back a bit. I think I did pretty well there, and it was then when I knew that I got it back and realized that I'm going to go into this season and have a good year."
On February 18, he notched his 20th goal of the season, a road tally against the San Jose Sharks.
While the goal wasn't highlight-reel material, it was a goal that perhaps perfectly illustrates the type of year Cozens is having.
"You just start to score when things are going well, going your way. You put the puck on net, and it finds a way to go in, just like it did in San Jose. That's what happens when you are kind of feeling it. You're happy with your game, you're feeling good. It's crazy how that works, being able to get those bounces that you weren't getting before."
The Sabres undoubtedly like what they have in Cozens.
On February 7, he signed a seven-year extension with the club, news that quickly made its way to the Yukon, where he felt the love from his home province, well beyond his family and friends.
In an interview with CBC, Yukon Premier Ranj Pillai mentioned the seventh overall pick in the 2019 NHL Draft in his conversation.
"That was quite incredible, seeing what he put together," said Pillai, who also took to Twitter with a congratulatory tweet that included the hashtag #workhorsefromwhitehorse. "And I think we probably have some more hockey players and athletes over the next number of years that seem like they're just going to be, again, doing great things on the national stage and the international stage."
But it is not only what he does on the ice, a list that includes a gold medal with Team Canada at the 2020 world juniors and the Jim Piggott Memorial Trophy as the Western Hockey League's top rookie, that has made Cozens a beloved figure throughout his hockey life.
When he scored the overtime winner on the night his team feted former Sabres backstopper Ryan Miller, he gave the stick to Miller's son, Bodhi.
Just another example of Cozens' ability to make a lasting impact on others.
He still leans on the advice his father imparted to him years ago.
"One quote my dad had was, 'Don't whine. Don't complain. Don't make excuses. Just do it.' I've always had that up on the wall since we were kids and it stuck with me."
Cozens is grateful for those words and the encouraging ones he continues to receive from the people in Yukon.
While there is little time to put his focus anywhere else but on hockey during the season, there are moments when he is able to step back and appreciate the journey that got him to this point.
"I have a great support system back home, starting with my parents. I wouldn't be where I am without them and I'm grateful. Most of the time, you are so dialed-in during the hockey season that you don't have time to look back and recall how it all started. Coming from a smaller community and having to move away at 14, it was a big sacrifice that my parents made for me. Sometimes it strikes me where I'm reminded that I was just a kid from the Yukon and now I'm playing in the NHL. I'm very grateful for everyone who supported me and who still do."
It is a message he wanted to make sure reached people back home.
"I just want to say thank you. Thank you for the support and thank you for believing in me. And thank you for all the kind messages and encouraging words. I really do appreciate it all."