After a whirlwind year, rookie Kent Johnson settles into life in Columbus
The Blue Jackets forward recalls a campaign that saw him play at three different levels of the game.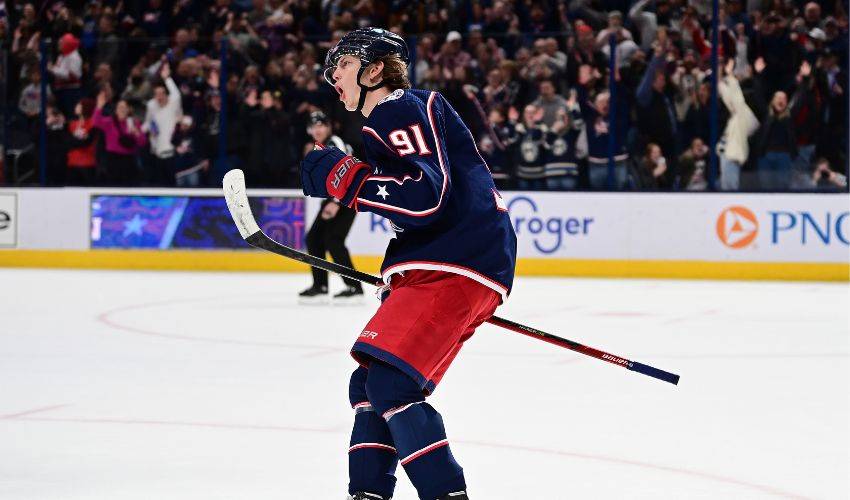 Feature photo: Getty Images
---
Kent Johnson's 2021-22 hockey season was all over the map. Literally.
The 20-year-old Columbus Blue Jackets forward, currently in his first full NHL season, laughs as he recalls a campaign that saw him play at the collegiate level, on the international stage and in the NHL ranks.
"It was certainly something I won't forget," Johnson told NHLPA.com. "But of all it was amazing. Definitely a lot of fun and some great experiences."
And plenty of distance travelled.
Last January, Johnson was named to Team Canada's roster as an alternate to represent Canada at the 2022 Beijing Olympics where he recorded one goal and four assists.
Four months later, Johnson was in Finland to compete at the 2022 IIHF World Championship, skating away with a silver medal. When he scored a goal in Canada's first preliminary round game, he became only the fourth player to score at least one goal at the World Juniors (during the COVID-shortened tournament in December 2021), Olympics and World Championship, all within in the same season.

In August, at the 2022 World Junior Championship, Johnson netted the golden goal for Canada, an overtime tally in a 3-2 win over Finland. Add a 32-game campaign for the University of Michigan and nine NHL games into the mix, and 2021-22 ended up being one of the most unique hockey seasons ever experienced by a player.
"It was crazy. … The whole year was a lot of fun. I was able to meet a lot of great people along the way, which was awesome. It was hectic, but every experience was amazing."
Not surprisingly, the gold medal win stands out as the most memorable of the three occasions in which he donned the red and white Canada jersey.
"The World Juniors, that was unbelievable. I only got one crack at it, the only year I was eligible, and I was able to make it. It was something I will always remember. Any chance you have to play for your country, you realize how fortunate you are. When you put on that jersey it really is special. To have that chance three times in one year, I felt very lucky."
His two seasons at Michigan, where he produced 64 points in 58 games, played a key role in his development, on and off the ice, and his pursuit of an NHL career.
Johnson was drafted fifth overall by Columbus at the end of his first season with the Wolverines.
"There were so many great moments at Michigan and also so many great people who helped me get better. They helped me learn new things about the game every day and that helped me so much."
He made his NHL debut on April 13, 2022, against the Montreal Canadiens.
"It was very cool. It wasn't my first game, but a few games later, we played against Pittsburgh, Edmonton and Tampa Bay, teams who also have some of the top players in the league. All of that was part of a really busy year, but it was great. To play in so many different places, to wear those different jerseys, I think all of it helped me to get better and to continue to push myself."
After a hectic 2021-22 campaign, Johnson is feeling right at home in his first full NHL regular season.
He has plenty of people in his corner in Columbus.
"Boone Jenner, our captain, I sit beside him in the locker room, and he's been great to me since day one. Everyone has been really great. I've been talking to Sean Kuraly lately about face-offs now that I've been playing centre. He's a veteran player who always has time to talk and help you out. Patrik [Laine] has been a huge help too. It really has been a real team effort in the guys who have helped me along the way."
When he is not at the rink, Johnson is typically testing out his jump shot, sitting down to a nice meal, or watching his favourite sport. And after a whirlwind year, Johnson is happy to settle into a new routine.
"Usually, if I'm not cooking, I like to go out to dinner with the guys. I like to go shoot hoops too. I've done that a few times. It keeps you off the couch and keeps you active. I also like to watch NHL games, just something to do at night."