Noah Dobson credits hometown support for NHL success
Dobson, who has already reached the double-digit mark in goals this season, has become a key member of the Islanders defensive corp.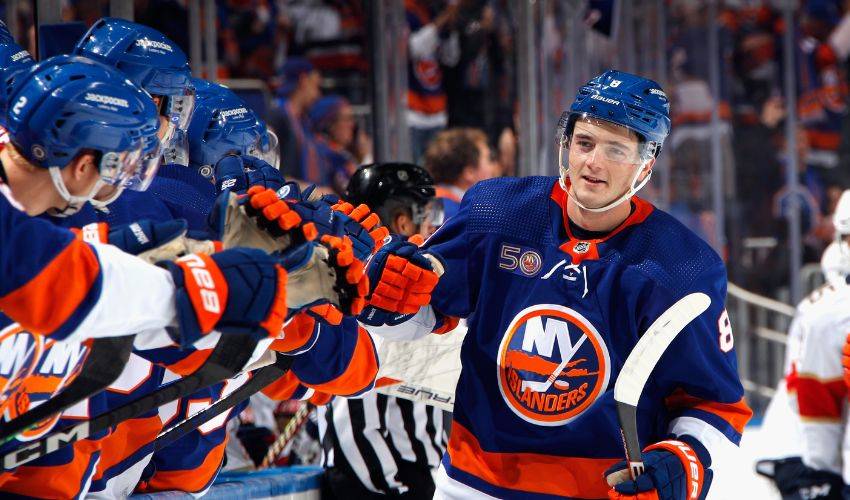 Feature photo: Getty Images
---

Noah Dobson has always worn his hometown heart on his hockey sleeve.
Whether it was during his minor league days on Canada's east coast, skating in the Quebec Major Junior Hockey League ranks, or playing in the Austrian National League, the native of Summerside, Prince Edward Island has never forgotten his roots or his loyal hometown fan base.
Wherever his hockey path has taken him, the road to and from Summerside has been an integral part in shaping the New York Islanders blueliner.
"It's been really important, having that base back home," said Dobson, now in his fourth NHL season with the New York Islanders. "My family, my friends, my coaches, there are so many people who have had a huge impact on my career. No matter where I've played, I've always had those roots to fall back on, which is special and comforting."
Known as 'The City by the Sea,' Summerside, which is the second most populous city in Prince Edward Island, provided Dobson with the ideal childhood setting – a picturesque location with an abundance of indoor and outdoor activities.
"There are so many different sports you can play. Growing up, I played a lot of golf with my buddies. I had some good friends who lived on the same street, so you could just run over, knock on their door, and then you would go out and find something to do."
Hockey remains a popular activity of choice in the historic city.
"Everyone loves the game and is passionate about it, so it's easy to develop a strong bond to hockey early on in your life. I still keep in touch with some of the guys I played with. There are a lot of great memories, hockey and otherwise, when I think back to those early days in Summerside."
In 2014, Dobson bid farewell to his hometown to play for the Bishop's College School in Lennoxville, Quebec. The following year, he was invited to play overseas with EC Red Bull Salzburg in Austria where he spent one season before returning home. Dobson was drafted sixth overall at the 2016 QMJHL draft by the Acadie–Bathurst Titan, where he would play three- seasons, including being named captain for the 2018-19 campaign. Mid-season, Dobson was traded to the Rouyn-Noranda Huskies, en route to winning his second straight Memorial Cup championship.
Every experience played its own important part in his development as a player and person.
"When I first left home, I was pretty young when I went to Bishop's. I didn't really know what to expect. But looking back, going to a boarding school and gaining those life experiences, it was something you truly appreciate. Learning how to deal with the demands of academics when you are away from home, it was a challenge, but it really helped me."
Just as his one year in Europe did, one he views as a game-changer in his hockey development.
"It was a really cool experience. Looking back, that was the one, hockey-wise, I felt I really took off after that year. The tools we had in Austria, with how much we were on the ice, the skills coaches, working out in the gym, I really feel that benefitted my career, heading into junior. When I came into the Quebec league at 16, I almost felt as though I had an advantage. For a lot of 16 year olds, that would be their first experience living away from home, but knowing I had all of those different experiences, going through all of that really helped me. I really felt comfortable. All of those experiences were unique and when I do look back, they helped shape me into who I am today."
And what that happens to be is one of the game's top young defenceman.
The 12th overall selection of the New York Islanders in the 2018 NHL Draft came into the 2022-23 season off a breakout campaign which saw him record 13 goals and 51 points in 80 games.
"He's a great skater and is good at getting his shots on net," said teammate and fellow defenceman, Scott Mayfield. "Really good with the puck and has done a good job pushing the pace offensively for us."
Dobson, who has already reached the double-digit mark in goals this season, has become a key member of the team's defensive corps and an important figure in the Islanders' pursuit of a postseason berth.
Motivation to achieve that goal isn't hard to come by.
"No matter where I am, I always feel that support from back home. Nowadays, I really take a chance to appreciate everything when I go back home for the summer. Seeing all the people you grew up with, the people who coached you in minor hockey, and everyone who supported you, it means everything. All of those people played a huge role in shaping you to who you are. When you get to the rink, whatever it is, you think about those things and that really does push you even more."
For Dobson, it's what the pride of Summerside is all about.