From the Rock to Jersey – Dawson Mercer keeps home in his heart
Selected 18th overall at the 2020 NHL Draft, Mercer is part of an exclusive group of Newfoundlanders drafted in the first round.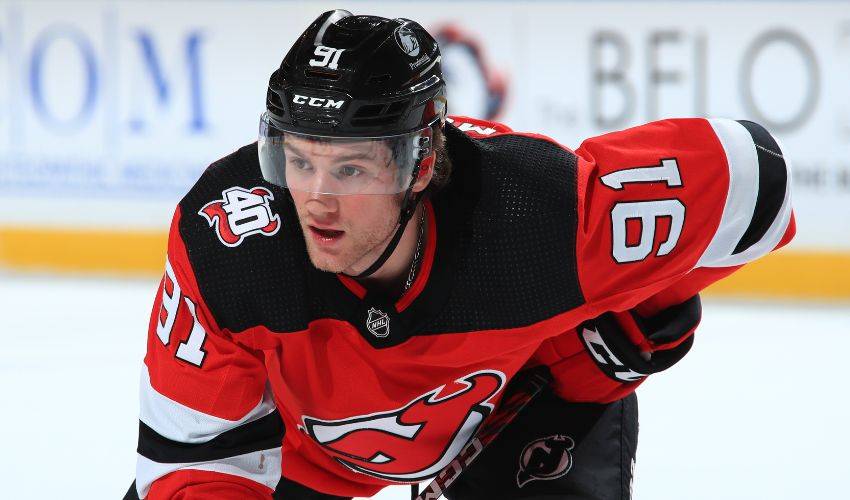 Feature photo: Getty Images
---
Dawson Mercer knows it is going to be a banner night whenever he sees the provincial flag of Newfoundland waving in the stands.
It is a sight that only gets more special over time, the familiar colours of the east coast Canadian province, which always manages to catch the eye of the hometown hero now in his second season with the New Jersey Devils.
"Back home, it's crazy how much support I have and the number of people following me around," said the 21-year-old Mercer. "When we go on a road trip, all the guys are saying that Newfoundlanders travel well because they seem to be at every rink. We're so proud of where we're from. It's very easy to tell when a Newfoundlander is in the stands because we always take flags. There are flags everywhere. When we were in Toronto there were flags, when we were in Western Canada there were flags. Sometimes there will be people here in Jersey who have come to watch games – I don't even know they are there – and then I see a Newfoundland flag and I think, 'Well, okay. I'm going to try and get them a puck.' It's a good feeling for sure."
When the Devils called his name 18th overall at the 2020 NHL Draft, Mercer joined a small list of players from Newfoundland who have been selected in the first round of the draft: Keith Brown (seventh in 1979), John Slaney (ninth in 1990), Terry Ryan (eighth in 1995), Brad Brown (18th in 1994), Daniel Cleary (13th in 1997), and Alex Newhook (16th in 2019). One year later, Newfoundland native Zach Dean was also selected in the first round, going 30th overall.
In 2017, he excelled at the Excellence Challenge – an annual event that showcases top 16-year-olds from Atlantic Canada and Quebec to play in front of scouts and management representing all QMJHL teams. Wearing the jersey of Team Newfoundland and Labrador, Mercer led all players in points with 13.
The Drummondville Voltigeurs took Mercer eighth overall in 2017, the place where he would further cement himself as a top NHL prospect.
After an 11-goal rookie season in the QMJHL, the centre lit the lamp 30 times in 68 games in 2018-19. He had 18 goals and 42 points in 26 games with the Voltigeurs before he was dealt to Chicoutimi.
During his time in the junior ranks, Mercer struck gold with Team Canada at the 2020 IIHF World Junior Championship, bringing the medal back to a warm reception in Bay Roberts.
"Everyone knows hockey, and everything is hockey," said Mercer, who also won silver with Canada at the 2021 World Juniors, the same year he was named the recipient of the Guy Carbonneau Trophy as the QMJHL's top defensive forward. "Hockey is a big part of Newfoundland. There are lots of cars at the rinks every weekend. The people just respect the game so much and they follow it. It's great to see the love people have for hockey."
Traditionally, Newfoundland hockey fans have cheered for a trio of Original Six teams.
Mercer has added a new team into the mix.
"The main teams people follow are Montreal, Toronto and Boston," said the forward, whose father, Craig, played senior hockey in Newfoundland. "Now of all sudden New Jersey is in the mix because I'm playing here, so that's a great feeling, to know there are fans that are transferring over. My hometown put my name on the rink, there are always signs up congratulating me, and they have been there for me throughout my career. It's a great feeling."
Just as it is whenever he sees a Newfoundland flag waving in the stands of an NHL arena.
It is a sight he rarely, if ever, misses during his big-league travels.
"For people to fly to the game and make those trips, it means a lot. New Jersey is a great location. People come down and New York is close, so they can make it one of those hockey holiday trips. It's cool to get to see the people you know after the game and to meet some people who have come from home to watch. I get that nice feeling seeing that flag there when I never expected to. I posted one on Instagram of me warming up in Toronto and someone had a homemade flag and that was pretty cool."
Mercer is just as enthusiastic about the Devils' strong start to the 2022-23 season.
A playoff outsider for the past four seasons, New Jersey has worked their way into the upper echelon of the NHL standings this year, a turnaround that has not been a huge surprise to Mercer.
Did he see the change in fortune coming?
"To be honest, yes. I knew we were going to be a lot better than we were last year. I think we deserved to be better than we were. A lot of us are so young, and I felt that one more year would help us out so much. I wasn't too surprised once we started winning and realizing that we are a good team."
Mercer is quick to laud his teammates for making him feel welcome from day one.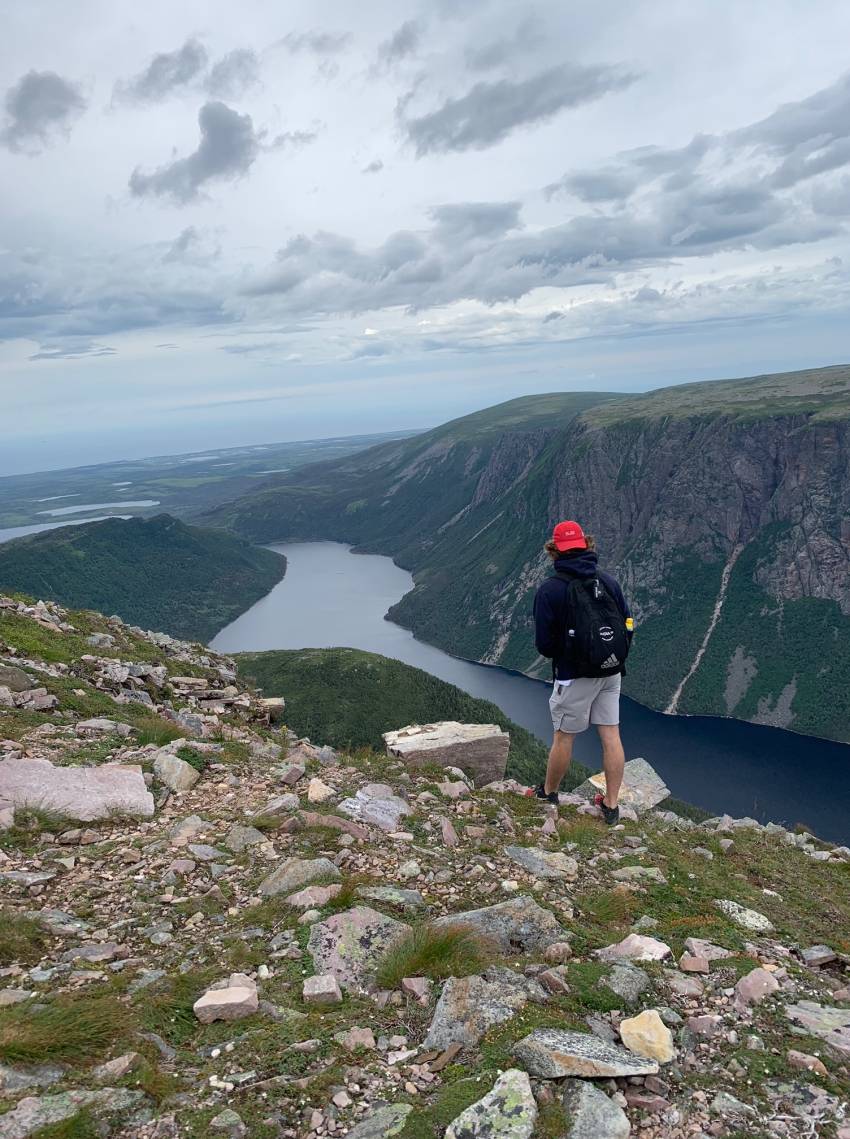 "We have a good mix. I think Nico [Hischier, Devils' captain] has done a great job. I want to have my game similar to his, a responsible two-way game, so I'm always looking at how he plays. As a leader of the team, he's done a great job. At my first camp, Dougie [Hamilton] was always making sure I was okay and would ask me how I was doing. Jack [Hughes] is unbelievable. We're the same age and he's one of my good buddies. We're always talking, all of the guys. We have a good group here."
Despite the hectic pace and demands of the 82-game NHL regular season, thoughts of home are never far removed from Mercer's mind.
"Outdoors is the big thing back home. Fishing is a major thing, but nature, in general, is what you think of when you think of home. Hiking, ATVs, finishing and camping, that's all part of home. It's really two different scenarios, where I play and where I'm from. It's a big, busy city here, and back home, you can hear the wind blowing and the water."
Phone calls to family and friends are a staple of his road trip regimen.
Staying connected to Newfoundland and its people remains a cornerstone of Mercer's life.
"When we travel, I call a lot of people. My brother [Riley, a goaltender playing with Drummondville] and my sister [Jessica] play hockey, so I follow their games. I just really like to just relax and take it easy. But it is nice to keep on top of what's going back home. Everyone back in Newfoundland has been great to me. Any time I see those flags at the rink, it's a nice reminder of that."