Noel Acciari gains new appreciation for the game after returning from injury
Acciari's ability to be placed anywhere in the lineup has helped the Blues get back on track after a tough start to the season.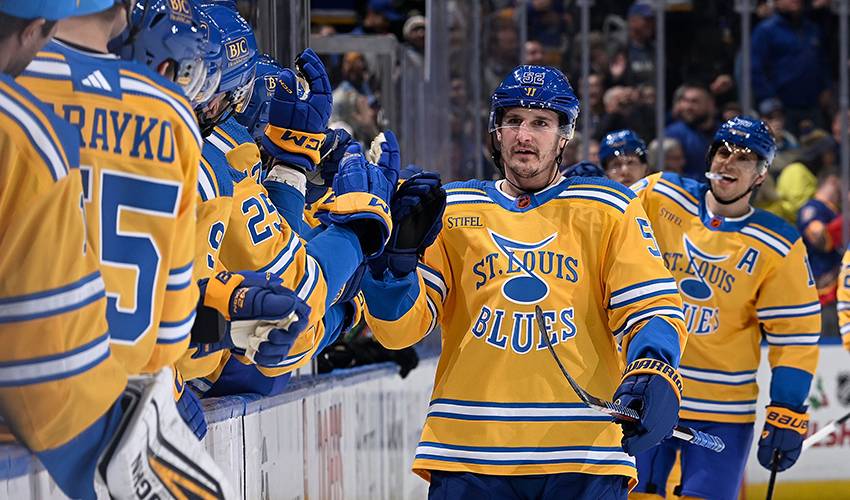 Feature photo: Getty Images
---
Noel Acciari appreciated every single second of the nearly 12 minutes he played on the night of February 18, 2022.
It was no easy road getting to that point for the Rhode Island native, a journey that had its equal shares of ups and downs over a four-month period.
A freak shoulder injury suffered during the 2021-22 preseason resulted in Acciari undergoing surgery and spending an extended amount of time on the sidelines.
So, when the centreman took to the ice at Xcel Energy Center in mid-February, it was reminiscent of another moment in his NHL career that came nearly six years earlier.
"Once I got the okay from the doctors and the trainers, it was just an exciting moment, a lot like your first NHL game," said Acciari, who played in his first NHL game on March 1, 2016. "I just couldn't wait to get on the ice with the guys and shake the dust off, and just play. When something like that happens, dealing with a serious injury, you realize just how much you love the game when you finally get back on the ice. It's unbelievable. The guys in the locker room were so excited for me."
Not being around his then Florida Panthers teammates for a prolonged period was a major source of frustration for Acciari.
"When that injury happened, it was tough, especially being in the preseason. I was happy for how well the guys did last year, but I wanted to be part of that. They were good about keeping me included with everything. When I was able to get back into the lineup, I just wanted to play as hard as I could to make up for that lost time."
The undrafted forward with more than 300 NHL career games played credits his wife, Kaitlyn, for helping him cope with life away from the rink – especially considering everything she was handling at the time.
"My wife was a rock. She was amazing through all of it. With me rehabbing, taking care of our first [child, Greyson], being pregnant with our second child [Sutton], she still made sure I was okay, and that I stayed mentally tough throughout that whole time. With everything going on, she really was a rock. She helped me tremendously."
Despite the difficulties of hockey becoming a spectator sport for a stretch last season, there was one upside to Acciari being home more often.
"Usually, you don't get as much time at home when you're playing, I enjoyed being with Kaitlyn and Greyson, and being there for Kaitlyn as much as I could with her being pregnant. Being with my family, it did take your mind off those tough days. It motivated me to stay mentally strong so that I could get back to help the team. The closer I got to getting back, the closer it was to us having our second child, so those two happy moments coincided. And to see Greyson with Sutton, he loves her. He's a great big brother. It's fun to see them together. It's definitely a big change, going from all the attention on one to now two. We're very happy, and you can't get enough of seeing the two of them interact."
Acciari, who signed as a free agent with St. Louis this past July, has received rave reviews from teammates and coaches for his play this season.
His ability to be placed anywhere in the lineup, combined with timely offence and stout defensive play, has helped the Blues get back on track after a tough start to the season.
"The guys are so awesome. They were welcoming the moment I first set foot in the locker room. It's a group that all gets along. We had a rough patch early on, but we stuck with it, and we stuck together. I have a lot of faith in this team, and we have the players, I believe, to go far this year."
Acciari has become a key figure in that collective goal.
His formula for making an impact remains the same.
"Last year, it was tough not playing a lot of games. Coming to a new team, I just wanted to play the way I know I can play and bring everything I can to the table to help out. Whether that's fourth line, third, second or first, I want to contribute, whether that's a hit, a goal here and there, and just be reliable. I want to be that consistent person every night. I think that's worked out so far and I'm going to try and continue that the rest of the year."
Acciari will also continue to make time for the game outside the arena, specifically, going one-on-one with his hockey-loving son whose favourite colour just happens to be blue.
Mini-stick hockey is a staple of the family household.
"We play hockey every day, as soon as he wakes up. He's just himself. When he scores, he says, 'Goal, Greyson Acciari.' He scores a lot of goals at home. It's so much fun to see his love for the game."
Like father, like son.
The elder Acciari, just as he has throughout his hockey career, will continue to play each game like he did the night of February 18.
It's the only way he knows.
"I don't want to take any game for granted and I want to enjoy every moment."