Mikko Rantanen helps make lifelong hockey memories for the youth of Finland
NHLPA Goals & Dreams recently donated equipment to the Rantanen Academy hockey school in Finland.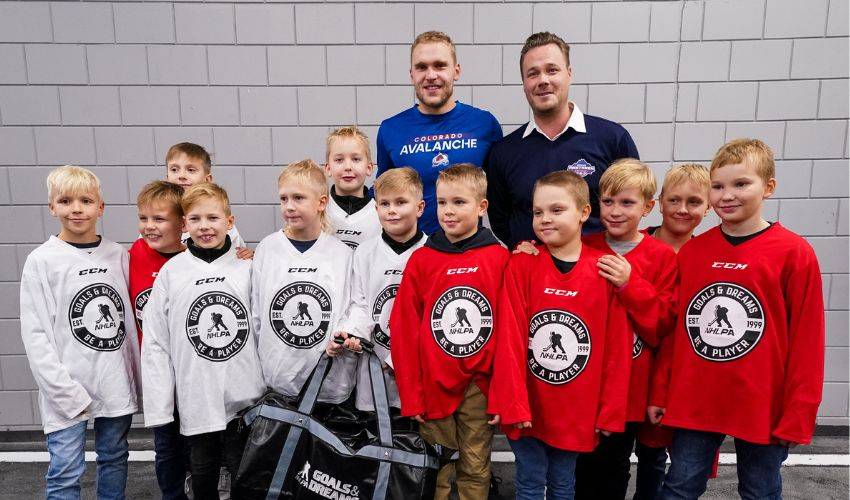 Feature photo: Getty Images
---
One of Mikko Rantanen's biggest goals is for young Finnish hockey players to follow their own.
The Colorado Avalanche forward has become one of hockey's most dynamic players, who, at an imposing 6-foot-4, utilizes creativity, hockey IQ and exceptional skills to hold status as one of the NHL's elite scorers.
For all his successes, including raising the Stanley Cup with the Avalanche in 2021-22, Rantanen is playing his part in helping others achieve the very same.
"I want to do whatever I can to help kids enjoy the game as much as possible," said the 26-year-old. "Hockey is obviously a big thing in Finland, so the more kids who can discover the game, and get to play it, I want to encourage all of them."
Recently, Rantanen, along with fellow Finnish-born NHL players Patrik Laine, Artturi Lehkonen and Joonas Korpisalo, returned to Finland for a set of regular-season NHL Global Series games played in Tampere. As part of the festivities surrounding the games, the NHLPA Goals & Dreams fund announced three hockey equipment donations to be dispersed to local youth hockey programs within the country. A total of 45 complete sets of new hockey equipment, valued at approximately $20,000, will be donated to the Rantanen Academy, Ilves Juniors and Tappara Juniors.
Through his Rantanen Academy hockey camp, which is held each summer in Finland, Rantanen spends time on and off the ice with young players, helping to heighten their skills while also sharing words of encouragement with each of the participants.
A big motivation behind his commitment to giving back to the game in his native country came through his own hockey camp experiences as a youth.
Long before he made his way to North America to pursue his NHL dream, Rantanen had the opportunity to learn, up-close and personal, from a Hockey Hall of Fame inductee who scored 684 goals in 1,451 regular-season NHL games.
"Meeting a Finnish League player or an NHL player can mean a lot to kids. When I was young, Teemu Selanne had a hockey camp in Finland … and I went four summers in a row. Meeting Teemu was always the best part of it. He was great to the kids, and he always put a smile on your face. It inspired me in a lot of ways."
Other Finnish-born NHL players, including Detroit Red Wings goaltender Ville Husso and Nashville Predators forward Eeli Tolvanen, have lent their support to Rantanen's camp.
"I remember going to the camps when I was younger and how they made me feel. To meet NHL players – the Koivu brothers (Saku and Mikko) are from where I'm from – at those camps, those were the best parts of my summer. I went to probably three different ones when I was growing up. Any one I could go to, I would. I remember how much fun I had, and I wanted to see that other kids could enjoy that experience too. I wanted to give back to the kids, and I thought this would be a good way to do it."
The NHLPA Goals & Dreams donation will go a long way in providing the Academy's players with the chance to play the game they love.
Rantanen, an alternate captain with the Avalanche, is grateful for the support.
"It's amazing, the Goals & Dreams donation. That's all about giving back too, which is so important. I was excited to be part of that. It was such a great idea by the NHLPA."
Those who come to his camp have an ideal role model in Rantanen.
Last season, Rantanen posted career-best numbers in goals (36), assists (56) and points (92) in 75 regular-season games. He delivered 25 points (five goals, 20 assists) in 20 playoff games that same campaign, including eight assists in the Stanley Cup Final.
This year, Rantanen, averaging well over a point per game, is on pace for another huge campaign as the Avalanche look to successfully defend their Stanley Cup championship.
He would love to see more Finnish players have the chance to excel on the NHL stage.
"The development has been good, and it's been going better and better," said Rantanen, who helped Finland win a gold medal at the 2016 IIHF World Junior Championship. "If we were to build a World Cup team right now, the core would be very young, and that shows Finland has that young talent. The coaches have been doing very good things and hopefully that continues."
Now, over 400 regular-season NHL games into his career, Rantanen has not forgotten the lessons learned and memories he took away from the days when he attended those hockey camps.
He is humbled to be in a position to carry on those experiences in a different role.
"I still think about those camp days a lot. Everything has gone by so fast since the times at camp. I haven't been back to any of the ones I would go to, but I remember everything about them. My family was there with me. We would take the RV and travel to wherever they were held. I have so many great memories."
Something Rantanen hopes a new era of young Finnish players will also be able to say one day.