NHLPA Assists in Action enters second season
The initiative will include a Kids Help Phone counsellor and a member from their texting team being acknowledged along with monthly assist leaders.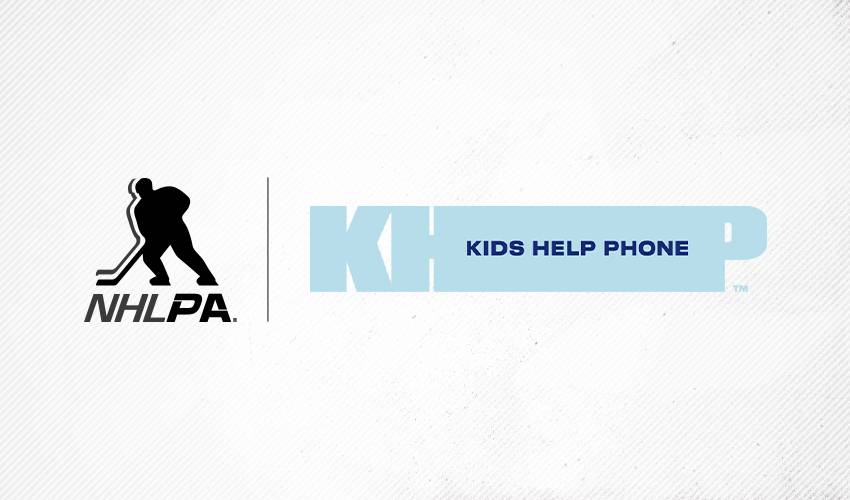 ---
TORONTO (Nov. 16, 2022) – The National Hockey League Players' Association is pleased to announce the second year of its NHLPA Assists in Action initiative, with $7 being donated to Kids Help Phone for every assist recorded by an NHL player during the 2022-23 season. New this season, one Kids Help Phone counsellor and one member from their texting team will be recognized each month on NHLPA and Kids Help Phone social media channels for their work assisting youth, alongside the NHL forward who records the most assists for the month and the defenceman leader in the category.
"We are so pleased to see the Assists in Action program continue this season and to again be partnering with the NHLPA on this initiative," said Krista MacMurdo, Associate Vice President of Clinical Operations at Kids Help Phone. "As forwards and defencemen are the frontlines on the ice, our phone counsellors and texting team are Kids Help Phone's frontline. Every day they offer support to young people across Canada for any problem big, or small. Whether they need someone to talk to, or need support making it through their moment or crisis, we are there. This partnership with the NHLPA will help ensure that youth from coast to coast to coast will always have someone to turn to."
In October, NHL players recorded 1,554 assists, led by Leon Draisaitl (12 assists), while Cale Makar and Josh Morrissey (8 assists each) shared the lead among defencemen. Last season, $102,956 was contributed to Kids Help Phone programming in the first year of the initiative, thanks to 13,784 regular-season assists in 2021-22 – led by Jonathan Huberdeau (85 assists) and Roman Josi (73 assists) – and 924 playoff assists recorded by NHL players, led by Draisaitl (25 assists) and Makar (21 assists).
"The NHLPA Assists in Action initiative has been a fantastic way for hundreds of NHLPA members to contribute to Kids Help Phone through their on-ice efforts," said Devin Smith, NHLPA Senior Director, Marketing & Community Relations. "After donating over $100,000 to Kids Help Phone through last year's campaign, we are thrilled to extend the program to acknowledge the efforts of Kids Help Phone counsellors and members of their texting team alongside our monthly acknowledgement of players' efforts across social media."
The $7 denomination for NHLPA Assists in Action is a nod to the late Ted Lindsay, who was the first president of the original Players' Association was a Hall of Fame forward.
Kids Help Phone and the NHLPA are focused on continuing to bring awareness of mental health resources available to the hockey community in Canada, thanks to the vital work of Kids Help Phone's professional counsellors and volunteer crisis responders. Hockey fans who would like to provide their own assist are encouraged to visit KidsHelpPhone.ca, or click here to donate.