Gabriel Vilardi takes it one game at a time as a King in LA
More than 100 games into his NHL career, the 11th overall pick in the 2017 NHL Draft is making the most of his time on hockey's grandest stage.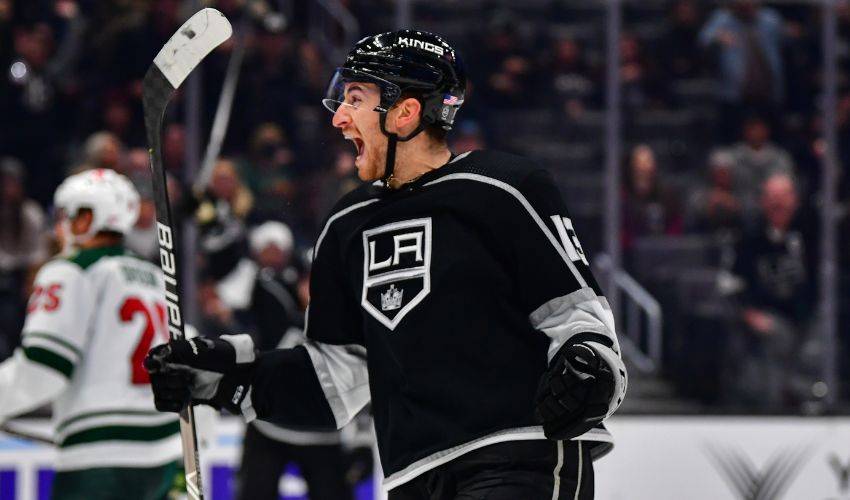 Feature photo: Getty Images
---
Gabriel Vilardi was looking forward to dinner and a show on a Monday night in Los Angeles.
"I picked up some corn-on-the-cob and pork chops," started the 23-year-old Los Angeles Kings centre. "We're going to give it a go. Going to make a nice little dinner and then sit down and watch some football."
One night later, the Vilardi scored the game's only goal in a home tilt against the Minnesota Wild. It was his 10th goal of the season and third game-winner.
For No. 13 of the Kings, the fact that he is playing at all is a huge victory.
Plagued for years by back issues that threatened to derail his hockey career, the 11th overall pick in the 2017 NHL Draft is making the most of his time on hockey's grandest stage.
Projected as a top-five pick, Vilardi possessed the type of game NHL scouts dream of: great hands, strong shot, impressive work ethic and the ability to be a game-changer.
Now, after years of question marks about his hockey future, the player, who now has over 100 NHL games behind him, has made a statement with his on-ice abilities, showing his teammates and the hockey world what he is capable of.
He has consistently been near the top of the team leaderboard in several offensive categories while averaging a point per game in the first month of the season.
Vilardi is taking none of it for granted. Instead, he is grateful to be in the position he finds himself in, a major contributor on a team seeking postseason success.
"I'm just really happy to play the game I love," he said. "I think being consistent night after night is the toughest part. Every time you step on the ice, it's a chance to prove yourself, so I'm always trying to be good every night. That's my goal, to be a good player every night. If you look at the best players, they find a way to do it every night. They are always doing something to help the team and that's my ultimate goal."
Speaking of goals, Vilardi's first NHL tally was a memorable one.
On February 20, 2020, he set a new NHL record when he scored his first career goal just 10 seconds into his first career shift. Vilardi also added an assist in the second period.
"I was very fortunate. It happened very quickly for me, so I was lucky that I could just focus on the game. I stepped on the ice, got the puck in the neutral zone and I literally shot it from just inside the blue line – I don't know if I got a favourable bounce – and it found its way inside the net. It was a very cool moment."
There have been many more of those moments to start the 2022-23 NHL season. He scored the game-winner against Toronto on October 29 and netted the first goal in a 5-1 victory against St. Louis two days later, in what was his 100th NHL game, pushing his goal streak to four games.
Vilardi isn't interested in looking beyond the next game on the schedule.
That said, he does have a long-term goal for this season.
"A successful year would be us going deep in the playoffs. That's what I want to do. I kind of got a little taste of it last year. I played in two games, not much, but the atmosphere was really cool. That would be a great year for the team, and I think we can do it with our roster."
Having Vilardi in the fold certainly boosts their chances.
All business at the rink, he is not just enjoying what life in LA offers, but also the simpler things.
"This season, it's been a lot of watching TV, shows and movies. I enjoy playing tennis, so with the weather here in LA, I get that chance. Other than that, I just like hanging out with friends outside the rink. There are so many amazing things to do here. When you're not at the rink, I like to just unwind. I do a mixture of things, playing video games too. It's a little bit of everything."
And, on certain occasions, making a meal that might not be fit for a king, but an enjoyable experience, nonetheless.
"We were spoiled growing up. My mom made great meals all the time. Our job was to set up the table. My parents did a lot for us. Hockey isn't a cheap sport, but my parents gave up a lot, and a lot of their time as well, to provide for me and my older brother [Francesco]. It helped us find that love for the game. So, we were pretty lucky in a lot of ways."
Lucky is a word Vilardi often uses when he speaks of his treasured hockey career.
"I'm really fortunate to be part of this group. We have a lot of veteran guys who have been through it before, and they help out the young guys a lot. The young guys are hungry to get to the point to where they've been, so it's a good mix. I feel lucky to be here and I'm going to work hard to be the best player I can be."