Mason Marchment credits decorated figure skating coach for on-ice success
Marchment, now in his third NHL campaign, insists he wouldn't be where he is without the help of skating coach, Barb Underhill.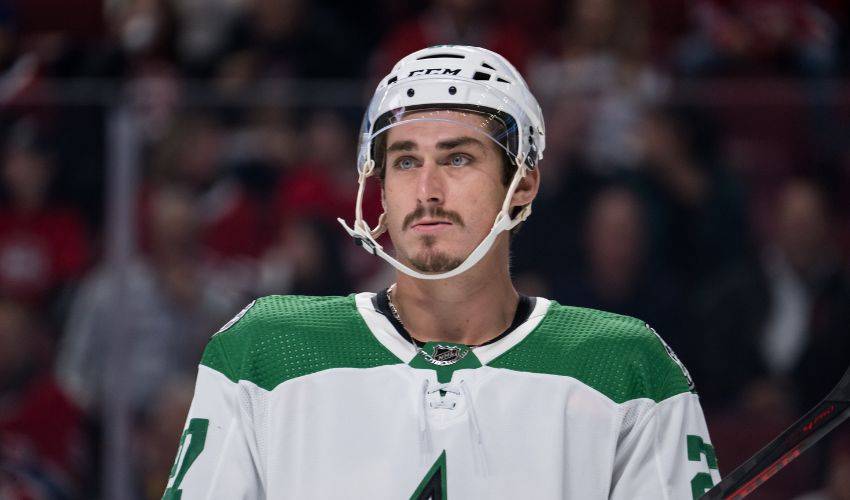 Feature photo: Getty Images
---
Mason Marchment continues to take big strides in his NHL career, thanks in large part to a former figure skating star.
When it comes to Barb Underhill, the 27-year-old Dallas Stars winger has all the time in the world to talk about the decorated Canadian skating standout, the one who continues to make an impact on the ice through her work with NHL players.
Marchment, now in his third NHL campaign and first with the Dallas Stars, insists he wouldn't be where he is without the help of Underhill, an Olympian and former world champion pairs skater.
"If you ask her, when we talk about it, she never thought we would get to here," the forward said with a laugh. "Once we started working with each other, she realized that I really wanted to get better. That's the one she said when we did start working together. She said, 'As long as you're working hard out here, I'll never give up on you.'"
And Marchment, who played alongside fellow NHL players Connor McDavid, Alex DeBrincat, Travis Dermott and Dylan Strome with the Ontario Hockey League's Erie Otters in 2014-15, never gave up on himself.
Undrafted, Marchment inked an American Hockey League contract with the Toronto Marlies in 2016. On March 17, 2018, he signed a two-year entry-level contract with the Maple Leafs.
Underhill greeted her student with an on-ice embrace when Marchment and his Toronto Marlies teammates won the 2018 Calder Cup.
"I needed all the help I could get," he recalled. "I grew really fast, so I wasn't really caught up to my body yet. Barb, she really helped me with everything when it came to my skating."
The results of those efforts soon paid off.
A little less than two years after his AHL championship win, Marchment made his NHL debut against the Winnipeg Jets, and registered one assist in four games with Toronto, over multiple call ups, before he was dealt to the Florida Panthers on February 19, 2020.
Marchment re-signed with the Panthers, making an impact in his 87 regular-season games with the team. On January 31, 2022, he recorded a six-point game, including a pair of goals, tying Olli Jokinen's franchise record for most points in a game, in an 8–4 win over Columbus.
Weeks later, Marchment, son of former NHL defenceman, the late Bryan Marchment, netted his first career hat trick in a 6–2 Florida victory against the Minnesota Wild.
Testing the free agent market, Marchment signed a four-year, $18 million contract with Dallas this past July. In his first game with the Stars, he lit the lamp twice in a win over Nashville.
A large part of all that success, Marchment noted, was thanks to his work with Underhill.
"I think it was probably – I've been working with Barb for about five years now – around the end of year two, the start of year three, when I really noticed that I could pull away from guys and I was stronger on my feet. I was better at protecting the puck, backchecking, all of the stuff you need to do to play in the NHL.
"I was lucky enough to have a lot of one-on-one sessions with Barb, and that definitely helped me, where she could dissect my stride and I didn't have to worry about comparing myself to anyone else while I was out there. Just to know that I can keep up with these guys, that I can even pass them … Barb really helped me zone in on keeping everything tight and using my core to get those complete, long, hard strides."
Having just played in his 100th NHL regular season game, the native of Uxbridge, Ontario, is off to a strong start in 2022-23.
He's feeling right at home playing in the Lone Star State.
"It really does feel that way. From the players to the training staff, to the coaches, everyone is a good person. And they want to win, which is a big thing that drew me to come here. The competitiveness and the will to succeed is definitely there."
Something Marchment knows all about.
He continues to praise Underhill, both as a teacher and person, for the impact she's had on his ascent to hockey's highest level.
"She definitely has helped me beyond what I ever could have asked for. We still text and if I ever need anything, to analyze my video or look at my stride, I send her clips and she gets right back to me. I'm very lucky to have met Barb. I never take that for granted."