Jonathan Marchessault finds motivation in his doubters
Heading into his eighth NHL season, Marchessault has become a respected teammate who constantly pushes himself to elevate his game.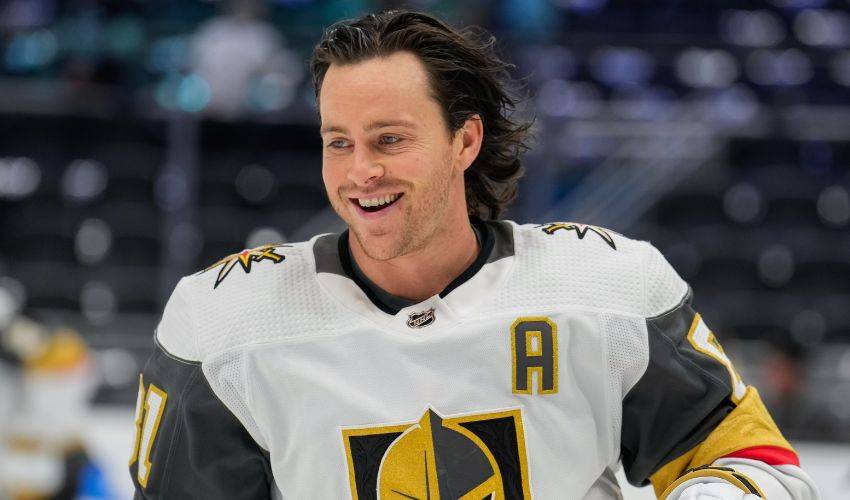 Feature photo: Getty Images
---
Motivation has always been the name of the game for Jonathan Marchessault.
Throughout his hockey life, before and during his NHL days, the diminutive Vegas Golden Knights forward from Cap-Rouge, Quebec, has always tuned out the voices of the naysayers, those who said he was too small to be an impact player at any level.
Instead, the 5-foot-9 Marchessault has channeled his inner drive and competitive fire every step of the way – an approach that continues to serve him well.
"Just proving a lot of people wrong," said the 31-year-old, of what he's most proud of when it comes to his career. "I've been doing that since I was 12. People would say, 'He's too small. He won't make that team.' I would also hear things like, 'He's not big enough and the contact will hurt him.' I even heard, 'He won't ever make junior or professional.' It's been about proving a lot of people wrong. That has always given me motivation."
That commitment to his craft continues to serve him well.
The five-time 20-plus goal scorer took a long path to reach the NHL ranks, but made his presence known after a breakout 2016-17 season with the Florida Panthers when he netted a personal-best 30 tallies, which he matched this past season.
Vegas took notice of his talents and selected Marchessault in the 2017 Expansion Draft, a move that paid immediate dividends with a 75-point campaign, including 27 goals, in 2017-18 season. He was also a major reason behind the Golden Knights enjoying the best season for a new franchise in NHL history.
Since that first year in Vegas, Marchessault has continued to be one of the team's most impactful players, a sparkplug in the locker room and on the ice. And while the puck doesn't drop on the start of the Golden Knights' regular season until October 11 in Los Angeles, Marchessault is already in game mode, excited to get things rolling.
"We're a very tight group. Last year, unfortunately, we had a lot of bad bounces. But I think it was good for us to have a longer summer. Everyone can do their rehabbing and recharging, and we can all be ready to go. I think we can just look forward now and be dialed in. We're supposed to be a good team and that's what we want to show."
And the man, who idolized a pair of Hockey Hall of Fame members growing up, can continue to show everyone what he's all about.
"When I was really young, my brother, he was a big Joe Sakic fan, so I always loved watching him play. But as I started to follow hockey and watch the game more and more, the guy who really kept me pushing forward and making me believe that smaller players could make it to the NHL was Martin St. Louis. He was a force, a dominant player and it was quite impressive the career that he had. He is a player I definitely try to model my game around."
Marchessault considers the chance to have met those players, one on the ice, the other in a much different setting, as some of his most treasured hockey moments to date.
Although he didn't get to converse with St. Louis, he did get an up-close view of the current Montreal Canadiens head coach.
"I never got to meet him. But I remember there was a faceoff in Tampa and I wound up lining up right next to him – he was with the Rangers at that time – and it was pretty cool. It was probably one of the coolest moments I've had in my career. There was another one, too. When we were in the bubble, I was in the same elevator as Joe Sakic. I thought that was pretty cool too. I said hello and asked how he was, and I could tell he was a very genuine person."
Heading into his eighth NHL season, Marchessault has very much become his own player and person, a respected teammate who constantly pushes himself to elevate his game.
"To this day, I still have that same motivation and same fire to be successful, to be the best player I can be. I don't see myself stopping. … I still have the passion to be good on the ice. On some days in the gym, it may get harder, but it is all worth it."
A passion he will be able to put into practice this coming season once again with the Golden Knights.