29 rookies get a taste for the NHL at the 12th annual NHLPA Rookie Showcase
The main focus of the showcase was for Upper Deck to gather content of many of the game's top young prospects and rookies.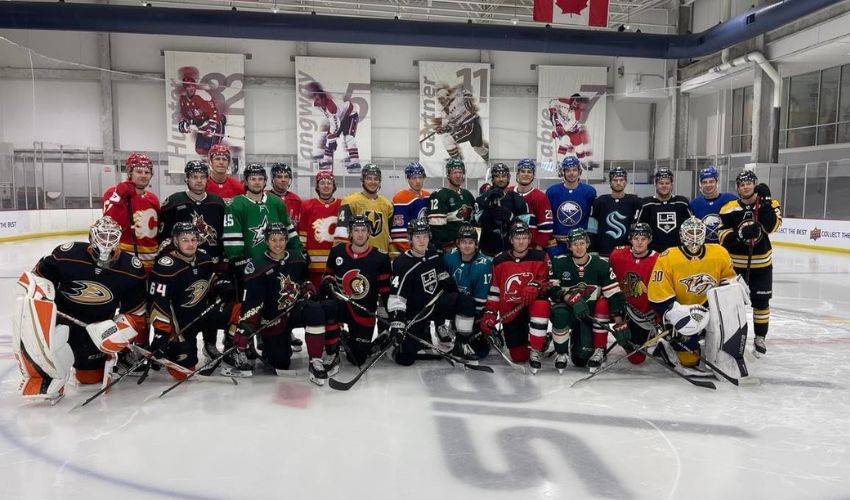 ---
The 12th annual NHLPA Rookie Showcase was once again a picture-perfect platform for 29 NHL rookies and prospects who gathered for two days of memorable events.
Held in Arlington, Virginia, the main focus of the showcase was for Upper Deck – the official trading card partner of the NHLPA and the NHL – to gather content of many of the game's top young prospects and rookies in their respective NHL team jerseys to be used for upcoming trading cards and related promotional materials.
For those players who collected – and still collect – cards, it was a cherished opportunity to find themselves in a different scenario this time around.
"I used to collect cards when I was younger," said Shane Wright, the 4th overall pick of the Seattle Kraken in the 2022 NHL Draft. "I kept a big binder in my room with all the cards. I was definitely into that. I think I still have all of them. I know my mom would definitely never throw them out. It's been a while since I last looked at them, so I should probably check them out again."
The event was a welcome opportunity for the players to get to know one another, share their hockey journeys and talk about the upcoming 2022-23 NHL season.
Aside from having their pictures taken by Upper Deck and signing autographs for limited-edition cards and memorabilia, the players, a list that included the top two first overall NHL Draft picks – Owen Power and Juraj Slafkovsky – as well as Matty Beniers, Matt Boldy and Wright, just to name a few, also had the chance to test out their skills off the tee during a trip on Monday evening to Topgolf, a virtual reality golfing and entertainment venue.
"It's been great, definitely a lot of different things going on for the players," said Buffalo Sabres defenceman Owen Power, the 1st overall pick in the 2021 NHL Draft. "It's an opportunity to see some guys that you know and to also meet some others for the first time. There are a lot of talented players here."
On Tuesday, at MedStar Capitals Iceplex, in Arlington, the players were front and centre at the event's on and off-ice stations. The players in attendance also spoke with media members who covered the event. Afterwards, the players took to the ice for a fun scrimmage session to wrap up their day at the rink.
The on-ice portion of the event was also a chance for the players to show off some offensive flair.
"The photo shoots on the ice were amazing," said Matty Beniers, the Seattle Kraken's 2nd overall selection in the 2021 NHL Draft, who had nine points in 10 games with the club in 2021-2022. "We got to do shootouts after. Everyone was doing different moves, so that was kind of cool to see."
From former collegiate teammates catching up, to junior hockey rivals meeting one another for the first time, to showing off some of the skills that caught the eye of the team that drafted them, the future stars took plenty away from their two-day experience.
"It's been awesome," said Hendrix Lapierre, the 22nd overall pick of the Washington Capitals in the 2020 NHL Draft, who scored his first NHL goal in his first NHL game on October 13, 2021. "For us young players, to be reunited with one another and chat with one another, and do a bunch of cool things, it's been a lot of fun to do this before everyone gets down to business."
With training camp on the horizon and the new NHL season drawing ever closer, some players will look to expand the number of NHL games they played in 2021-22 while others will look to net their first big-league experience in 2022-23.
Matt Boldy, the 12th overall pick of the Minnesota Wild in the 2019 NHL Draft, posted 15 goals and 39 points in 47 games with the Wild last year. Marco Rossi, the ninth overall selection of the Wild in 2020, skated in his first two NHL games last season. Others, like Brendan Brisson (Vegas, 29th overall in 2020), Jake Sanderson (Ottawa, 5th overall in 2020) and siblings Brandt Clarke (Los Angeles, 8th overall in 2021) and Graeme Clarke (New Jersey, 80th overall in 2019) will hope to play in their first NHL game.
"Obviously, it's [first NHL game] what you dream and hope for, so to see it come true is amazing," said Boldy, who scored the game-winning tally against his hometown Boston Bruins, in his first NHL contest on January 6, 2022. "This is the time of the year when you really start getting pumped for the season, so to be part of something like this, it's a great way to get you even more excited."
This year's group of NHL rookies and prospects included Yaroslav Askarov (Predators), Matty Beniers (Kraken), Matt Boldy (Wild), Thomas Bordeleau (Sharks), Mavrik Bourque (Stars), Brendan Brisson (Golden Knights), Brandt Clarke (Kings), Graeme Clarke (Devils), Lukas Dostal (Ducks), Simon Edvinsson (Red Wings), Samuel Fagemo (Kings), Dylan Guenther (Coyotes), Dylan Holloway (Oilers), Hendrix Lapierre (Capitals), Fabian Lysell (Bruins), Matias Maccelli (Coyotes), Jakob Pelletier (Flames), Jacob Perreault (Ducks), Sam Poulin (Penguins), Owen Power (Sabres), Jack Quinn (Sabres), Lukas Reichel (Blackhawks), Marco Rossi (Wild), Braden Schneider (Rangers), Jake Sanderson (Senators), Juraj Slafkovsky (Canadiens), Ryan Suzuki (Hurricanes), Shane Wright (Kraken) and Connor Zary (Flames).