Brayden Schenn eager to get back in blue
There's no need to ask the veteran St. Louis Blues forward if he's pumped about strapping on the skates for his 12th NHL season.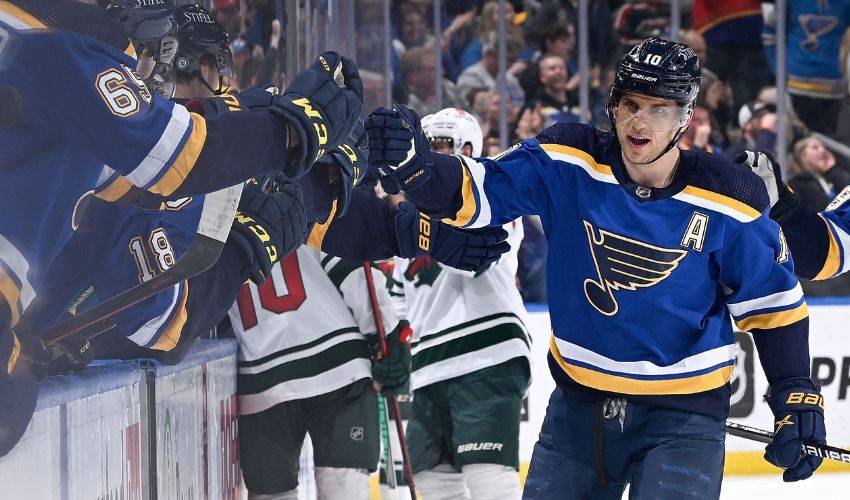 Feature photo: Getty Images
---
After an abbreviated 2021-22 NHL campaign, Brayden Schenn is understandably ready to get things rolling for the season ahead.
There's no need to ask the veteran St. Louis Blues forward if he's pumped about strapping on the skates for what will be his 12th NHL season.
"You always reach a point in the offseason when you start to get that adrenaline going and want to get back out there and compete," Schenn told NHLPA.com. "I've been training and skating getting ready for the season. August is the time when everything kind of winds down and then you get your mind into that preparation mode. No complaints though. It's been a really nice summer. When you have that chance just to relax and unwind, do a few things here and there, it helps recharge you for the upcoming season."
Having missed 20 regular season games last year, the forward, who was part of the Blues team that won the 2019 Stanley Cup, is even more motivated than he typically is at this point of the summer.
It's easy to appreciate why he feels that way.
Schenn played through three different sets of broken ribs over the course of the season and also suffered a torn oblique.
Despite the injuries and the frustration of having to sit on the sidelines for a portion of the year, the Saskatchewan native still found a way to average nearly a point per game, scoring 24 goals and recording 58 points in 62 games.
"It was a tough year, but you find a way to fight through it," said Schenn. "It's never easy when you aren't out there. And when you do get back, it's a great feeling. That love of the game never wavers."
The six-time 20-goal scorer from Saskatoon, Saskatchewan, is closing in on a personal milestone – 800 NHL games. Schenn, who was selected fifth overall by the Los Angeles Kings in the 2009 NHL Draft, sits 24 games away from the mark.
"You always hope of getting the chance to play in this league and when you do, it really is a dream come true. And now, to have played that many games and to have a won a Stanley Cup, you appreciate all of it even more."
While he's enjoyed a fairly low-key offseason, Schenn had some fun on the diamond, competing in the Josh Gorges and Blake Comeau Homebase Slo-Pitch Charity Tournament on June 24-25, in Kelowna, British Columbia – an event that raised $242,000 for KGH's 'We See You' campaign – in support of local mental health initiatives for the public and care advisors.
"I definitely need to work on the softball skills. But I was able to make a couple of pretty decent catches. Batting, I definitely need some work. There were some guys there who had a lot of home run power. It's kind of cool to see the players excel at other sports."
And to watch them come together for a good cause.
"This year, it was a mental health campaign. There are a lot of people who will benefit from the money and awareness raised, which is really nice to see. It was a great time, and everyone was really happy to be there. It was nice to see people around town, and then get together with the hockey guys for a couple of days. The city, it's really booming. The word is out that Kelowna is a great place to be. It always has been, but people are coming here and it's getting bigger by the year."
While he didn't quite into the swing of things on the diamond, Schenn certainly is when it comes to readying for the new season, one that launches for St. Louis with a home test against the Columbus Blue Jackets on October 15.
"I'm really looking forward to it. I always do."
For Schenn, it also means he doesn't have to pick up a softball bat for another 10 months or so.
"Definitely need to polish up the batting part of my game. We'll see if there's any improvements next time around."