Bowen Byram and country singer Dean Brody give back through NHLPA Goals & Dreams
Brody was joined on stage by Byram to announce a $60,000 donation.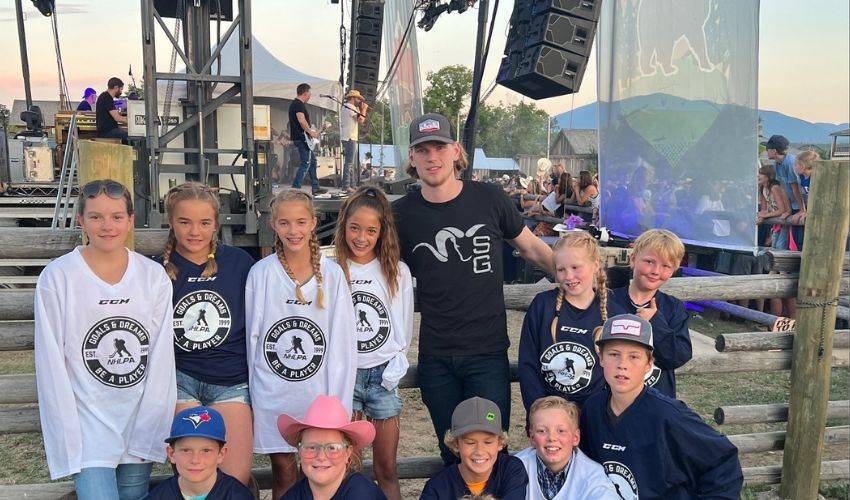 ---
Stanley Cup champion Bowen Byram and the NHLPA Goals & Dreams fund joined with multi-platinum Canadian musician Dean Brody as part of a special event in British Columbia this past weekend.
It was a homecoming celebration for Byram, a Cranbrook native, and East Kootenay product Brody, who took centre stage together at a sold-out concert in Fort Steele, B.C., on July 23.
Brody was joined on stage by Byram, fresh off his Cup win with the Colorado Avalanche, to announce a $60,000 donation – utilizing proceeds from Brody's sold-out show at Fort Steele Heritage Town, along with partnering with NHLPA Goals & Dreams – to the local minor hockey community.
The donation will assist Cranbrook Minor Hockey, enabling more kids to enjoy the game of hockey in the coming years thanks to new equipment being donated and registration fees being covered by Brody's contribution with G&D.
"That's what this weekend is all about, giving back to a place that's really special for us," said Brody. "Last year, I was in Fort Steele and brought out a film crew and I fell in love with the people. There is great character in the people here. It was a year in the making, but to have a show out here and be able to team up with the NHLPA has been a dream come true."
Since 1999, over 80,000 children have been provided the opportunity to play the game of hockey in 34 countries courtesy of G&D. Over that time, fund has donated more than $26 million to help grow the game hockey.
"The NHLPA Goals & Dreams fund is very proud to partner with country music star Dean Brody on this initiative in his hometown of Fort Steele, B.C.," said Devin Smith, NHLPA Goals & Dreams Chairman. "Dean's impressive commitment to his hometown mirrors the passion that many NHLPA members have for their own hometowns around the world. We are thrilled to have Cranbrook's own Bowen Byram representing all NHLPA members and their grassroots hockey program, Goals & Dreams, to help young boys and girls in the Fort Steele area participate in the great sport of hockey."
Having earned a rightful reputation as a Canadian hockey hotbed, Cranbrook, a city of nearly 21,000 people in southeast British Columbia, has produced several NHL players, including Hockey Hall of Fame inductee Steve Yzerman, Jon Klemm, Brad Lukowich and others.
The city has another standout in Byram, who was part of the Stanley Cup champion Colorado Avalanche squad.
"Now that I've had some time to take it all in, it's breathtaking even imagining it. It's been an unbelievable end to the season and a great start to the summer," added Byram.
Brody and Byram quickly hit it off and began their whirlwind weekend by hosting the Cranbrook Minor Hockey Association for a private meet and greet at the local arena before Saturday's concert. Byram surprised the 30 kids and their parents by showing up in his hometown for the event, joining them for a pick-up ball hockey game. He then went on to surprise the sold-out crowd on Saturday by joining Brody on stage alongside Matt Langen of the NHLPA to make the cheque presentation to the Cranbrook Minor Hockey League. Ten lucky kids from the Cranbrook Minor Hockey Association also got to join Brody and Byram on stage for the presentation.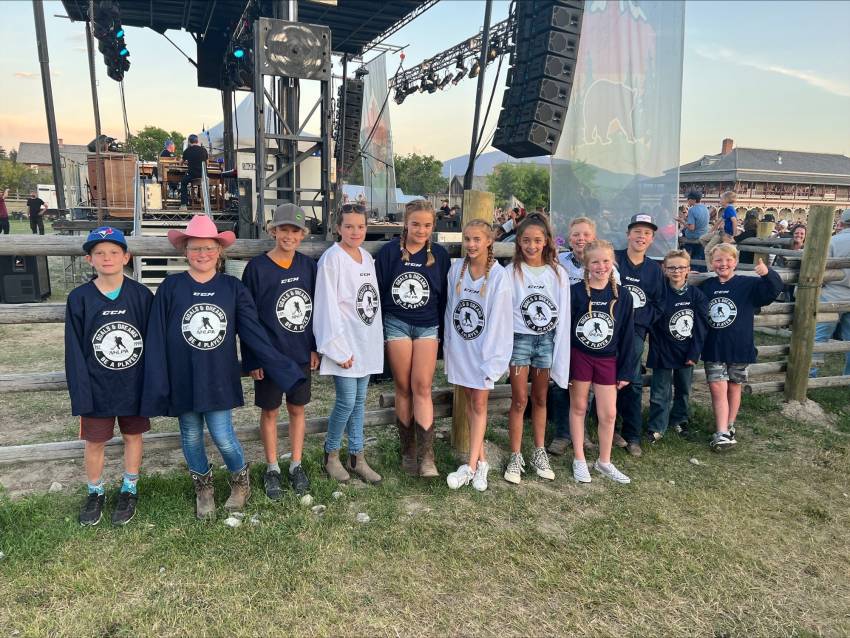 "It was great to meet Dean and have the chance to spend some time with him," said the 21-year-old defenceman. "Obviously, I know Dean from listening to his music, but to get to meet him and hang out with him has been a lot of fun. It's also good when you get the chance to do something for the community. It was really cool for Dean to think of hockey as the way of giving back. It means a lot to me as a hockey player, and I know it means a lot to many people."
Humbled by the opportunity to share in the celebration, Byram was happy to leave the singing to Brody.
"I'll stay off the microphone," said the fourth overall pick of Colorado in the 2019 NHL Draft.
For Brody, who created his namesake foundation over 10 years ago, helping out communities through his charitable endeavours continues to be an important part of his life.
In keeping with his philanthropic ways and wanting to ensure the local music scene was well represented at the concert, Brody held a contest for opening act honours. The spot was awarded to Emma Kade, a pop singer and songwriter from the small town of Creston in the Kootenays of B.C. Also taking the stage ahead of Brody's performance was Trevor Panczak, an award-winning country music entertainer from southern Alberta.
The event was a treasured hat trick for Brody, uniting three of his biggest passions: music, hockey and giving back.
"It's been a dream of mind to come back home and to give back," said Brody, whose foundation supports initiatives throughout the world, funded through personal and private donations. "It was a great weekend all around and something that was truly memorable."