His NHL Draft story remains memorable for Anders Lee
The New York Islanders captain, is part of an impressive list of late-round draft picks who have gone on to enjoy a prosperous NHL careers.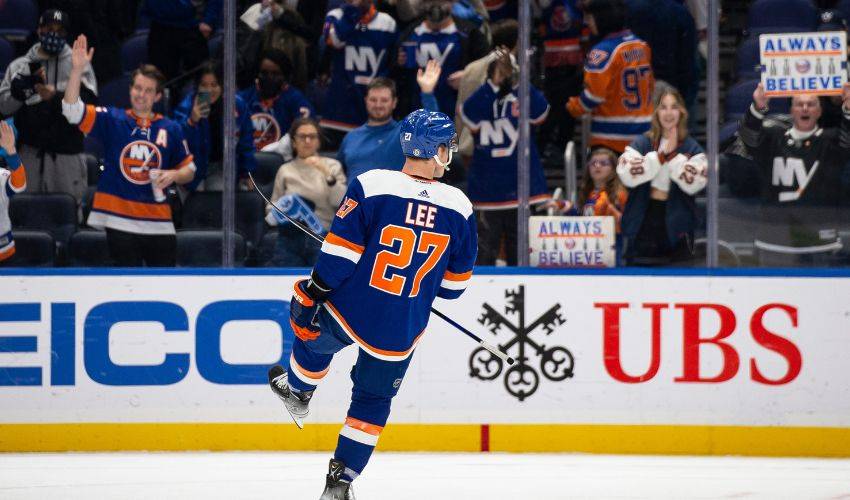 Feature photo: Getty Images
---
Typically, the annual NHL Draft day experience for prospects in attendance includes hearing their name called, embracing family and friends, walking up to the stage, donning the cap and jersey of their new NHL team and getting their first photo taken.
In more recent times, those who don't attend the draft (the 2022 NHL Draft will be held later this week in Montreal) are afforded the luxury of watching the proceedings online and tracking all the news through numerous social media channels.

But that wasn't how any of it unfolded 13 years ago for New York Islanders captain Anders Lee – a star athlete from Edina, Minnesota who had been offered opportunities to play both football and hockey at Harvard and Minnesota, before he made the decision to lace up the skates at the University of Notre Dame.
Bypassed in his first year of NHL Draft eligibility, Lee didn't make the trip to Montreal the following year for the draft.
Instead, the star hockey player and quarterback (he was selected as the 2008 Minnesota Gatorade Football Player of the Year) was busy at the part-time job he had picked up for the summer.
The gig? Selling knives for the aptly named Cutco.
"That's on my resume as the job I had before I was a hockey player," quipped Lee, who was also named as a finalist for the 2009 Mr. Hockey award in his home state. "We were actually talking about my draft experience recently. I remember that day so clearly. I was at work, in a training session about selling knives, when I got the call about being drafted."
The momentous call, on June 27, 2009, came from the Islanders, who selected Lee in the sixth round, 151st overall.
"It's definitely a moment I'm never going to forget. It's pretty special. I didn't go to the draft, where there are always some special memories for the players and their families. Mine was a bit different, but just as special."
Not only for Lee, but for those he's closely connected to.
After he received the draft call, he made several calls of his own.
"I knew the draft was going on, obviously, but after not getting drafted the year prior, my expectations were managed a little bit better going into the second time. I was still surprised, and it was a wonderful feeling, even more so when I was able to share the news with my parents."
Lee has carved out a highly successful career, one that currently stands at 596 NHL regular season games played. The man who was named captain of the Islanders on October 4, 2018, is part of an impressive list of late-round draft picks who have gone on to enjoy a prosperous big-league life.
Kirill Kaprizov (1355th overall in 2015), Connor Hellebuyck (130th in 2012), Mark Stone (178th in 2010), Joe Pavelski (205th in 2003), Ondrej Palat (208th in 2011) and Jamie Benn (129th in 2007) are a few examples of more recent late-round selections who have made their mark in the NHL.
"Everyone develops at a slightly different pace and for someone like me, it did take me a little bit longer to get to the NHL. But that path set me up to have a successful NHL career. The journeys are all different, but there is a group of guys that have been taken in the later rounds, guys who maybe have a tendency to work harder or smarter and then made a name for themselves. I don't know what it is, but there is a commonality there for sure."
Regardless of where his new teammates happen to land in the draft order, Lee is one of the first people to pick up the phone and greet the young players selected to the Islanders organization.
His advice to them, or any other aspiring young player leading up to and after draft day, are words he can certainly relate to.
"Just continue to work on improving and never be satisfied. Take it from me, it doesn't matter where you are drafted, it matters that you are drafted by a team that cares about you, one that you give your best effort for. It goes back to putting yourself into a position to succeed. You still have to earn the opportunity and get the opportunity, but a lot of the cards are in your favour because you hold the cards yourself."