Paul feeling at ease in Lightning's quest for three-peat
While he wasn't part of the first two Stanley Cup wins for the Tampa Bay Lightning, Nick Paul has fit in quickly along the quest for a three-peat.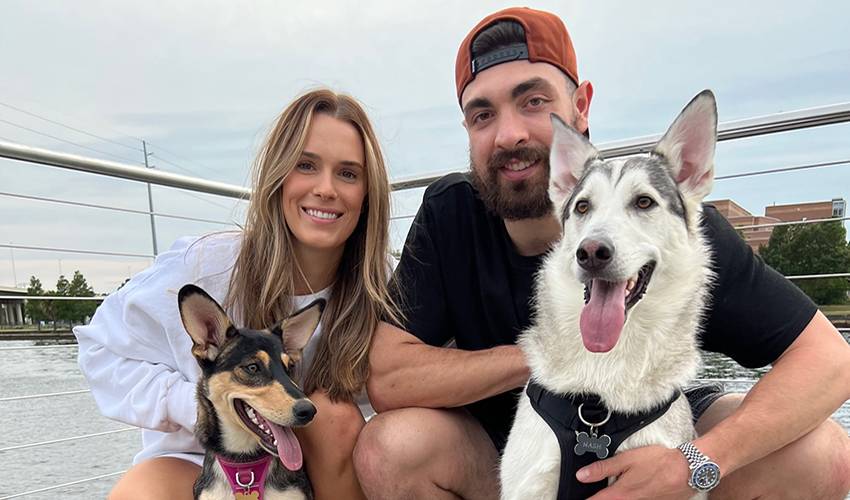 Everywhere he turns, Nick Paul has a seemingly endless supply of support.
"It's been good," said the voice on the other end of the line. "I can't complain."
For the 27-year-old Paul, who came to the Tampa Bay Lightning via a trade with Ottawa on March 4, life inside and outside of the playoff arena is about as good as it gets.
Hockey-wise, he and his Tampa Bay Lightning teammates are one step away from making it to the Stanley Cup Final. On the home front, he's been able to share the journey with his parents, Ellwood and Melinda, fiancée Janessa, and the couple's two dogs, Hazel and Nash.
"I've been watching the playoff games, keeping tabs on what's going on, but for me, it's family. My parents are staying at my place in Tampa right now. We've been taking the dogs for walks, chilling out, watching movies – just enjoying our time together. They love it. My dad has always loved watching me play in those meaningful games, playoff hockey, or in the World Championship. He's just loving the playoff hockey now. My mom, she really enjoys it too. When I get to see them after a game, to see how happy they are, the success we are having, that they are proud of me – that really does mean a lot to me."
As does being part of a team seeking its third straight Stanley Cup championship. While he wasn't part of the first two wins, suiting up with the Atlantic Division club has been a dream since day one for the left winger.
"These guys are unreal," said the Mississauga, Ontario, native who was selected 101st overall by the Dallas Stars in 2013. "I was able to fit in so quickly when I came here. I felt part of it right away. I was invited out to dinners by so many guys, Stammer [Steve Stamkos], Pat Maroon, Ryan McDonagh… right down the list, everyone makes you feel right at home and that you fit in. On the ice, they are unbelievable players, but off the ice, they are unbelievable people too."
It was a perfect scenario for Paul, who had already set a career-best 11 goals with the Ottawa Senators before being dealt to Tampa Bay March 20 of this season. Paul went on to raise that mark by netting 14 more points in 21 games to close out the regular season with his new team, finishing with 16 goals and 16 assists for 32 points (also career-bests).
Any insecurities about coming to a team loaded with top-shelf talent were quickly put to rest. The forward has put up six points over 12 outings so far this postseason, including a Round 1 series-winning goal scored in a two-goal effort as the Lightning advanced past the Toronto Maple Leafs.
"You're not trying to fit in because you already feel like you're part of it," said Paul. "That's one less thing to think about. You're there to play hockey and people have confidence in you. It was great from day one. You didn't have to worry about texting people or going out to dinner alone. You just feel like you've been there the whole season. You get to focus on hockey and from there, chemistry builds with the guys you play with. It definitely eases the mind and helps you focus."
Which is exactly how Paul views his current home life with his temporary new roommates.
Although Melinda still has to dedicate time to her job as an Area Sales Director for an international electronic components and services company, she and her husband are enjoying the Tampa life – hockey, sunshine and plenty more.
Paul doesn't mind certain advantages that come with having his parents in the Sunshine State.
"My mom, she loves cooking, but we've been going out for dinner too. I want to her relax and have no stress. My fiancée and I have two dogs – one is puppy a now – so my parents will take them on walks. Tampa is really dog-friendly, so they've been really able to enjoy that part of it along with everything else there is to do here. My mom is still on the phone, working, but we've been able to have that time to be together. She's retiring in a couple of months, so I want both her and my dad to just enjoy their time here."
The player who wears No. 20 might be enjoying it the most of all.
"It really does mean a lot to have my parents here. They have always supported me and to be able to share this is really special. Obviously, I've been going to the rink, keeping the conditioning up and getting ready for the next challenge. Just knowing they are here, and are so happy, it makes everything that much more enjoyable."