Verhaeghe writes Panthers postseason history en route to Second Round
Carter Verhaeghe has written his name in the Florida Panthers record book with his strongest postseason to date, but according to Karen Verhaeghe, he's likely not done yet.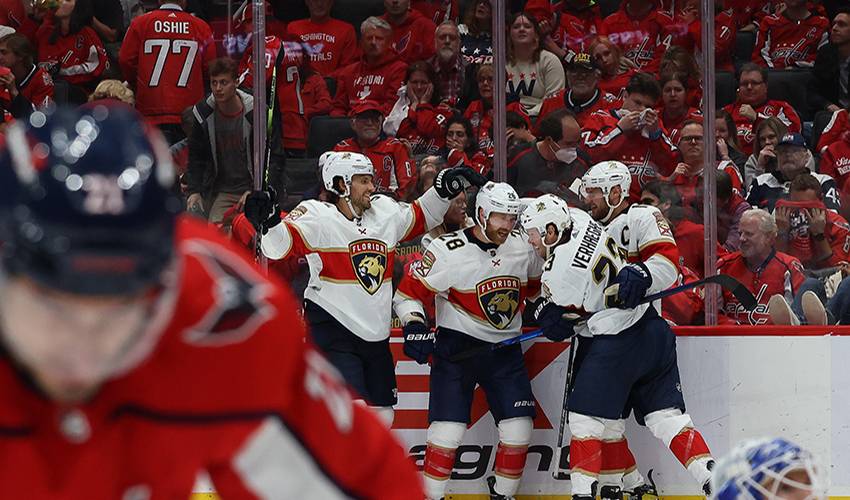 Feature photo: Getty Images
---
Perhaps the loudest cheer for Carter Verhaeghe's overtime series-clinching goal came over 700 kilometers away from where it actually happened.
When the 26-year-old Verhaeghe netted the extra-frame tally at 2:46, a goal that sent the Florida Panthers to the Second Round of the Stanley Cup Playoffs, his elated teammates spilled onto the ice to celebrate the hard-fought Game 6 win against the Washington Capitals.
Verhaeghe, who was a game-time decision, helped send Florida to the Second Round of the postseason for the first time in 26 years with what was his fourth multi-point game this postseason.
An eight-hour drive away in southwestern Ontario, there was another jubilant celebration simultaneously taking place.
"It was such a great win for the team," said Verhaeghe's mom, Karen. "I was out on the front porch yelling and our neighbours were all excited. They were watching the game, too. It was around 11 at night, so my husband said, 'Calm down… stop screaming.'"
There has been plenty to cheer for when it comes to No. 23, especially in recent years.
But the journey to get where he is now was a long and twisting one for the centre.
Selected by the Toronto Maple Leafs in the third round (82nd overall) of the 2013 NHL Draft, he was traded to the New York Islanders on September 17, 2015. After 33 goals and 82 points with Niagara IceDogs (Ontario Hockey League) in 2014-15, he played two seasons in the Islanders' farm system before another trade led him to the Tampa Bay Lightning on July 1, 2017.
Verhaeghe made the Lightning roster at training camp in 2019 and was in the opening-night lineup against the Florida Panthers on October 3, 2019 to make his NHL debut.
He earned his first point, an assist, against the Panthers in his next game two days later and scored his first NHL goal against the San Jose Sharks on December 7. On January 7, 2020, Verhaeghe scored three goals against the Vancouver Canucks for his first NHL hat trick. He finished with nine goals and 13 points in 52 games, then had two assists in eight playoff games during the Lightning's run to the Stanley Cup in 2020.
His career would continue in the Sunshine State, but in a different uniform.
Verhaeghe signed as a free agent with Florida on October 9, 2020, and notched 36 points in 43 games in 2020-21 in his first season with the Panthers.
Now, coming off his most productive offensive NHL season to date, where he scored 24 goals and recorded 55 points in 78 games, he's taken his game to a whole new level.
He established a personal best and new franchise record for points in a Stanley Cup playoff game when he tallied five in Game 5, a 5-3 win against the Capitals. The forward turned in three consecutive game-winning goals over the first-round series, starting with another overtime decider in a 3-2 win of Game 4.
Verhaeghe, who tallied six goals and 12 points in the opening round to lead his team in both categories, won't be resting on his laurels.
"I'm just happy for his success because he's worked so hard to get there," said Karen. "But even though he's worked so hard to get where he is, he never really stops working. For him, this is what he does and that's who he is. It's not like he has reached a pinnacle where he thinks, 'I'm done now.' He always wants to be better."
And it's anything but about him.
When asked what would constitute a successful playoff game for himself, Verhaeghe provided a 'we' rather than 'me' response.
"My idea of a good playoff game is a good team win," he told NHLPA.com. "This group, everyone is great. When I got here, everyone was so nice and welcoming. We have lots of laughs and characters."
The Panthers also have a bona fide talent in Verhaeghe.
Tonight Carter Verhaeghe (2-3-5) factored on all five of Florida's goals, the most points in one playoff game in franchise history. He has produced 10 points (5-5-10) vs. WSH, tied for the most points over a five-game playoff span in club history. pic.twitter.com/IQtqRgiypR

—

Florida Panthers PR (@FlaPanthersPR) May 12, 2022
"He's an awesome individual, a very kind-hearted person who always wants to help people," offered Karen. "He's always been that way. He wants everyone to be successful. Whether it was a kid at the playground or a fellow teammate, he's just a helpful, friendly person. He's come by that honestly. He's been with guys like that throughout his whole career, starting back in the OHL when he was playing with Ryan Strome, Dougie Hamilton and a number of guys who were those team-first guys. Then in Syracuse, it was the same thing. When he was with Tampa, he had Steven Stamkos, Victor Hedman and Brayden Point. In Florida, he has Aleksander Barkov, Jonathan Huberdeau and so many other great people – they are all amazing."
Karen Verhaeghe is hoping she has more to celebrate when the Panthers look to turn the tables on the Lightning, who bested Florida in the First Round last season on their way to a second consecutive Stanley Cup.
She'll definitely be looking the part of proud parent the moment the puck drops on the series.
"At home, I wear the jersey. When good things happen, usually, I don't even see it. I see the celebration and I have to go back and rewatch it. It's almost like, 'What just happened there?'"
And then, like she does after the big wins, Karen will pick up her phone, look for the best way to describe her emotions, and then hit 'send.'
"Usually, it's something crazy that happened, so I send Carter a gif of some crazy lady who's so excited. It starts with a text flurry of excitement and later on when he gets back to the room, he'll send me a nice text back."