Vatrano producing for Rangers leading into playoffs
Whether he's indulging in the local cuisine, a scenic walk or a trip to the Stanley Cup Playoffs, Frank Vatrano is loving all that New York has to offer.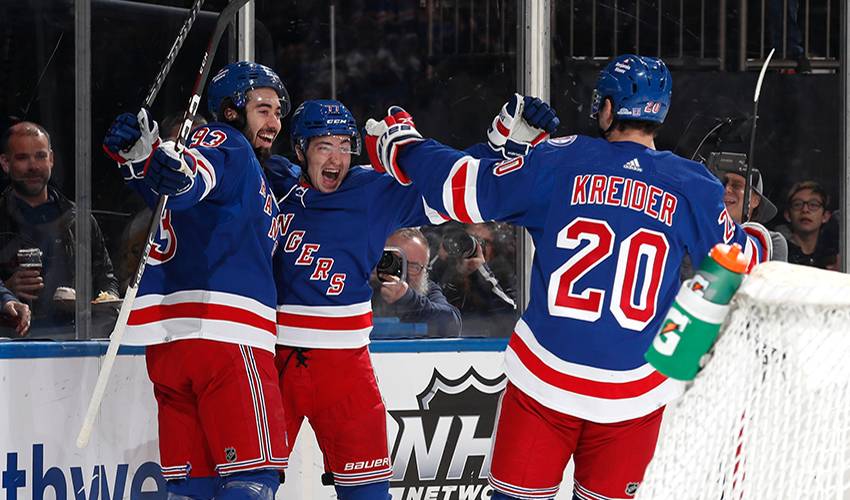 Feature photo: Getty Images
---
Frank Vatrano is walking the walk in New York City.
Since coming to the Rangers in a trade from the Florida Panthers on March 16, the 28-year-old has a new outlook in at least one area of his life.
"I've been enjoying the city a lot," he told NHLPA.com. "It's been a lot of fun so far. A lot of restaurants and a lot of shopping. You can never be bored here, that's for sure. I walk around a lot. I wasn't much of a walker until I got to New York, so I've actually been walking a lot more these days. You can't really drive here, so it forces you to get out and walk. And that's been something I've really been taking advantage of."
While he's getting used to playing in a new city and with new teammates, Vatrano does have some familiar faces in the lineup, namely, defencemen Jacob Trouba and Adam Fox, and forward Chris Kreider.
Vatrano and Trouba were teammates in the United States National Team Development Program, while Fox and Kreider were part of the U.S. team at the 2016 IIHF World Championship. Fox was his roommate during the tournament in Russia.
Trouba recently took to Twitter and shared a must-see photo of the pair from 2011.


"There's always an adjustment period no matter what, no matter where you go, but I think it's a lot easier when you come into a room and you're familiar with a lot of the guys," said Vatrano. "It makes that adjustment just a tad bit easier. I think the rest just kind of takes care of itself."
Being himself has paid huge dividends for both Vatrano and the team, which recently clinched its first Stanley Cup Playoffs berth since 2017.
"I think when you come into a new team and there's a new coach, as a new player you have to prove yourself, to know that they saw something in you that could help the team win. I think once you're around long enough, you figure out what you need to do every single day and night to be effective. For me, that's just playing a simple game. That means moving my feet, being physical and getting into the open areas to make plays. From day one, I knew what I needed to do on a nightly basis. I'm also very fortunate to be playing with some great guys. They make the game a lot easier on me too."
Kreider, who is enjoying his best offensive NHL campaign, provided Vatrano with a huge assist, one that didn't show up on the scoresheet.
"Chris was nice enough to let me stay at his place in the city, which was really kind of him to do. That also gives you some peace in mind in knowing you have a nice place to stay."
Vatrano has already had a significant impact with the Blueshirts, including a pair of goals scored March 27 in a 5-4 Rangers overtime win against the Buffalo Sabres.
His ice time and offensive production has steadily increased and the forward is being utilized in a number of key situations while playing on a line with some of the team's top players.
"When you get traded, you don't really know where you are going to end up. Sometimes, you get traded to a team that's rebuilding and trying to find their identity, but for me to come into a team that was already in a great situation, to be able to provide depth wherever they needed me, a team that can contend for the Stanley Cup – it's made it a lot easier. For me, it's just meant coming in and playing my game, and helping the team win."
Away from the rink, Vatrano is enjoying the opportunity to check out the seemingly endless sights and sounds of New York.
Getting to know the world-class cuisine scene continues to be high on Vatrano's to-do list. Vatrano, of Italian and restaurateur descent, of course knows good food.
"There are so many fantastic places to eat here. I've been to a few, but when I can, I'm going to keep searching out some new places. There are a lot of Italians in New York, so there's definitely some good food here."
The cheering section at home games for Vatrano, who was originally signed as a free agent by the Boston Bruins on March 13, 2015, has also grown bigger since he started with the Rangers.
That number should increase once the puck drops on the Stanley Cup Playoffs.
"Playing here, it's about as close as you can get to home, other than Boston," said the native of East Longmeadow, a town in Hampden County, Massachusetts. "So, that's nice to be able to have family and friends come to see us play whenever they can. It's great to be able to have that."
In keeping with his new outlook on life, Vatrano will continue to walk the walk.
When he's in his Rangers uniform, he'll be happy to let his game do the talking.
"I'm very lucky to be here and I want to do whatever it takes, in whatever way, to help the team chase after the Stanley Cup."