Lucas Raymond off to a roaring start in NHL rookie season
In the midst of a strong rookie NHL season, Lucas Raymond has quickly become one of the Detroit Red Wings' top forwards.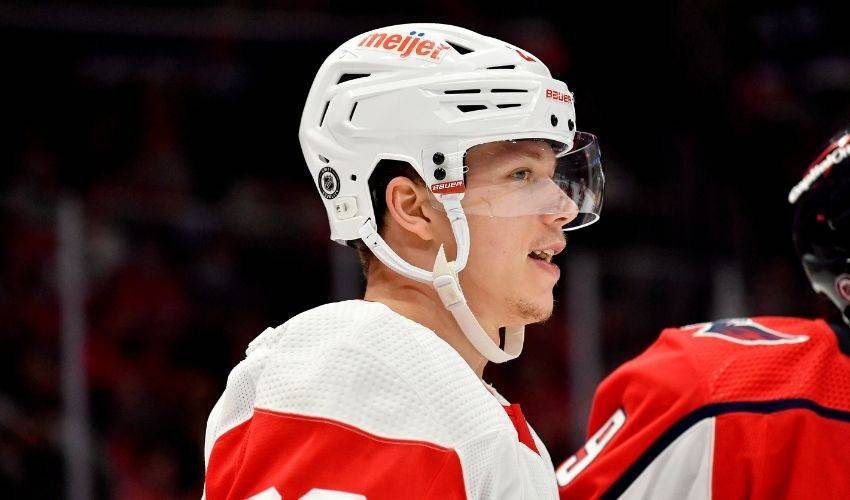 Feature photo: Getty Images
---
Swimming, soccer and gymnastics' loss is most definitely hockey's gain when it comes to Lucas Raymond's athletic pursuits.
During a strong rookie NHL season with the Detroit Red Wings, there's no doubt the 20-year-old forward from Gothenburg, Sweden, made the right career choice.
Raymond, who joined Steve Yzerman as only the second teenager in Red Wings history to score a hat trick when he accomplished the feat on October 24 in Chicago, gave himself plenty of occupation options when it came to playing sports.
"I played a lot of soccer growing up," he told NHLPA.com. "Hockey and soccer were my two main sports. I played midfielder in soccer. It was a really good experience for me. I think playing different sports helps you in a lot of ways. Playing soccer helped me with my hockey skills. I definitely took away some parts from it."
Growing up in a sporting-rich country, Raymond was willing to try out almost any activity, even if he eventually decided it wasn't for him.
Two of his athletic pursuits didn't stick.
"None," Raymond responded when asked what his specialties were in gymnastics and swimming. "The school that I went to, they set those ones up. I wanted to try it, but it wasn't really my thing. You take away something from any sport you play. Even if it's something small, it can help you."
The fourth overall selection by the Red Wings in the 2020 NHL Draft has turned heads in his first big-league season, combining offensive prowess and consistent play to become one of Detroit's top forwards.
That he is having an impressive rookie season is hardly a surprise. His pre-NHL successes on the ice strongly suggested Raymond was a player to keep tabs on.
Making his debut in the Swedish Hockey League as a 16-year-old, Raymond recorded 10 points in 33 games in his first full season playing with Frolunda in 2019-20.
Skating against competition in his own age category that same season, he tallied 14 points in nine games with Frolunda's Under-20 team in the SuperElit league, and tallied four points in seven contests to help Sweden earn a Bronze medal at the 2020 IIHF World Junior Championship.
"I had a lot of idols and players I looked up to when I was growing up, NHL players and guys who played on my hometown team in Frolunda. Whenever I would watch the Stanley Cup Final, I would look at the top players and see how they could elevate their game and make a difference when everything was on the line. I always wanted to strive for that."
Raymond was on Detroit's opening night roster on October 14 versus Tampa Bay after a strong showing at a prospect tournament and training camp in Traverse City, Michigan.
Raymond notched an assist in his NHL debut against the Lightning and was named the NHL Rookie of the Month for November after he recorded 12 points (five goals, seven assists) in 14 games, while averaging 17:34 of ice time.
He hasn't slowed down since.
Averaging over 18 minutes of ice time per game, Raymond is third in team scoring and has recorded two game-winning goals in overtime this season.
He lauds his teammates for helping him feel right at home on and off the ice.
"There are so many players that have made everything so easy for me. I think 'Larks' [captain Dylan Larkin] has been a huge part of that. He's a great guy. Then there is 'Seids' [fellow rookie Moritz Seider] living with him in the beginning, and both of us going through the same thing, that was a big help for me. I feel that every guy on the team has helped me – I wouldn't want to leave anybody out. I feel I could mention everyone because there are so many great guys on the team. We have a lot of fun as a team and that makes it easy to come to the rink every day, when you know it's going to be fun. But we also compete very hard and try to make each other better."
All of it adds up to happy times in the Motor City, and the prospect of a bright future for Raymond.
"I miss my family and friends back home. You miss the everyday life. You know where things are, the familiar places, the restaurants, things like that. But generally, I haven't been homesick being here. I really love Detroit and we have a great team, which makes it a lot of fun."