Overcoming obstacles along the way, Mikael Backlund's two-way play leads him towards his 800th NHL game
Backlund recalls how the change in approach to his game turned out to be a difference maker in his NHL life.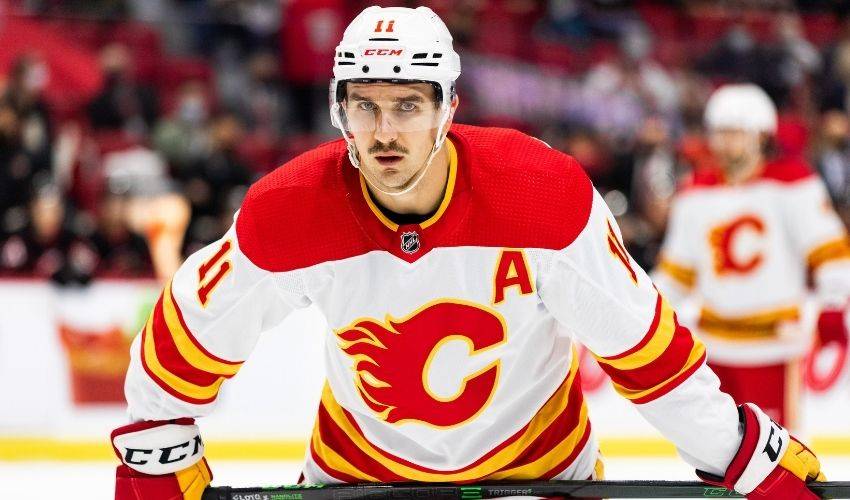 Feature photo: Getty Images
---
A major change in Mikael Backlund's early NHL game plan paved the way to an impressive upcoming milestone for the Calgary Flames forward.
Whether it was during his days playing hockey, soccer, floorball (a fast-paced, European form of floor hockey) or any of his pre-NHL experiences, the goal set by the young boy from Vasteras, Sweden, was to be a goal scorer in any sport he suited up for.
That approach wasn't based on the want of individual recognition, but rather, the hope his offensive prowess would result in team success.
"When I started off in the NHL, I wanted to be a top scorer," recalled Backlund, who is closing in on 800 regular season NHL games. "When I played junior, that was what I was hoping to do, to be a top player and a star. I was more of an offensive player in my days before the NHL and that's what I was hoping it was going to be. Really, I just wanted to be the type of player that could have a positive impact on his team."
That day would come, but not without its share of disappointments along the way.
Selected 24th overall by the Calgary Flames in the 2007 NHL Draft, the transition to the big leagues was anything but smooth for the centreman.
Early on his career, it was a case of one step forward and two steps back for Backlund, who had to contend with a rash of injuries, including a broken finger, separated shoulder, and an abdominal pull. The injuries caused him to miss significant time in two of his first three NHL campaigns.
"That was very tough to deal with, all of those injuries. You are at a point in your career where you are trying to establish yourself and it was difficult to have those setbacks."
Despite the hurdles, Backlund would eventually find his way, modifying his game in a way that would soon pay dividends for both himself and his teammates.
"After playing in the NHL for a little while, you realize just how tough it is. During my time in the minors, I learned a lot about how to play defence, and how important that is. A lot of people helped me to be an NHL player and to understand what it takes to stay in this league. That's where my two-way game started to come around. Every coach I had my first few years was really keen on helping me become a two-way player. That's where my game comes[MA1] [WA2] from."
Backlund played his first full NHL season in 2010-11. During the 2013-14 campaign, he established his place in the Flames' lineup by tallying 18 goals and 39 points in 76 games. Limited to 52 games in 2014-15 due to an abdominal muscle strain, he skated in all 82 games for the first time the following season.
He posted a career best 53-point season in 2016-17, a year in which he finished fourth in Selke Award voting as the league's top defensive forward. He found himself once again in the Selke conversation in 2018-19, finishing eighth in voting for the award.
Now, ranking sixth in Flames' franchise history with 789 NHL games played as he zeroes in on his 800th career game, Backlund recalls how the change in approach to his game turned out to be a difference maker in his NHL life.
"To play that amount of games, I had never even thought about that. I just wanted to win a Stanley Cup and have a successful career. I think I was more focused on scoring points when I was a kid, scoring those big goals in the NHL. But playing in the minors, I had a really hard time. I don't think at that time I would ever believed I would play 800 games. My first few years in the NHL, it was a real struggle with injuries, and I wasn't playing the way I wanted to. I still believed in my myself and hoped for it, but back then, I didn't see myself getting to this point in my career. It's been a rollercoaster, but I'm proud of where I'm at."
The Flames alternate captain is still very much hungry for more.
"I want to help the team have success and bring Calgary another Stanley Cup."
Backlund's support group extends well beyond the Flames locker room.
"I had a really good childhood. My parents did a great job raising me and my two sisters. You always felt safe and loved. I had a very good life in Sweden, where everything was about sports. I played floorball until I was 13 and soccer until I was 15, but hockey was always my first choice. My family has always been there for me, in good times and bad."
Just as his wife, Frida, and the couple's two young children – their daughter, Tillie, and their son, Oliver – have also been.
"My wife and I will have been together for eight years on May 1. She wasn't there for my first few years, but I think my career really took off when she moved over here. She definitely helped me find a balance in life. I was always a super serious kid, all about focusing on sports and hockey. When I started playing pro over here, it also got to be too much for me, so I needed to find that balance.
"My wife helped me with that so much, to enjoy the game and life outside it. We both had some people close to us who passed away early, and that put a lot into perspective, that life is short and it's not all about sports and hockey. She's been a huge part of me growing in the NHL and becoming a better person, as have our two kids. They are amazing. There is nothing better than holding them, just giving them a hug, and showing them how much you love them. It's played a big, big part of my life."
As for his NHL experiences, Backlund is proud of the changes he made years ago to his game.
"You have to find a way to find yourself in this league and for me it was to be a solid two-way player."
Mission accomplished.