From second-round selection to fastest skater – Jordan Kyrou embraces it all
In front of a packed house at T-Mobile Arena, Jordan Kyrou got his chance to see how he would fare against the fastest skaters in the league.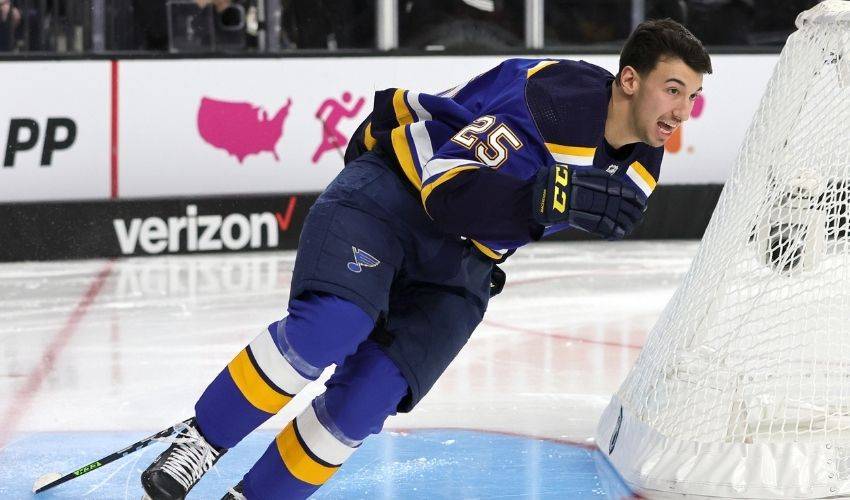 Feature photo: Getty Images
---
There was a time Jordan Kyrou wondered what it would feel like to match strides against hockey's fastest skaters. On February 4 at the NHL All-Star Skills Competition in Las Vegas, the St. Louis Blues forward got his answer.
It's an annual competition that he had eyes on long before playing his first NHL game.
"I just remember watching the All-Star Game every year and seeing the fastest skater event and thinking how awesome it would be to be part of that," Kyrou told NHLPA.com recently. "I remember always thinking how unreal it was to watch these players do so many creative and skilled things, like the cool breakaway competitions and seeing how fast they could go out there."
In front of a packed house last Friday evening at T-Mobile Arena, Kyrou got his chance to see how he would fare against the fastest skaters in the sport.
The 23-year-old made the most of his first time competing in the event, completing his lap in 13.55 seconds, the fastest time posted by all skaters in the event.
His younger brother, Christian, an 18-year-old defenceman for the Ontario Hockey League's Erie Otters who is eligible for the 2022 NHL Draft, didn't see the action unfold in real time, but found out about Jordan's victory soon after.
"We were playing against Sarnia, so I didn't catch it live, but when we came into the locker room for intermission, somebody told me that he won, and I was pretty fired up for him."
The brothers have already achieved plenty since their childhood hockey days in Ontario, where one-on-one games in the house would result in plenty of goals and the occasional scrap.
"Our love for the game, it all started in the basement playing mini-sticks," recalled Christian. "And we definitely had our share of fights. But I'm just so happy and thankful to have him in my life, and with me the whole way in my career. He's taken me under his wing and helped me a lot. We've been able to learn off each other our whole lives."
Christian will look to follow in his brother's skates, while hoping to one day have the chance to face-off against Jordan on NHL ice.
The young blueliner knows he would be in for a challenge.
"Looking at him in the NHL, I would love to play with him or against him one day. That would be cool. I love how he reads the play, how he puts himself in a position to have a quality scoring chance. He uses his speed so effectively. I think it's pretty sick how he does it. He's phenomenal."
Last season, Jordan turned heads after scoring 14 goals in 55 games and finishing the season with 35 points.
This season, however, the 6-foot-1 centreman has taken on a larger role for the Blues, leading the team in both goals (17) and points (42) after 40 games.
"Here and there, you think to yourself, 'Wow, this is real. This was my dream and I'm here,'" said Jordan. "I looked up to a lot of these guys for what they did on the ice, but to get to know some of them and see who they are off the ice, it's been fun to see that side of them."
The 35th overall pick of St. Louis in the 2016 Entry Draft has come a long way since his first NHL game on October 4, 2018, one that included an eventful first shift, being on the receiving end of a big hit, and a 5-1 loss.
He laughs before recollecting his memorable night in Winnipeg.
"I remember it well," said Jordan, who was named the OHL's Player of the Year in 2018. "I remember starting the game and I had a 2-on-1 on my very first shift. I kind of messed up the pass because I was super nervous. But after that first shift, you kind of relax and breathe, and you just get zoned in on the game."
And on this occasion, you also happen to get stopped in your tracks by a hard-hitting defenceman.
Rather than bemoan the crunching check, Jordan sported a smile in the aftermath of the collision.
"I also remember getting hit by [former NHL blueliner] Dustin Byfuglien. When it happened, I thought, 'Wow … I just got rocked by Dustin Byfuglien.' It was pretty crazy."
Thankfully, his hockey experiences since then have been far less painful.
"I'm lucky to have so many great guys on this team, guys who have helped me so much in a lot of ways," said Jordan. "I don't take anything for granted. I just keep pushing myself to become a better player."
He also hasn't forgotten how his parents, Aki and Roula, helped him achieve his NHL dream.
"They are very happy for me. My mom and dad have done so much for me and I'm grateful for everything they did to help me get to this level. My dad, he played hockey when he was younger, and unfortunately, he couldn't make it to this level. I think he's kind of living his dream through my eyes and that means a lot to me."
Soon, the proud parents could be watching another one of their kids performing at the game's elite level.
Christian, who is working hard to make that a reality, has found an ideal role model to help motivate him.
"Jordan has always taught me to be a respectable person, to keep plugging away at what I'm doing, and control the things I can control. We talk about hockey a lot, but sometimes we call each other to see how the other one is doing, what's going on in our lives. That's just as helpful to me."
As was the advice the brothers received from their parents long ago.
"I think one thing that I always remember is just working hard to stay consistent, to put in the work before the puck drops," offered Jordan.
"It's all about hard work every day," added Christian. "You need to put in the work before every game."
It's that work ethic that has led to an exceptional season already for Jordan – one that included him recording four points in the 2022 NHL Winter Classic, scoring five points in the NHL All-Star Game and leaving Las Vegas with the title of hockey's fastest skater.