Adam Pelech embraces first ever NHL All-Star Game nod
The New York Islanders defenceman is set to make his first NHL All-Star appearance at a 27 years old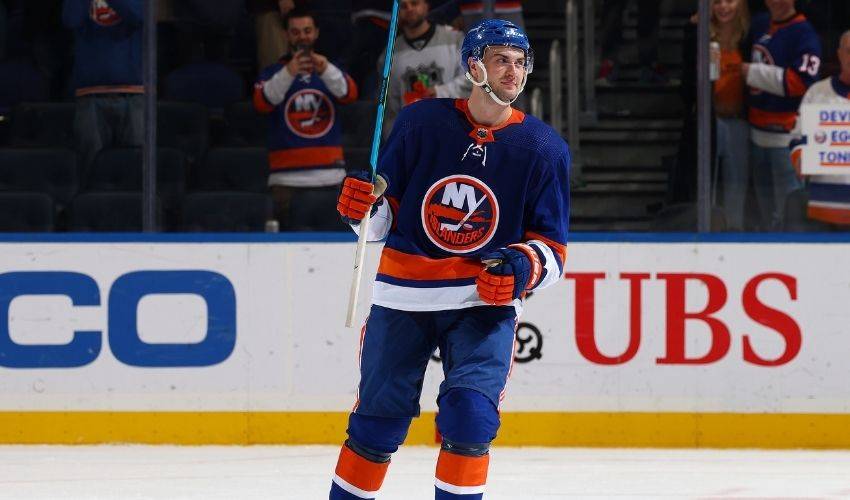 Feature photo: Getty Images
---
Good guys don't always finish last. Adam Pelech is proof.
The 27-year-old New York Islanders defenceman was recently selected to his first NHL All-Star Game, set to take place in Las Vegas on February 5.
The veteran blueliner is embracing the moment.
"It was definitely a huge surprise at first," said Pelech, the Islanders' 65th overall pick in the 2012 NHL Draft. "I'm really looking forward to it. As for the part I'm most looking forward to, I guess just really the whole experience. I think it's going to be pretty cool to be part of that weekend. The All-Star weekend was definitely something I would watch when I was growing up and always looked forward to seeing."
Pelech has been busy fielding countless congratulatory texts and calls from family and friends, along with past teammates and coaches since being the All-Star announcement two weeks ago.
"The night they announced it, my phone definitely blew up. It's always nice to hear from everyone and I appreciate everyone showing their support, so that was great."
He hasn't felt pressure from any of his teammates to notch a victory in any of the events that will be showcased during the NHL All-Star Skills Competition on February 4. At least not yet.
"I don't think they expect too much out of me in those events," Pelech said with a laugh. "So far, so good."
Friend and teammate Scott Mayfield is happy to see Pelech step into the All-Star spotlight.
"I'm pumped for Adam. He's just a really good guy and will do anything for his friends and teammates. On the ice, he didn't always get the credit he deserved being one of the best defensive D-men in the league. It's nice to see him getting the recognition now and I'm pumped for him to be going to the All-Star Game. We played a bunch together in Bridgeport [Islanders AHL affiliate] along with [fellow Islanders defenceman] Ryan Pulock, so it has been really cool seeing how we have all come along and are still playing together with the Islanders."
Pelech, who played four seasons with the Erie Otters of the Ontario Hockey League, where he was a teammate of Edmonton Oilers superstar Connor McDavid for two seasons, has been outstanding for the Islanders throughout the 2021-22 season.
In his 31 games this season, Pelech has recorded 10 points and has averaged a career-high average time on ice per game of 21:20. Across his 334 NHL career games, all with the Islanders, Pelech has consistently played heavy minutes against some of the top players in the league while averaging nearly 20 minutes per game and recording 85 points, 430 shots and a plus-52 rating.
It hasn't been an easy road to his All-Star nod.
From being diagnosed with thoracic outlet syndrome (a condition that required the removal of a rib and portions of muscle and tissue) in 2016, to an Achilles injury suffered in 2019-20, Pelech has overcome adversity at various stages throughout his career.
It makes the All-Star selection that much more special for the player who began his professional career with Bridgeport, before making his NHL debut on November 13, 2015.
"I definitely had a few season-ending injuries – the Achilles was a big one a couple of years back – but even just the first few years of pro hockey, I think I've definitely come a long way since then. I'm very fortunate to have had great coaches and great teammates along the way, who have made the journey a good one for me."
The Toronto native is quick to deflect praise, and instead lauds his teammates' contributions in netting him the All-star selection. Pelech, who represented Canada at the 2014 IIHF World Junior Championship, also points to a particular coach who played a huge role in his early development.
"Brent Thompson, who was my coach in Bridgeport my first couple of years, I think he was huge for me. It was kind of a shock coming into pro hockey and he was a great coach for me to learn from and make me realize what it takes to be successful at this level. There are also teammates I've had, guys like Scott Mayfield and Ryan Pulock, who I've played with since my first year of pro. They are great teammates and great friends. It's been wonderful to go through this with them."
Having signed an eight-year contract with the Islanders last August, and now approaching his first All-Star Game, Pelech has come a long way from his time in the AHL.
After his All-Star experience next week, Pelech – who recently married his longtime girlfriend, Jen – will have plenty to talk about with Mayfield, Pulock and the rest of his Islanders teammates.
He's looking to make the most of his time playing with and against some of the game's biggest stars.
"I really am looking forward to it all. I think the big thing for me is to go there and just truly appreciate the entire experience, to enjoy it all. I know it will be something I will always remember."