Brady Tkachuk on being named captain, staying true to himself and putting the team first
The youngest captain in Senators history takes will continue to lead by example.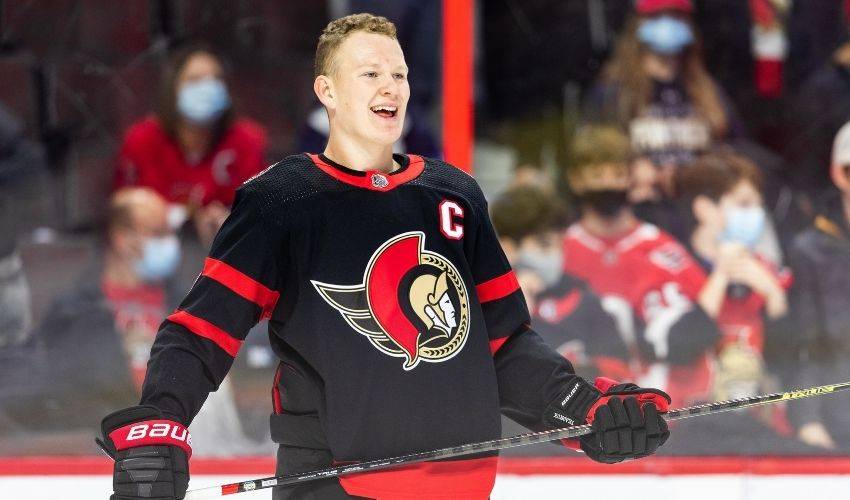 Feature Photo: Getty Images
---
His jersey has a different look to it, but the player wearing it hasn't changed a bit.
For Brady Tkachuk, who was named the 10th captain in Ottawa Senators franchise history on November 5, the honour and the responsibilities that come with wearing the letter haven't fazed him in the least.
Instead, the 22-year-old, who is playing in his fourth NHL season, continues to take an approach that has served him well throughout his hockey career: being himself.
"That's so true and so important. It's an added responsibility, but for me it's staying true to what I know and always putting the team first."
The St. Louis-born Tkachuk, who played his first game as the team's captain on November 6 when the Senators hosted the Tampa Bay Lightning, recalled some advice he received from his parents, former NHL power forward Keith Tkachuk, and mother, Chantal.
"With my dad, he's always preached to Matthew and I and my younger sister [Taryn], to always compete and be a good teammate. Growing up, seeing how my dad treated everyone on the team, the staff, and people around the rink, it was always with respect. At a young age, I learned all of that him. He's been great for the on-ice things as well.
"My mom, she's a very caring and loving person, and she cares about the person next to her. That's definitely something I learned from her as well as lot of other things too."
Tkachuk's leadership role has been supported by full-time alternate Thomas Chabot, and a rotating group of alternates, consisting of Connor Brown, Nick Paul and Nikita Zaitsev.
He thinks highly of the leadership group that's been assembled in Ottawa.
"It will be a lot of leaning on Chabot and the other guys too, to help one other out in this process. Thomas and I have been there for a while now and we're going to do this together and take this team to the next level. I'm really fortunate to have the support that I do. I think a successful team is one that is pulling in the right direction. I think that's what we have on our team. Everyone wants to win, and everyone wants to help each other, but we also push each other too. I believe that everybody leads in their own way, no matter who you are, and I know that I'm going to lean on everyone around me to keep pushing themselves to make this team better."
Tkachuk has also developed a great affinity and respect for leaders throughout the league, as well as high-profile leaders in other sports.
One trait, in particular, always commands his attention.
"There are a lot of guys I look up to when it comes to their work ethic, whether that's in the NHL or in different leagues. I think everyone leads in a different way and has a different mentality – it could be vocal or leading by example – but it all comes down to work ethic, showing that commitment to the game and to your teammates, whether it's in practice or the game itself."
It's something Tkachuk has done to great effect over his hockey career, both in the NHL and on the international stage.
He captained the U.S. to a gold medal at the 2017 IIHF U18 World Junior Championship and helped the Americans earn a bronze medal at the 2018 IIHF World Junior Championship, slotting in third in team scoring with nine points (three goals, six assists) over seven games.
Now, he'll look to what he's learned from those experiences to help him in his new role in Ottawa.
The left-winger, who succeeds Laurie Boschman (1992-93), Gord Dineen, Mark Lamb and Brad Shaw (1993-94 rotation), Randy Cunneyworth (1994-95 to1997-98), Alexei Yashin (1998-99), Daniel Alfredsson (1999-00 to 2012-13), Jason Spezza (2013-14) and Erik Karlsson (2014-18) as team captain, is already feeling the love from Senators fans.
"I've been overwhelmed with the support. Just from walking around the city … that means a lot to me."
While he may be the youngest captain in franchise history, don't expect the letter on his jersey to change him.
He'll continue to stay true to himself, just as he always has.
"It's not just going to be one person who is going to lead … we have so many great leaders in our locker room who are going to make this team that much better. I think right now, for me, it's going to be leading by example. When the time comes, I'm not afraid to speak up, but it's going to be a group of us leaders. We'll see how I evolve in that leadership aspect, but I'll take as many lessons as I can from people around me and always do what's right for the team."
Now less than a month into his tenure as captain of the Senators, Tkachuk's commitment to hard work, together with his teammates, remains a constant.