Dion Phaneuf announces retirement after 1,048 NHL games
Dion Phaneuf has announced his retirement from the NHL after 14 seasons.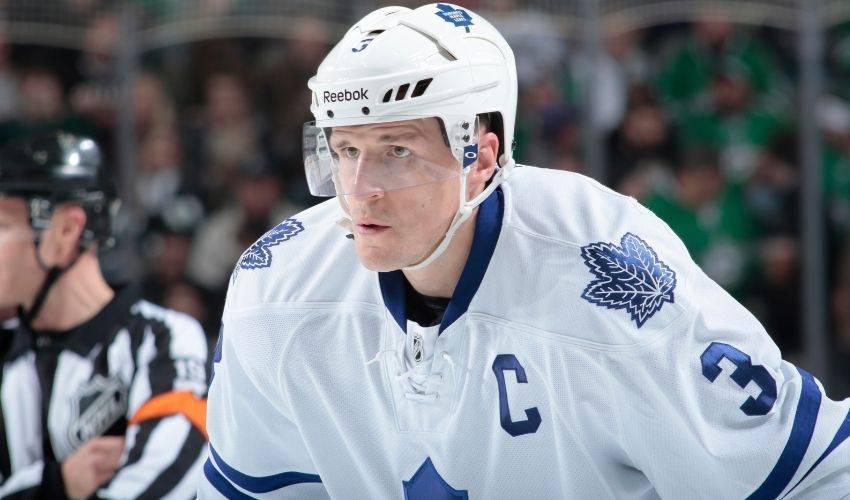 .Feature photo: Getty Images
---
TORONTO (Nov. 16, 2021) – Dion Phaneuf has officially announced his retirement from the National Hockey League (NHL) following a career that spanned 14 NHL seasons and 1,048 regular-season games.
Born in Edmonton, Alberta, Phaneuf was drafted ninth overall by the Calgary Flames in the 2003 NHL Draft. Having played for four NHL teams in his career – the Flames, Toronto Maple Leafs, Ottawa Senators and Los Angeles Kings – the six-foot-four, 222-pound defenceman recorded 137 goals with 357 assists for a total of 494 regular-season NHL points. Phaneuf also tallied 21 points in 55 playoff games.
His four-year junior career with the Red Deer Rebels of the Western Hockey League (WHL) was highlighted by back-to-back WHL Defenceman of the Year honours (2004, 2005). Phaneuf made his NHL debut with Calgary on Oct. 5, 2005, in Minnesota, and shortly thereafter tallied both his first goal and assist on Oct. 10, 2005, in Colorado. Playing in all 82 games, Phaneuf led NHL rookie defencemen in points (49), goals (20), game-winning-goals (7) and shots (242) to finish third in Calder Trophy voting.
Phaneuf continued his success in his sophomore campaign in 2006-07 as he led all Flames defencemen in regular-season points (50), goals (17) and assists (33). He tied for fifth in the league among defencemen in goals and recorded the most shots (230), and he was named to the Western Conference All-Star Team. During the 2007-08 season, Phaneuf recorded a career-high in points (60) tied for third among NHL defencemen in goals (17), placed fifth in points, led the league in shots (263) and added seven points in seven playoff games. For his impressive on-ice performance, he was voted to the 2007-08 NHL First All-Star Team, earned a spot in the starting lineup in his second NHL All-Star Game and finished second in Norris Trophy voting. In 2008-09, Phaneuf helped guide the Flames to their fifth consecutive playoff appearance, leading Flames defencemen in regular-season goals (11), assists (36) and points (47) for a fourth straight season while placing fifth in the league in average time on ice (26:32). During 378 regular-season games with the Flames, he scored 75 goals and 228 points.
On Jan. 31, 2010, Phaneuf was involved in a seven-player deal that saw him traded to the Toronto Maple Leafs. On June 14, 2010, he was named the captain of the Maple Leafs – the 18th in franchise history. In 2011-12, Phaneuf played in all 82 games, led all Leafs defencemen in goals (12), assists (32) and points (44), and he was named to the All-Star Game. He played in all 48 games of the owners' lockout-shortened 2012-13 season, and once again led Leafs defencemen in goals (9) while tying for 10th in the league in average ice time (25:11) and helping lead the Leafs to the playoffs. Phaneuf scored 45 goals and 196 points in 423 games with the Leafs, over parts of seven seasons.
On Feb. 9, 2016, Phaneuf was traded to the Ottawa Senators. In 2016-17, he recorded 30 points in 81 regular-season games, while he played in 19 playoff games during the Senators' run to the Eastern Conference Finals. The defenceman played in 154 regular-season games for the Senators over parts of three seasons, recording 54 points.
On Feb. 13, 2018, Phaneuf was traded to the Los Angeles Kings where he helped the team reach the playoffs in 2018. During the 2017-18 and 2018-19 NHL seasons, he played in a total of 93 regular-season games for the Kings.
Internationally, Phaneuf represented Canada at the World Championship on three occasions, (2007, 2011, 2012) winning a gold medal in 2007, and twice at the IIHF World Junior Championship (2004, 2005), taking home gold in 2005.
Phaneuf was a physical defenceman who was a key contributor offensively, evidenced by his 246 power-play points, while he played heavy minutes for his teams – averaging 23:28 in time on ice for his career. A three-time NHL All-Star (2007, 2008, 2012), Phaneuf recorded five 40-plus point seasons, including two 50-plus point campaigns.
Statement from Dion Phaneuf:
"As I look back, it's hard to encapsulate and thank the great number of people who supported and guided me both as a player and a person throughout my career. I was very fortunate to play in the NHL for a long time and I'm thankful first and foremost to my Mom, Dad and brother for their untiring support on and off the ice. My heartfelt love and appreciation also goes to my wife, Elisha, and our daughter.
"I also owe a tremendous debt of gratitude to the many coaches, staff and teammates I had the privilege to work alongside through the years. At a very young age, Brent Sutter provided me the guidance in Red Deer to develop good habits in becoming a good pro; my first NHL GM and coach, Darryl Sutter, gave me my start in Calgary and showed me what it takes to be a top player in the NHL; I'm indebted to Brian Burke for bringing me to Toronto and making me captain for one of the most historic franchises in league history; my billets, Dan and Christine Doyle, and so many teammates from the Maple Leafs, Flames, Senators and Kings who will remain friends well past our playing days.
"A great thanks to the entire Toronto Maple Leafs organization, their ownership and leadership – Larry Tanenbaum and Brendan Shanahan – for providing me with this opportunity to retire with such love and support here in Toronto. It was a special honour to represent the Maple Leafs as team captain – a point of pride and honour that I will carry with me forever.
"And finally, to the fans – a very special thank you for all the support over the years. Your passion drives us all."