Tatar fitting in nicely with new Devils teammates
Tomas Tatar has been impressed by the drive and talent of his young New Jersey Devils teammates in his first season with the team.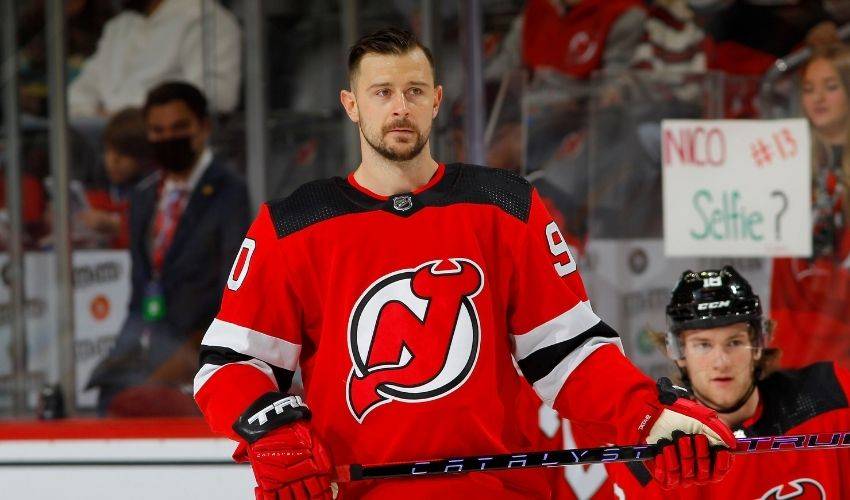 Feature photo: Getty Images
---
Although he's the furthest thing from a passenger, Tomas Tatar is enjoying the ride.
As far as first impressions go, Tatar managed to make a good one with the New Jersey Devils during his October 15 debut with the team, contributing two shots and an assist.
But the 30-year-old forward wasn't interested in talking about personal stats when reached shortly after the Devils' season-opening win to launch their 2021-22 NHL season.
Instead, the 30-year-old preferred to focus his thoughts on his new team's dynamic, a group with a promising young core, complemented by a talented veteran presence.
"It's been great," Tatar told NHLPA.com. "The young guys are making me feel younger as well. They are extremely talented, and it's a lot of fun to watch them. They are hungry to get better every day, which is great to see."
With 380 points in 630 regular season NHL games to his name and counting, the Slovakian-born winger is looking to feed off that youthful energy and enthusiasm, while making himself available, on and off the ice, for any of his teammates.
Whether it's offering advice, answering questions or simply lending an ear, Tatar has embraced the opportunity to be in a mentorship role.
He's also eager to help the Devils, who have made the postseason just once in their past nine campaigns, find their way back to the playoffs.
"Well, it's team sport. If we want to be successful we have to all pull on the same side of rope. I think we have great group of guys in the locker room, which is very important. As for me, I want to enjoy the ride with the young guys and help them grow."
That list would include forward Marian Studenic and defenceman Christian Jaros, both of whom share the same homeland as Tatar.
Hailing from the city of Ilava, Tatar has been a mainstay on the international stage for Slovakia, participating in two IIHF World Junior Championships, the Sochi 2014 Olympic Winter Games and four times at the IIHF World Championship. As the youngest player on Slovakia's roster at the 2012 World Championship in Finland, he recorded five points to help Slovakia to a silver medal.
"It's always nice to have someone on the team from same country and that speaks your native language. I knew both of them [Studenic and Jaros] before I joined the team from our time with Team Slovakia."
Studenic and Jaros have a respected role model to lean on in Tatar.
Last season, Tatar recorded 30 points (10 goals, 20 assists) in 50 regular-season games with the Montreal Canadiens. He netted an NHL career-high 61 points (22 goals, 39 assists) in 68 games with Montreal in 2019-20.
Now, he's looking to build success with the Devils.
One of Tatar's highest compliments about his new team is that he didn't particularly enjoy facing them.
"They have a very good defensive structure – not much space. They were always tough to play against."
He's hopeful that trend continues.
While his new teammates are thrilled with what Tatar has brought to the team, the veteran forward feels very much the same way about the players and his new NHL home.
"I am very impressed so far. I joined the group of guys who are living in Jersey City. It's a beautiful area. It's very clean, there are a lot of good restaurants and New York City is right across the river. I'm just very happy to be living and playing here."
Tatar is enjoying the ride.