Olympic dreams are in reach for Oliver Bjorkstrand and Team Denmark
He's hoping for a good Olympic showing with Team Denmark in 2022, but for now Oliver Bjorkstrand is feeling ready for a fresh season with the Columbus Blue Jackets.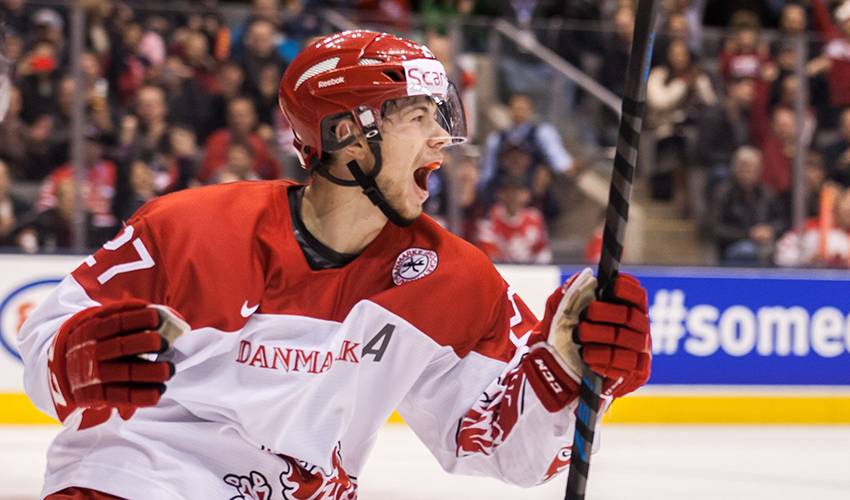 Feature Photo via / @BlueJacketsNHL
---
Oliver Bjorkstrand won't be tuning in to men's ice hockey at the Beijing 2022 Olympics Winter Games.
Instead, he will be a part of the tournament with Team Denmark.
For as long as Bjorkstrand can recall, seeing the best athletes in the world represent their respective countries on the iconic sporting stage has been must-see TV for the 26-year-old Columbus Blue Jackets forward.
"I always really enjoyed watching Olympic hockey growing up," Bjorkstrand told NHLPA.com. "The one [moment] that stands out for me is when the U.S. and Canada played in the finals in 2010. I remember staying up late and watching the game. I had a dream of playing in the Olympics one day. It's been in my head for a while."
This coming February, Bjorkstrand is primed to see his Olympic dream realized.
On August 29, Denmark defeated Norway 2-0 in the deciding game of the Olympic Qualification Group F tournament, punching their ticket in the to the Olympic Games in Beijing – a first since the Danish ice hockey federation joined the IIHF in 1946.
"We've been waiting for this for a long time as a nation," said Bjorkstrand. "It was very special to be able to win it this time. We've taken a lot of steps over the years, and we still have a ways to go to compete with the big nations. We've made strides and one of the big ones we've been waiting for is to make the Olympics. We've been in the qualifying group tournament for a long time. The last few times we've had a team that, probably on paper should be able to win it, but we just haven't been able to. And now we finally have.
"It's a big milestone in Danish hockey. You could see how much it meant to a lot of the guys on the team that have been part of it for a long time and been through it all. It's really great to get it done this time."
Denmark joins Canada, China, Czech Republic, Finland, Germany, Latvia, the Russian Olympic Committee (ROC), Slovakia, Sweden, Switzerland and the United States in the 12-team tournament.
The Danish side went three-for-three in Group F, with victories coming against Slovenia and South Korea, in addition to the clinching win against Norway.
Bjorkstrand posted three goals and two assists in the tournament, while Winnipeg Jets standout Nikolaj Ehlers paced all players who participated in the qualification round with five tallies and nine points in the three contests.
Although he wasn't on the ice when the final buzzer sounded in the game that sent the Danes to the Olympics, Bjorkstrand quickly poured onto the ice with his teammates to celebrate the milestone moment. Weeks later, the 89th overall pick of the Blue Jackets in 2013 is still in a jubilant state of mind.
"I was on the bench, but when the buzzer went, we got out there as fast as we could. It was an amazing moment. A lot of people have reached out to congratulate us, and it's been nice to see people following us, and to see how happy they are for us as a team and for Denmark. I'm really thankful for that."
He doesn't need to be reminded of the daunting task Denmark faces in taking on hockey's elite at the highest international level of the sport. The Danes will play in Group B against ROC, Czech Republic and Switzerland.
Bjorkstrand expects Denmark to put on a showing that the country will be proud of.
"It's going to be tough task for us to go far, but it's a huge honour for us to be there. We're obviously going to do our best. And it's always in the back of our heads that we can surprise a bit. We're all super pumped."
Which is exactly how Bjorkstrand feels about the upcoming NHL season. The veteran of 302 regular-season NHL games is looking to build off a campaign that saw him net 18 goals and 44 points in 56 games.
"I'm super excited about the new season. It's a great way to start off the new season with being able to get that win and qualify for the Olympics. I have a few hard-played games in the bag here and now my focus is getting ready with Columbus. I feel really prepared for the season."
As for his Olympic dream coming true, he's hopeful the experience leads to bigger and better things for Danish hockey and, perhaps most importantly, that it inspires more kids to get involved in the sport.
"This win, I think it's very important for the game in our country. We need to take steps in the hockey world to get more attention. The more attention, the better. Most of the time, you have to accomplish something to shine a light on it. Hopefully, it gets something started in the minds of young kids and parents wanting their kids to get into hockey."
A good result in Beijing would certainly boost the popularity of the game throughout Denmark.
"The next step now is having a really good tournament and getting more attention for hockey back home."