Adam Henrique and Brandon Montour tee off to help their hometown youth
From their hometown to the NHL Brandon Montour and Adam Henrique have come a long way since their days in Brantford and Brant County.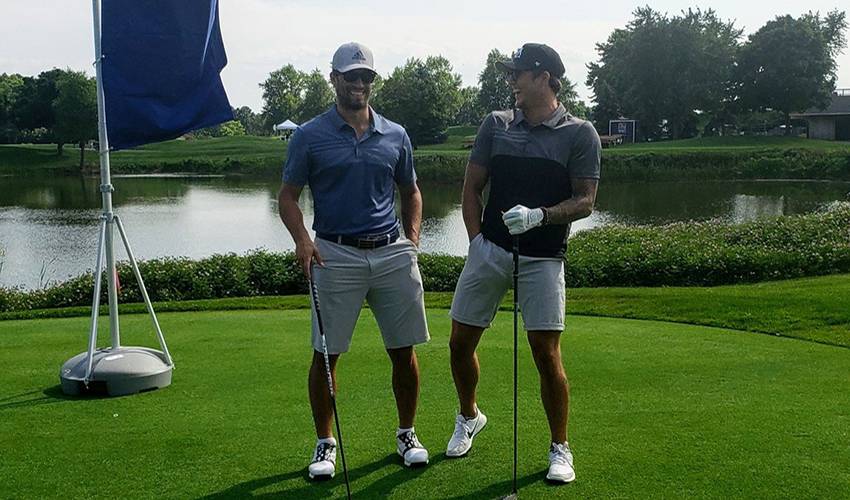 Adam Henrique and Brandon Montour's friendship has set the groundwork for a very special initiative.
The foundation and golf tournament that bears both their names were created with the goal of making a difference in the communities they call home, namely, Brantford and Brant County, in southwestern Ontario.
Henrique, a forward for the Anaheim Ducks and a veteran of 710 NHL games, served as captain for Team Canada's gold medal-winning team in the 2021 World Championship. Montour, closing in on 300 NHL games, is part of the Florida Panthers' blue line corps and recently signed a three-year contract with the team. The two have been working on the idea dating back to their days as teammates playing together in Anaheim, when they would regularly discuss establishing a platform in which they could both give back at the local level.
Consider August 10 at the Brantford Golf and Country Club the foundation's unofficial kick-off.
The pair will be teaming up with Arnold Anderson Sport Fund to host the inaugural Henrique/Montour Charity Golf Classic. Originally planned for last July, the tournament had to be re-scheduled due to the pandemic.
"Brantford and Brant County is a place that we call home, a place where we put our skates on for the first time and a place that we will forever be grateful for the memories we've created," the two said in a recent press release. "We believe the game of hockey has not only challenged us physically, but mentally. Because of this sport, we have learned determination, the value of teamwork, integrity and leadership; skills that we hope every child can develop."
All proceeds from the event will go to the Arnold Anderson Sport Fund's "Sponsor A Child" campaign. The fund, based in Brantford and Brant County, provides financial assistance for registration fees in youth sports.
"We have been so privileged to have the opportunity to pursue our dreams as athletes, and we believe it is our time to give back to a community that paved [the] way for our success," Henrique and Montour said in a joint press release. "We are grateful for the opportunities provided to us as young athletes, however, that is not the case for many families and children eager to be a part of a team. We have decided to team up with the Arnold Anderson Sport Fund as an opportunity to give back to a community that has given us so much."
Seeing both the tournament and foundation come to fruition is rewarding for both players.
"We always enjoy going back home and doing something for the communities that have supported us so much from day one," said Montour. "We had to cancel the event last year because of the pandemic, so to finally see it happen is really exciting. It filled up within two days of us announcing the golf tournament.
"The money raised is going towards an organization that helps kids get involved in athletics," he continued. "We'll share it with Burford where he's from and Six Nations, where my family is from, and with Brantford as well. It's been a tough two years for a lot of people, but we're hoping the money and awareness we can raise will go a long way in helping people. We've been trying to do something for a long time, and everyone, including us, is excited to see it finally happening."
Although the two grew up in the same region, Henrique and Montour only became close once they met as teammates on the Ducks.
"Adam is four years older than me, but I went to the same high school as a his younger brother, Cole. Hockey-wise, I always knew who Adam was, and followed his career. I saw him him at events when I started playing in juniors and college, and then professionally, we became closer. When he came to Anaheim, it took off from there. We would spend time together outside of the rink. I think that connection to home was a big part of it. It was around that time with the Ducks when we started talking about hosting an event and creating a foundation together."
"When I got traded to Anaheim – I knew he went to school with my brother – we became close friends right away, which was great," added Henrique. "We have a lot in common – coming from the same place, going to the same high school – so it just came out of all that."
In between taking playful shots at one another, Henrique and Montour found a few moments to serve up some kind words about each other.
"You see the talent on the ice and the success he's had," said Montour. "His game speaks for itself. He can play all over the place. You need guys like him, not only for what he has does on the ice, but for how good of a teammate he is. He always brings a positive attitude, even if things aren't going well. I think we have similar attitudes towards the game and life. I think all of that goes into why we're such good friends."
"I think he's an underrated player," offered Henrique. "Getting traded is tough, but it allowed Brandon's game to flourish. Going to Florida, I think more people have seen his true value to the team, the kind of player and teammate he is. He keeps things light-hearted in the room, but you know he's going to go through a wall for you on the ice as well."
Expect plenty of smiles from Henrique and Montour, but also anticipate their competitive side to be on display on August 10, similar to the way it is whenever they face-off against one another.
Just how competitive do things get on the rink and in training?
"I beat him on most of the exercises we have to do, but he does get me on a few," quipped Henrique.
"You could talk to him about that," said Montour with a laugh. "He knows. We compete in the summers when we're at the gym, but we keep it light. On the ice, we both want to win and be successful."
With the foundation, it's a shared goal.
"The foundation and the tournament are something Monty and I have wanted to do for a while. It's not just his name or mine. This is something we can do together. We would both like to be able to support different charities around the Brantford community, and to grow our relationships with them. There's a lot for us to look forward to."