Lightning rookie Ross Colton feeding off teammates amid playoff push
From getting called up to the NHL to making his Stanley Cup Playoffs debut, Ross Colton has been dialed in for the Tampa Bay Lightning.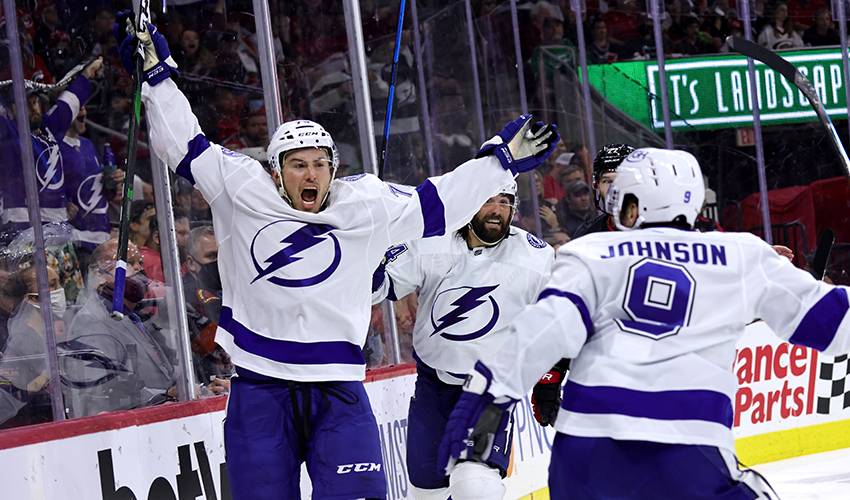 Feature Photo: Getty images
---
Ross Colton likes to tune out the postseason noise by turning up the volume.
Whenever the Tampa Bay Lightning forward is looking to escape the stresses of playoff hockey, Colton throws on his sneakers, puts on his headphones, turns up the country music and soaks up the Sunshine State scenery.
"There is so much going on at this time of the year and there is a lot of pressure," the 24-year-old rookie told NHLPA.com. "I try not to overthink things but live in the moment. I go for a walk, enjoy the sun, put my headphones in, listen to some music, and get away from the game for a little bit. When we have practice or a game, I'm completely dialed in. I like that balance, to be able to get your mind to relax and then be ready to go."
As for his choice of listening, Colton opts for a laid-back playlist, one that includes plenty of music and the odd podcast every now and again. And yes, hockey does play a small role in what he listens to.
"It pretty much depends. I might throw on a hockey podcast, or for the most part I listen to country. It's pretty soothing. I don't like to get too pumped up when I'm out for a walk. I like to let my mind go and take it easy."
On the ice, it's the complete opposite.
Colton scored a goal in his NHL debut on February 24, 2021, in a 3-0 win over the Carolina Hurricanes, while he netted nine goals and tallied 12 points in 30 regular-season games. The New Jersey native so far has three goals and four points in 13 Stanley Cup Playoffs games this year, skating on a line with Patrick Maroon and Tyler Johnson.
"It's been awesome," said Colton. "I didn't know what to expect when I got called up. It's cliché, but I really just took things day-to-day. They told me to come to the rink ready to go. That was the mindset I had. Once the playoffs started, I've been feeding off my two linemates, Patty and Johnny. We've been getting contributions from up and down the lineup. It's been so awesome. And with having more fans in the building, that just makes it even more special."
Colton scored the insurance marker in Tampa's 2-0 win in Game 5 against Carolina in the Second Round. The forward wasn't even initially looking to take the shot.
"That was a big thrill. But it was credit to everyone else on the ice, especially my linemates. I think that was our best game so far. From the puck drop, we had all the confidence in the world. We had a bunch of chances before that. We a good one right before the goal and then they broke out of the zone. Erik Cernak stepped up and made a great play. Off the rush, I was trying to make a pass to Patty or Johnny, but their D took that away, so I just wanted to get a shot off. Luckily, it squeaked in on the short side."
Colton gives rave reviews of Maroon, a member of the St. Louis Blues Stanley Cup-winning team in 2019, and Johnson – who were both members of the Tampa group that won it last year.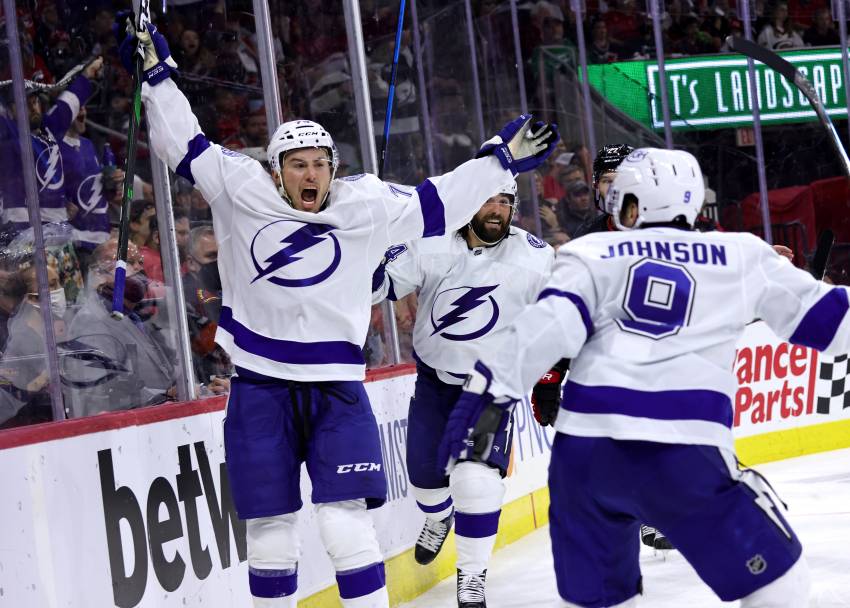 "Once I got called up, I played with Patty pretty much since day one. He's been great for me. He's a great leader and he's unbelievable in the locker room – he lightens the mood and brings a lot of energy. On the ice, he's so effective down low. He uses that big body. If you can get him the puck below the circles or behind the net, he's going to create so much many chances for us. We've seen that throughout the playoffs.
"And then you have Johnny, who is playing unbelievably. He has so much experience and he's playing great hockey. He has such great speed, and he just flies through the neutral zone. He creates plays for us off the rush. We have a great blend of speed and toughness, just trying to be hard to play against and make the most of our opportunities."
Colton, who was drafted in the fourth round, 118th overall, by Tampa Bay in 2016, is making the most of his opportunities and the extra work he puts in outside of games is paying off.
"When I'm on the ice, I try and play a physical game and chip in when I can. For me, it's studying film and doing extra work at practice – shooting pucks, taking face-offs, defensive zone play – that really helps with my game. So whether it's blocking shots or playing physical, whatever I can do to help the team, that's where my head is at."
Colton's personal fan club, headquartered in New Jersey, is closely following the forward's Stanley Cup journey. Soon enough, they'll have a much different view of No. 79 whenever he's on the ice, with the Lightning's Semifinals series shifting to Long Island for Games 3 and 4.
"I have a pretty good support system back home. They've been able to get down here for some games. They were pretty excited that we were going to play either the Islanders or Boston because being in New Jersey, that's a lot closer than coming down here. When we play at the Coliseum, I'm sure there will be some Colton jerseys in the stands. That will be nice to see."