History made and a piece of it owned for Patrick Marleau
To honour Patrick Marleau for setting the all-time NHL games played record, the NHLPA – on behalf of all players – presented him with the last hockey stick used by Gordie Howe.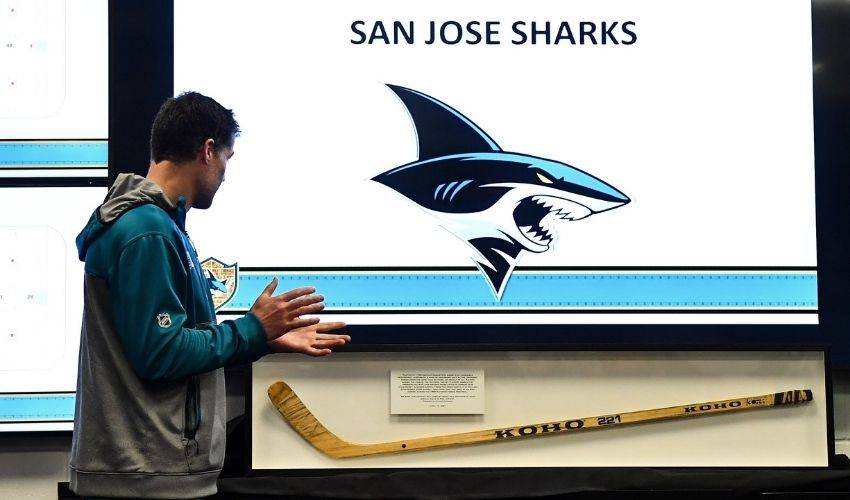 Feature photo courtesy of the San Jose Sharks
---

Patrick Marleau made hockey history, and now he owns a piece of it.
To honour Marleau for setting the all-time NHL games played record, the NHLPA – on behalf of all players – presented him with the last hockey stick used by Gordie Howe.
In honour of Patrick Marleau recently becoming the all-time NHL GP leader, the NHLPA, on behalf of all players, presented Patrick with the stick used by Gordie Howe in his last NHL game. The stick was acquired from the Howe family.

(📸: @SanJoseSharks) pic.twitter.com/3sqNpnjdjo

—

NHLPA (@NHLPA) May 13, 2021
When San Jose Sharks teammate, Erik Karlsson, first held the historic stick in his hands he was at a loss for words. The defenceman knew Marleau would have a similar reaction once he laid his eyes on it and had the stick in his possession.
After receiving permission from the Howe family to remove the stick from display at the Hockey Hall of Fame, the NHLPA acquired the piece of memorabilia and had it shipped to Marleau's teammates. Ahead of the Sharks' final regular season game of the 2020-21 campaign – and the 1,779th game in Marleau's career – the stick used by Hockey Hall of Fame member Gordie Howe in his final NHL game was presented to Marleau, who surpassed Howe's NHL all-time games-played record when he skated in his 1,768th game on April 19.

The stick was used by Howe while playing with the Hartford Whalers in the playoffs against the Montreal Canadiens on April 11, 1980. Howe also netted his final NHL goal two days prior with the stick in Game 2 of Hartford's playoff series that same year.
---
---
Special doesn't come close to describing the gift or the reaction Marleau had in seeing the piece of priceless sports memorabilia for the first time, Karlsson noted.
"For our union to realize how important this achievement is, that it represents every player that's in the league, every player that wants to be in this league. It's something Patty didn't expect. You could tell right away how emotional he got about it because he knows how much it means," offered Karlsson.
Marleau continued to marvel at the one-of-a-kind gift after bringing it home, unable take his eyes off of it according to Christina Marleau.
"The stick, it caught him so off guard," said Christina, Patrick's wife of 16 years. "It's a wonderful gift from the NHLPA and the players. I don't think he ever would have imagined in his wildest dreams that he would get that. He came home, he put it in his office and he just sat and stared at it. He kept saying, 'Oh my, God.'"
Christina herself was amazed by the evolution in stick technology.
"I'm used to seeing our four boys' sticks and Patrick's, and they aren't anything like that," said Christina of the now 41-year-old wooden stick that Howe used. "It makes you more in awe of what these players were able to achieve with what seems like actual branches."
Marleau's four sons – Brody, Caleb, Jagger and Landon – certainly won't be able to hone their individual hockey skills using the piece of hockey greatness.
"I don't think Patrick would allow them if they tried," said Christina.
Landon, who will turn 15 in October, is simply happy to see a piece of hockey history on a daily basis.
"I was on the phone in my room and saw some Instagram posts about the stick. As soon as my dad came in, I rushed into his office so that I could see it. It's really amazing. It's unbelievable."
The stick also holds great meaning for Marleau's current teammates.
"On behalf of our team, we'd like to thank every single player around the league. That's what the union is all about, it's for the players, and I think Patty achieved a goal and a milestone that maybe no one will ever reach," said Karlsson. "It represents not only himself, but every player in this league and every player who has played in this league... It's also for the younger guys sitting at home with hopes and dreams of being an NHL player one day. I'm grateful to be part of this league and the union."
The Sharks players also gifted Marleau a custom piece of artwork created by a LucasFilm and Disney Master Artist, Kevin-John Jobczynski. The impressive watercolour painting features images of both Marleau and Howe.
"Whenever he looks at it, it will remind him not only of this year, but of all the achievements he has accomplished throughout his career," said Karlsson. "Kevin-John, he didn't just deliver, he over-delivered. When we presented it to Patty, he was a little bit in shock. When you see the painting, it speaks a million words. "
Karlsson, who has become good friends with Marleau, launched his NHL career in 2009-10 when Marleau already had 11 NHL seasons to his name. It didn't take long for the young defenceman to take notice of the veteran forward.
"My rookie year, he was getting close to playing 1,000 games," Karlsson said with a laugh. "So I definitely knew who he was and knew a lot about him. He always played hard and was tough to play against."
Playing with Marleau, however, has been much easier.
"When I got to San Jose, and got to be his teammate, that's such a big privilege. To be around guys like that, who have seen and done more than most of us, you learn a lot from them," said Karlsson. "Patty, once you get to know him, you get to see what a wonderful person he is and the time and effort he puts in, to not only hockey, but in life itself. He's someone who I have connected with and who has helped me figure out my journey, in what I want to accomplish, what I want to do and what I need to do to improve myself, not only as a player but as a person as well."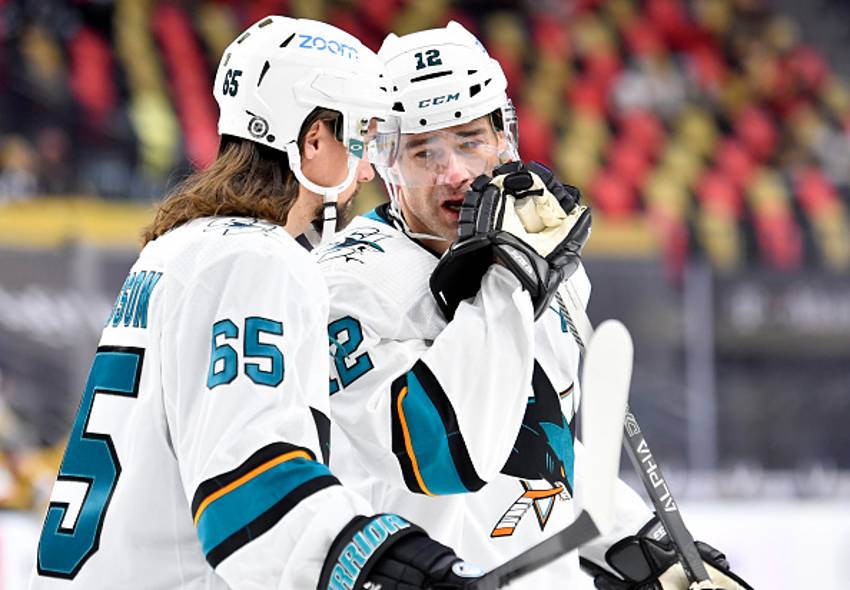 ---
None of the praise Marleau has received comes as a surprise to those who know him best, but every compliment or kind word is always appreciated.
"The outpouring of support that he got from players across the league is wonderful," said Christina. "Opposing players coming up to him and shaking his hand after games, just the level of respect hockey has in general… you don't usually see in the middle of a season other teams cross that line to shake hands with opposing players. Seeing that happen after every game was pretty remarkable."
A forward like his dad, Marleau's eldest son Landon has enjoyed having a front-row seat to watch his father compete on hockey's biggest stage, and he appears to have picked up some of his dad's talent.
It's not what his dad does on the ice, however, that makes him a standout in his son's eyes.
"I remember seeing a video where people talked about how great he was in the locker room and that he's an amazing person," said Landon. "Learning his tricks and how he sees the game is really cool too. Seeing him play like he's 20, it's amazing how he can still do the things he does. At home, he's super nice. We'll ask him to play mini-hockey or go on the trampoline with us, and he'll always do it right away. He's a great dad."
A dad who always knows the right thing to say.
"When it comes to hockey, he always tells me to keep my head up if I make a bad play, that everyone makes mistakes. He helps me get any negative thoughts out of my head, to keep going forward with a positive mindset."
Marleau's teammates have no doubt heard similar words from him over the years.
It's one of many reasons why playing alongside No. 12 is something special, just ask Karlsson.
"I'm very happy and proud to be able to say that I am a teammate of Patrick Marleau's."