Verhaeghe in time for Sunshine State showdown against former team
Carter Verhaeghe's strong sophomore season has the young forward eyeing back-to-back Stanley Cups in the Sunshine State.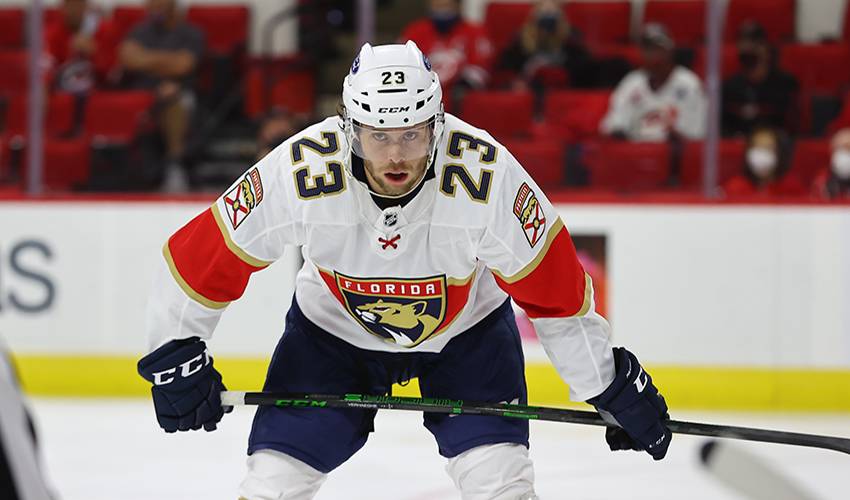 Feature photo: Getty Images
---
Carter Verhaeghe hopes the latest edition of the Stanley Cup Playoffs has a familiar ring to it.
One season removed from winning hockey's most coveted team trophy, at the time a member of the Tampa Bay Lightning, Verhaeghe is now fresh off his first regular season campaign with the Florida Panthers and will look to make it back-to-back Stanley Cups in the Sunshine State.
"It was a lot of fun this year," said the 25-year-old centre. "Everyone is excited and wants to get going with the playoffs. I think, for me, you just want to stick with the things that made you successful in the regular season. We haven't had a fully healthy team the whole year, so it will be nice to get guys back. Everyone has to pull the same rope, and we're all up for that challenge."
It's been anything but a sophomore jinx in 2021 for the native of Toronto.
This year, the third-round pick of the 2013 NHL Draft has been a major contributor to the Panthers' success by producing 18 goals, three of them game-winners, and 18 assists in 43 games.
After missing a month of action with an upper-body injury, Verhaeghe scored in his return as part of a 4-0 win over his former team on May 10 – an important victory ahead of the playoffs.
"I felt a little bit of rust, but it was a great feeling to score and to get home ice in the first round of the playoffs. There are a lot of familiar faces on the other side, so it was pretty special to get that win."
Special is certainly an appropriate term for the season that Verhaeghe had.
The 6-foot-2, 180-pound forward took advantage of increased playing time, more responsibilities and more chances to be on the ice at crucial points in a game.
"I don't think there was a particular game or moment that made me think it could be a memorable season. I've always believed in myself and that I could be a good player in this league. I just tried to come in here and prove what I could do, to show what I was capable of. They gave me every opportunity to be successful here. Signing with a new team, you never know what to expect, whether you will get an opportunity or what it will be like, but ever since I got here I was given a chance and I just ran with it."
It wasn't an easy road to get to that point.
Originally drafted by the Toronto Maple Leafs, Verhaeghe never played a game with the club. He was still in the Ontario Hockey League ranks, with Niagara, when Toronto dealt him to the New York Islanders on September 17, 2015. He turned pro after an 82-point campaign with Niagara and played two seasons in the Islanders' farm system before another trade – this time to the Lightning on July 1, 2017.
In his second season with the Lightning's American Hockey League affiliate in Syracuse, Verhaeghe contributed 34 goals and 82 points to the Crunch.
He earned a roster spot with Tampa Bay in 2019 and was in the opening-night lineup against Florida.
He notched his first point, an assist, against the Panthers two nights later and scored his first NHL goal against the San Jose Sharks on December 7, 2019. One month later, Verhaeghe recorded his first NHL hat trick, going on to finish the season with nine goals and 13 points in 52 games. In the playoffs, he chipped in with two assists over eight games along the way to the Lightning's championship victory. On October 9, 2020, he signed as a free agent with the Panthers.
Now, he'll get a second shot at Stanley Cup glory, starting with a first-round date against the Lightning in the NHL's first-ever all-Florida playoff series.
"I learned a lot last year from being in the playoffs. Hopefully, I can take what I did learn and bring it to the Panthers. As a team, we have to stick with what made us successful in the regular season. That's a big thing. We can't get frustrated and get away from our game. I think it's going to be a lot of fun."
Before it all begins, Verhaeghe, in between practices and preparation, will take some time to soak up the sun and for a few moments, take his mind off the upcoming task at hand.
"On a day off, I'll take my dog [his golden doodle, Cashew] for a walk, or just hang out by the pool. The beach isn't too far away, or sometimes I'll golf. There is a lot you can do with the nice weather here."
Verhaeghe then takes a quick pause.
"I'm not trying to brag," he said with a laugh. "There's just a lot to be thankful for."