Adam Fox proving to be a student of the game
The young defenceman is blending his education with his on-ice skill to impress during his sophomore NHL season.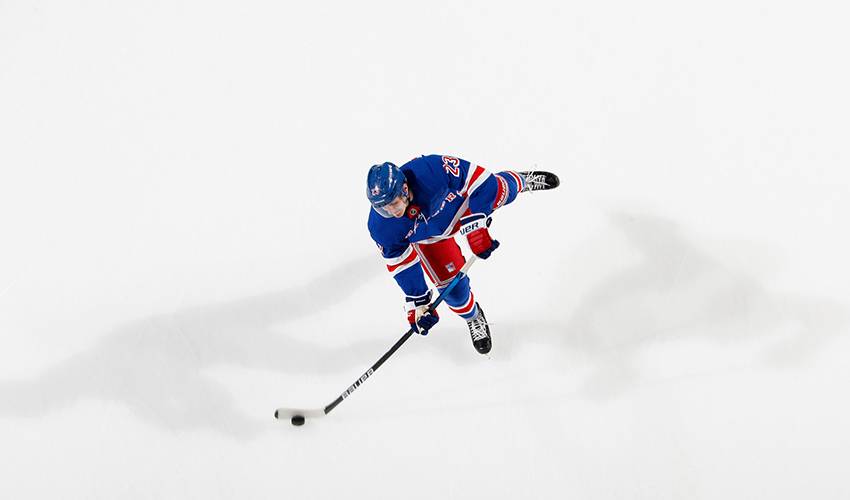 Adam Fox has always been a forward-thinking student of the game.
Throughout his two campaigns in the U.S. National Team Development Program and three seasons with the Harvard Crimson, the defenceman from Jericho, New York, made his mark on the ice by racking up a string of impressive performances along the way.
It wasn't just natural ability and a superior skill set that contributed greatly to Fox's early hockey successes. His education and dedication to understanding the mental side of sports also played a huge role in his on-ice contributions.
During his Harvard days, where he chose to major in psychology, Fox developed a fascination with people's thought processes.
On occasion, he would turn to sports in his studies. A paper for a health psychology course focused on top-tier athletes, which included an NFL football legend.
"It was an interesting class and an interesting topic for me," recalled Fox, who won gold with the United States at the 2017 IIHF World Junior Championship. "I think everyone can look at someone like Tom Brady and want to know what he does that takes him to such an elite level. The mental part of sport is so huge, and I try and use whatever I've learned, and can learn, to help me on the ice. It's a big aspect of my game."
Fox's blueprint for success is certainly paying off for both the player and his team. In his sophomore NHL season, he is putting on a Broadway show with his 2020-21 campaign. Thirty-seven games into his season, Fox leads all blueliners with 31 assists and his 36 points gives him a share of the points lead alongside Victor Hedman of the Tampa Bay Lightning. March 25, amid a week he was named NHLPA.com Player of the Week, he posted five assists in Rangers victory over the Philadelphia Flyers.
But it's not just about offence when it comes to Fox's game.
He's earning rave reviews for his defensive intelligence, and with that ability, he's earning plenty of ice time. This season, he's averaging 24:42 per game, up nearly six minutes from his rookie season.
"There was a little bit of adjustment coming to the NHL where you play a lot more games than you do in a college season. Being able to bounce back from a bad game – you're not going to play your best every single night – I think moving on when that does happen, or following up a good game with another one, is how you try to focus on things. The key is in being consistent. That's the one thing I've always tried to do."
Fox has also shown he can take on temporary goaltending duties if the situation arises.
March 27, he turned away a pair of scoring chances late in the game with the Rangers net empty. Despite the loss, it was another example of Fox's on-the-fly thinking and how he covers all the angles, literally.
You can count Hockey Hall of Fame defenceman Brian Leetch, who appeared in 1,205 NHL regular season games and won a pair of Norris Trophies and a Conn Smythe Trophy, as a big supporter of Fox.
"When I watch him play, a lot of the time it's as a fan. I enjoy the way he plays and the plays he makes," Leetch said about Fox.
"Whether it's out of the zone, a little three-foot pass to the middle, he takes one look over his shoulder and, boom, we're right out of the zone because of the low support. Or if it's on the power play, being able to move it to the right guy at the right time. It's a lot of simple plays that are right at the right time and right on the stick and in stride."
Fox, who once had a Boston College hockey jersey with Leetch's name and number, won't be writing a paper on him. He does, however, consider any conversation with the player who amassed 1,028 points an invaluable opportunity to learn.
"He was always around the practice facility last year – obviously this year is a little different – and he would give me little tips here and there. It's nice to have someone like him, a Rangers legend, give you a compliment and take the time to give you some advice and encouragement. That means a lot. He's given me a lot of great pointers. Even if it's just a text, it helps me in a lot of ways."
These days, it's all about hockey for one of the game's rising stars. But there is some unfinished business for Fox. Specifically, earning his university degree.
He's only five classes away from that becoming a reality.
"Obviously, that's something I've set out to do and I'm looking forward to the day when it happens. But for now, it's about doing whatever I can to help the team win. That's where my mind is at now."
When he isn't in game mode, Fox has found a couple of ways to get away from the stresses of the NHL season.
"I actually just started watching Seinfeld. I'm on season four. I've never watched it before. It's funny. It's nice to throw it on and have a few good laughs. I like it. I play Xbox too. Recently, I've been playing a game called Rocket League with "Lindy" [Rangers defenceman, Ryan Lindgren]. We live together and it's our game of choice. I also play NBA with some buddies I went to school with. But Lindy and I will watch hockey too. We are hockey fans, so it's nice to be able to see what's going on around the league when you have a chance."
It's exactly what a top student of the game looks for.