Player of the Week | Martin Jones
Martin Jones led the league this week with four wins, including a shutout in the first of two consecutive victories against his former club.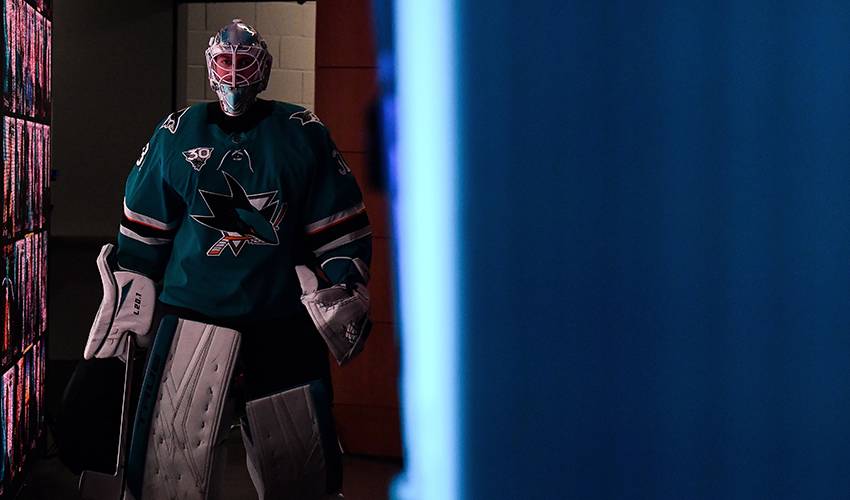 Feature photo: Getty Images
Martin Jones
MARCH 29–APRIL 4, 2021
4-0-0
LED LEAGUE IN WINS
25TH CAREER SHUTOUT
.942 SV%, 1.71 GAA
113 S, 120 SA
---
Martin Jones ended March on a high note and carried his strong play into April by earning a pair of wins for the San Jose Sharks against his former team.
The 31-year-old led the league last week with four wins that included back-to-back victories against the Los Angeles Kings, while picking up his 25th career shutout.
Jones has steadied his play in the Sharks' crease, leading his team back into the playoff picture thanks to their current four-game win streak.
''We put ourselves behind the eight-ball a little bit, but the way we've been playing, we could go on a little bit of a run here and see where we're at in a couple of weeks,'' Jones said about the Sharks latest win streak.

LOOKING BACK

MARCH 29
W, 22 S, 25 SA
---
SJS 4
MIN 3, F/OT
Jones turned aside 22 shots while going eight rounds in the shootout to help the Sharks outlast the Minnesota Wild 4-3 Monday night at SAP Center.
Erik Karlsson scored twice in regulation and added the shootout winner with a slap shot, while Jones remained stellar by allowing only two goals over eight rounds.
It was also a milestone night for Sharks teammate Patrick Marleau, who surpassed Hockey Hall of Famer Mark Messier by moving into sole possession of second place in all-time NHL games played.

MARCH 31
W, 26 S, 28 SA, SECOND STRAIGHT WIN
---
SJS 4
MIN 2
For the second straight game, Jones helped lead the Sharks to victory over the Wild by making 26 saves in a 4-2 victory Wednesday night at SAP Center.
With the game deadlocked after Jones made 10 saves in the opening period, he made sure to continue giving San Jose a chance to take the lead, which they would eventually do with two goals in the second period.
Minnesota cut San Jose's lead in half in the third period but Nikolai Knyzhov scored his first NHL goal to restore the Sharks' two-goal advantage. The Sharks held off a big push from the Wild late in the dying moments of the final frame to complete a two-game sweep against their Western Division opponent.

APRIL 2
W, 30-SAVE SHUTOUT, THIRD STRAIGHT WIN, GAME'S FIRST STAR
---
SJS 3
LAK 0
Jones earned his first shutout of the season by making 30 saves in the Sharks' 3-0 victory over the Kings Friday night at Staples Center.
With San Jose leading 1-0 in the first period, Jones made a big save on Kings forward Adrian Kempe to keep the Kings off the board.
The Kings couldn't solve their former teammate, who improved to 17-5-3 with two shutouts in his career against his former team.
''You look around the league, there are goalies that have success against certain teams, and this is definitely one of them,'' Sharks coach Bob Boughner said about Jones after the game.
''I think you always want to play well against your old team. And I think the other thing that plays into it is a lot of their best players are left over from Jones' era and I'm sure he has a little bit of knowledge on their tendencies in how they play offensively and maybe he can read the play a little better.''

APRIL 3
W, 35 S, 37 SA, FOURTH STRAIGHT WIN
---
SJS 3
LAK 2
Fox extended his point streak to seven games by recording a pair of assists in the Rangers' 5-4 loss to the Washington Capitals at Capital One Arena Sunday afternoon, while once again leading the Rangers in ice time for the game.
Jones made 35 saves for his fourth-straight win to help the Sharks beat the Kings 3-2 Saturday night at Staples Center.
Getting the start in back-to-back nights, Jones was sharp early as the Kings had 18 shots on goal in the opening period. Later, with the game tied in the third period, Dylan Gambrell scored the eventual game-winner with less than five minutes remaining for the Sharks to defeat their California rival.
With the Sharks outshot 37-23, San Jose captain Logan Couture credited his goaltender for giving the team a chance to overcome their tough start.
"We didn't play well in the first and he bailed us out and (was) a big reason why we were able to win that game," Couture said about Jones' performance.
Jones improved to 5-1 against the Kings this season, with a 2.37 goals-against average and .932 save percentage.
LOOKING AHEAD
The Sharks will look for Jones to continue his streak as they take on the Anaheim Ducks April 6, then finish the week with another back-to-back against the Los Angeles Kings April 9 and 10.