After the Buzzer | Kailer Yamamoto
A multi-sport athlete, Kailer Yamamoto credits his time on the diamond for helping aspects of his game on the ice with the Edmonton Oilers.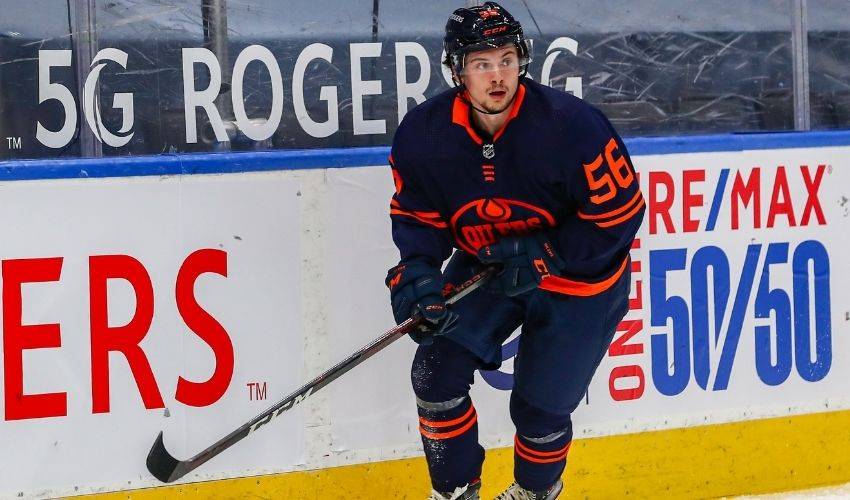 Feature Photo: Getty Images
From their bond with fans to their efforts in the community – and everything in between – 'After the Buzzer' is a weekly series taking readers beyond the rink to shine a light and provide insight on players' lives away from the game.
---
Disc golf is par for the course for Kailer Yamamoto.
The 22-year-old Edmonton Oilers forward recently spoke with NHLPA.com and shared his thoughts on hitting the disc golf course for a round, how baseball helped his hockey career, the one sporting event he'd like front-row seats to and more.
COMING UP ACES
Whenever he's afforded the opportunity, Yamamoto jumps at the chance to hit the links with his friends to through the disc around.
"It might be a little chilly at this time of year, but I still might consider getting out there for a game. Back in my hometown [Spokane, Washington] – I live about a 30-second walk from Whitworth University – there's a lower part there that has a disc golf course. It's only nine holes, but it's a lot of fun. A couple of guys around Spokane, my brother and his buddies, and myself and my buddies, we go down there and play. It's a lot of fun. It's actually a lot harder than it looks."
DREAM TEAM
If Yamamoto could pick a pair of teammates to join him for disc golf, he has two fellow forwards in mind.
"I'd probably say Patty Russell or Nuge [Ryan Nugent-Hopkins]. Those are the two guys I'd pick to go one-on-one against. I'd be all over them out there."
FIELD OF DREAMS
While he wasn't destined for Major League Baseball, Yamamoto did enjoy some success on the diamond, both as a pitcher (he had a solid curveball) and an outfielder.
"I think playing baseball really helped me in hockey with hand-eye coordination. When you're in the outfield, you need to be able to read where the ball is going and where you need to be. You can't go running in too far or go back too deep – you need to be able to find it and react quickly.
"Baseball also helped me with patience, being able to wait on the right pitch. I think there were a few things that ended up helping me with hockey."
If he had the chance to throw out a ceremonial pitch at a Seattle Mariners home game, would he accept the offer?
"I'd definitely do that. It would be unreal. I might be a little too nervous to throw a curveball, but I think I could get it across the plate. Well, hopefully. I probably just jinxed myself and I'd throw it in the dirt."
UP CLOSE AND PERSONAL
If Yamamoto could pick one sporting event to get two front-row seats to, the 22nd overall pick of the Oilers in 2017 would opt for an NBA game.
"That's a tough one, but I if had to pick one I'd go with courtside at an NBA game. I didn't play growing up, but I just loving watching basketball, seeing how skilled the players are at passing and shooting the ball. It's a great sport to watch.
"I've been to one NBA game, with a couple of the guys here. It was a great time. We were in Philly, so we got to see the 76ers play the Boston Celtics. It was actually really cool."
HE'S NO. 1
Which star athlete slots in at top spot for Yamamto? Hint: he's sticking with the hardcourt.
"I'm a big LeBron [James] fan. He's so consistent. Being able to go to the NBA Finals 10 times is unbelievable. To have that talent, the drive and the consistency, it's just amazing. Every year, it seems he finds a way to lead his teammates to the finals and gets all of them to buy in. It really just amazes me."
PARTING SHOT
"Being able to hang around with the guys was the best part, joking around in the dugout, but working together to be successful. I really enjoyed that. It took my mind off hockey and I was able to concentrate on something else. I really cherish those days. I wasn't the best, but I wasn't the worst. It was just a lot of fun." – Yamamoto, on his baseball days.