After the Buzzer | Marcus Foligno
When he's not busy watching classic TV shows and movies, girl dad duties have Marcus Foligno re-discovering some childhood favourites.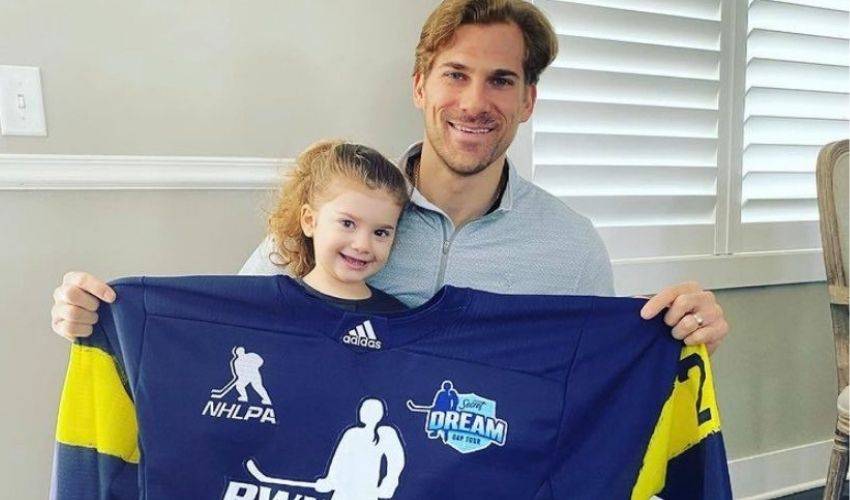 Feature Photo: Instagram / @marcusfoligno17
From their bond with fans to their efforts in the community – and everything in between – 'After the Buzzer' is a weekly series taking readers beyond the rink to shine a light and provide insight on players' lives away from the game.
---
Marcus Foligno is singing the praises of a past TV crime drama series he's just now starting to watch.
The 29-year-old forward recently chatted with NHLPA.com, and talked about acquainting himself with The Sopranos, which actor he'd choose to play him in the series, the one place in the world he'd love to visit one day, his favourite kids' movie, and more.
SCREEN TIME
When Foligno and his Minnesota Wild teammates are on the road, it gives him the opportunity to watch episodes of the award-winning television series The Sopranos.
Let's just say he's a big fan.
"When you're back in your hotel room, there isn't a lot to do, so I've been crushing a lot of TV shows. I've started The Sopranos, so I'm really into that these days. It's a great show. This is my first time watching it, actually. I don't know why that is. I'm on season one now, and it's been great. Coming from an Italian background, it's been a lot of fun to watch. The acting is fantastic and it's a really compelling show."
"If I'm not watching that, FaceTime is the big thing for me. It's such a great way to stay in touch with my family. TV shows and FaceTime are my two biggest things on the road."
LEAD ROLE
If Foligno had his choice of who would play him in The Sopranos, there is one quality in particular he is looking for.
"(Laughing) Oh, man, that's a tough one. I'd probably go with one of the good-looking guys in Hollywood, maybe, Chris Hemsworth. I was going to go with Brad Pitt, but I don't know if he could do the Italian character. I would say one of those good-looking dudes, someone like that. If I was going to go comedy-wise, I'd go with Will Ferrell."
STORY TIME FOR #GIRLDAD
Foligno and his wife Natascia are the proud parents of two young daughters, Olivia and Camila.
While screen time can be a lot to take in over the course of a day, there is one children's movie series that Foligno can't seem to get enough of.
"Right now, it's all about Toy Story. We showed Olivia Toy Story 1, 2, 3 and 4, just to break it up. That's been nice because I was a big fan of Toy Story back in the day, so it's the one thing she's really into these days. She's also a huge Minnie Mouse fan too."
MOVIE MINUTE, TIMES TWO
As for Foligno's favourite two movies, the brother of Columbus Blue Jackets captain Nick Foligno picks one drama classic and one comedy classic.
"If we're talking a serious movie, I would say The Shawshank Redemption is one of my all-time favourite movies. It's just one of those movies that you enjoy from start to finish. The storyline and the acting are just phenomenal."
"When it comes to comedy, I'm a huge fan of both Will Ferrell and Adam Sandler. I've probably watched Anchorman a thousand times and Will Ferrell is one of my favourite actors. He's hilarious. I also liked Step Brothers, too."
FAMILY ROAD TRIP
If he could choose one place he could visit with his family, a spot he's never been to before, it's really no surprise that Foligno would opt for Italy.
It appears as though he has some of the itinerary already planned out.
"I would love to go Italy. I've never been. We have some relatives over there. I think I would do the Amalfi Coast, and all the amazing places that you hear so much about. I'd want to do an Airbnb-type of trip the whole time. I would love to taste the food, drink the wine, and I've heard the prosciutto is pretty phenomenal there – it's one of my favourites – and I think the chance to experience all that Italy has to offer would be pretty sweet."
PARTING SHOT
"It's always fun to have a good laugh and that's what you get with his movies." – Foligno, on his enjoyment of Will Ferrell comedies.