Player of the Week | Marc-Andre Fleury
Marc-Andre Fleury earned three wins for the Vegas Golden Knights while capping his impressive week with the 63rd NHL shutout of his career.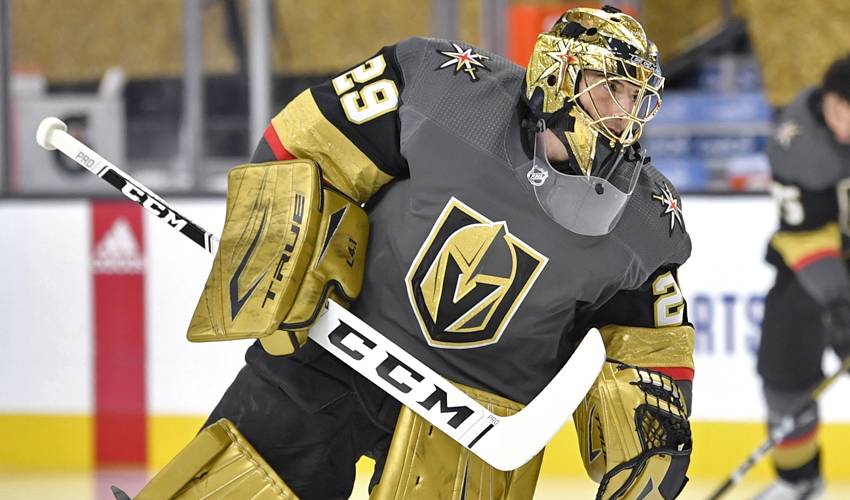 Feature photo: Getty Images
Marc-Andre Fleury
FEB. 8–14, 2021
3-0-1 OVER 4 GP
POSTED 63rd NHL CAREER SHUTOUT
.943 SV%, 1.55 GAA
100 S, 106 SA
---
The Golden Knights have leaned on Fleury heavily lately with his counterpart in net, Robin Lehner, dealing with an upper-body injury.
"I think when you look at our schedule and with Robin going down, we've asked him to play a bunch of games in a row here and he's had the energy to do it, and not only do it but do it at a really high level," said head coach Pete DeBoer. "He's been our best player through this stretch."
Fleury's performances have helped Vegas reach the top of the Honda West Division, while the 36-year-old now owns a 7-1-0 record, with a 1.38 goals-against average, .944 save percentage and two shutouts through eight appearances this season. Those numbers have the 18-year NHL veteran at the top of the league in goals-against average and save percentage.
LOOKING BACK

FEB. 9
W, 19 S, 23 SA, FIFTH STRAIGHT WIN
---
VGK 5
ANA 5
Fleury made 19 saves to record his fifth-straight win of the season in a 5-4 victory over the Anaheim Ducks at T-Mobile Arena Tuesday night.
With the win, Fleury improved to a career 17-4-0 record against the Anaheim Ducks and the victory allowed Vegas to earn 15 of 16 possible points in their eight games at home.
The Golden Knights also wore their adidas reverse retro jerseys for the first time this season. The red jerseys are a tribute to two former Las Vegas minor league clubs in the IHL's Thunder and ECHL's Wranglers.

FEB. 11
27, 28 SA, GAME'S THIRD STAR
---
VGK 0
ANA 1
Fleury made 27 saves, but it was not enough as the Golden Knights couldn't find an answer for John Gibson, who earned a 1-0 shutout win for the Ducks at T-Mobile Arena Thursday night.
The Golden Knights netminder did everything he could to give his team a chance to keep their winning streak alive. A highlight worthy save came in the second period as Fluery made a trademark acrobatic save, sprawling backwards on the goal line to rob Ducks forward Isac Lundestrom for a save of the year candidate.
Unfortunately for Fleury, Maxime Comtois' third period goal was the difference for Anaheim. DeBoer was disappointed his team couldn't capitalize on his goaltender's strong performance. Fleury was not initially slated to start the game, but jumped in after Lehner was scratched late because of an injury.
"Unfortunate to waste an effort like that – he was our best player," the head coach said about Fleury after the game. ''Considering the circumstances, he got the call to go in late tonight, it was a great effort by him."
For the third straight game, McDavid put up a pair of points as the Oilers lost a close game to the Toronto Maple Leafs 4-3 at Rogers Place Thursday night.
With Edmonton trailing in the second period, McDavid connected with Leon Draisaitl on the powerplay with a perfect setup. The duo connected again in the third as McDavid picked up his second assist of the night on Draisaitl's second goal with the team on the man-advantage. McDavid, Draisaitl and Nugent-Hopkins led all skaters in the game by playing 25+ minutes each.

FEB. 13
W, 24 S, 25 SA
---
VGK 3
SJS 1
Fleury helped the Golden Knights bounce back by making 24 saves in a 3-1 win over the San Jose Sharks at SAP Center Saturday night.
With the win, the Fleury improved his record to 6-1-0 on the season as Vegas earned their fourth victory in five games. The Golden Knights took advantage of a hot powerplay as they went three-for-four with the man advantage.
The Shark and Golden Knights were meeting for the first time this season and Fleury noted that the clubs' rivalry was still alive and well.
"As the game went on, you saw some good hits out there, after the whistle, guys in guys' faces and stuff," said Fleury. "With no fans too it takes some of the emotions away, but it's still always fun to play them and battle them and obviously win those games."

FEB. 14
W, 30-SAVE SHUTOUT, GAME'S FIRST STAR
---
VGK 1
SJS 0
Fleury saved his best performance for the final game of the week, making 30 saves for a 1-0 shutout victory against the Colorado Avalanche at T-Mobile Arena Sunday night.
The Sorel, Quebec, native earned his 63rd career shutout – which now has him one behind Henrik Lundqvist for 16th on the NHL's all-time list in the category. Fleury continued his strong start to the season allowing two goals or less in seven of his eight starts.
Fleury credited his teammates for being able to shut down an Avalanche club that was coming off a break.
"That was our second game in two nights, I thought our guys battled hard," Fleury said about his team's performance. "Colorado had a long break, and they were fresh. They felt pretty quick out there. The guys played well defensively and got the win at the end, just one shot at a time, one game at a time."

LOOKING AHEAD
Fleury will look to continue his dominant stretch as the Golden Knights continue their mini-series with a pair against the Avalanche, February 16 in Las Vegas before the NHL Outdoors Saturday game February 20 at Lake Tahoe.