From prep school to point streak, humble Jordan Greenway quickly evolving
With ten points in as many games to start the season for Jordan Greenway, the towering forward is off to a hot start for the Minnesota Wild and former coach John LaFontaine isn't surprised.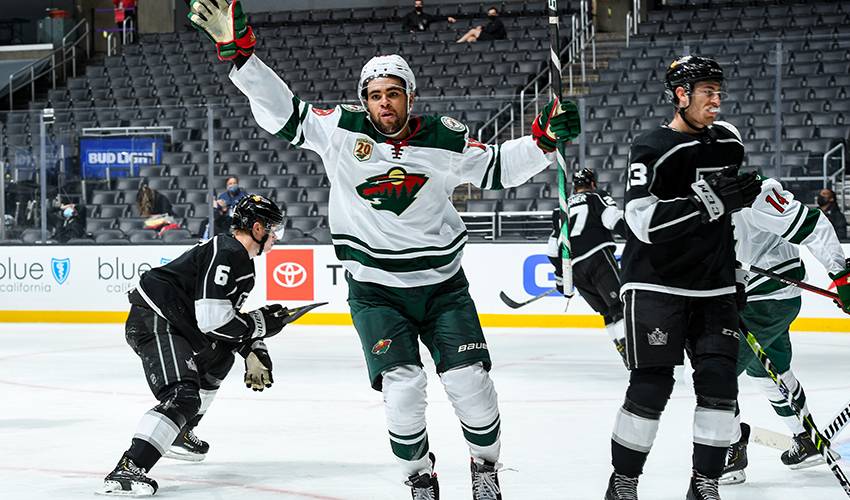 Feature photo: Getty Images
---
When you ask Jordan Greenway who and what helped get him to this point in his NHL career, his answer starts with a question of his own.
"Do you have 10 minutes? That's how long it would take me to list everyone that's helped me get to where I am," said the laughing voice on the other end of the line.
That extensive list, one comprised of family like his younger brother J.D. who was a third-round NHL Draft pick of the Toronto Maple Leafs in 2016, friends, former teammates and past coaches. It also has the name John LaFontaine on it.
Now the head coach of the Cranbrook Cranes of the Michigan Interscholastic Hockey League and manager of the Wallace Ice Arena, LaFontaine was at Shattuck-St. Mary's when Greenway skated with the prep school's Sabres in 2012-13.
The two struck up a strong bond during those times, a close friendship that has continued to this day.
"He's just a great kid," said LaFontaine, whose roles at Shattuck-St. Mary's included Athletic Director, Sports Complex Manager and Head Hockey Coach. "You root for kids and you really want to see them excel at their craft, but he's one that has a special place in my heart. He's worked at every area as hard as he can, and done that at every stage of his career. Nothing was given to him."
Born in Canton, New York, Greenway played high school hockey at Shattuck-St. Mary's before joining the USA Hockey National Team Development Program for two seasons (2013-15). As a junior at Boston University, he was selected to the Hockey East Third All-Star Team after posting 30 points for a second consecutive season as a Terrier.
He has fond recollections of his time at Shattuck-St. Mary's, where he leads the club in all-time points with 212.
"When I went to Shattuck, it was the first time I was able to learn the next steps to get to the NHL," said Greenway, who scored 23 goals and 62 points in 46 games with the team in 2012-13. "I was just becoming a better player. Prep school for me was the stepping stone to get more exposure to everything that was out there, and the different things I needed to do to continue to climb the ladder to the NHL. It's a great program and I learned a ton about hockey and life."
A second-round pick of the Minnesota Wild in the 2015 NHL Draft (50th overall), Greenway won a gold medal for the United States at the 2014 World U-17 Hockey Challenge and 2015 IIHF World Under-18 Championships. He played at the 2017 IIHF World Championship after his sophomore season with the Terriers as well.
Greenway, who became the first Black hockey player to compete for Team USA at the Olympics, did so at the 2018 Winter Games. It was a big year for Greenway, who signed a three-year contact with the Wild March 26 and made his NHL debut the next day in a 2-1 loss to the Nashville Predators. He went on to post one assist over five games with the Wild and scored one goal in Minnesota's series against the Winnipeg Jets in the Western Conference First Round, also becoming the first player to compete in the Olympics, the NCAA Tournament and the Stanley Cup Playoffs in the same season.
Less than 170 games into his NHL career, Greenway is also off to a sizzling start for the Minnesota Wild in 2021.
LaFontaine, brother of NHL great Pat LaFontaine, couldn't be happier.
"He does not care if he gets one ounce of credit for anything. It's all about the team for Jordan. I think that's why he's done as well as he has."
What's impressed LaFontaine the most this year about the 6-foot-6 forward?
"He's always had really good vision and can make plays. You know how fast it is at the NHL level – for a big guy to be able to make those quick plays, he's always had that ability to be such a good playmaker. Sometimes as a power forward, you picture driving the net and every goal is either a tip-in, a rebound or a screen, but he's shown that through his vision, his playmaking and his processing, that he can do it at that level. It's nice to see him confident and wanting that puck."
None of it comes as a surprise to Greenway's former coach.
In fact, Greenway's strong beginning to the campaign was somewhat anticipated by LaFontaine.
"I'm not [surprised]. You just knew… he's just such a hard-working kid and he's very driven. But he's driven for the right things. He wants to contribute to his team, not read about his name. He wants to be good for all the right reasons, not because he's worried about sticking out. He's just always found ways to continue to improve."
The two men keep in touch throughout the NHL season, usually quick check-ins to see how the other is doing.
Hockey invariably comes up their conversations.
"As much as he reaches out to pick my brain, I reach out to pick his brain. When Jordan was with the U.S. development program, I wanted to know how it was for him, to be an elite player and be in that environment. As much as he calls just to shoot the breeze or ask for my opinion, I probably do that twice as much to him.
"He can play and tough and mean, but he's a humble giant that loves people. How do you not like someone who is humble in today's world? He's somehow continued to do that. I would like people to know that he's down-to-earth, his humble roots have stayed with him and he'd do anything for anybody."
Greenway will, every now and again, do something for himself.
"I don't think I reflect as much as I should, but when I do take the time, coming from upstate New York – there wasn't a lot of exposure there – and having to leave home at 14 to move out to Minnesota for prep school was a big step for me. You're put in this position that you have to grow up a little bit faster than your average 14-year-old. There are some lessons I wish I would have figured out earlier on, but there are some lessons that I did learn early on. I guess it's just gratifying knowing all of the hard work paid off."