Travis Zajac reflects ahead of game No. 1,000
Ahead of his 1,000th NHL game with the New Jersey Devils, slated for January 31, NHLPA.com caught up with Travis Zajac.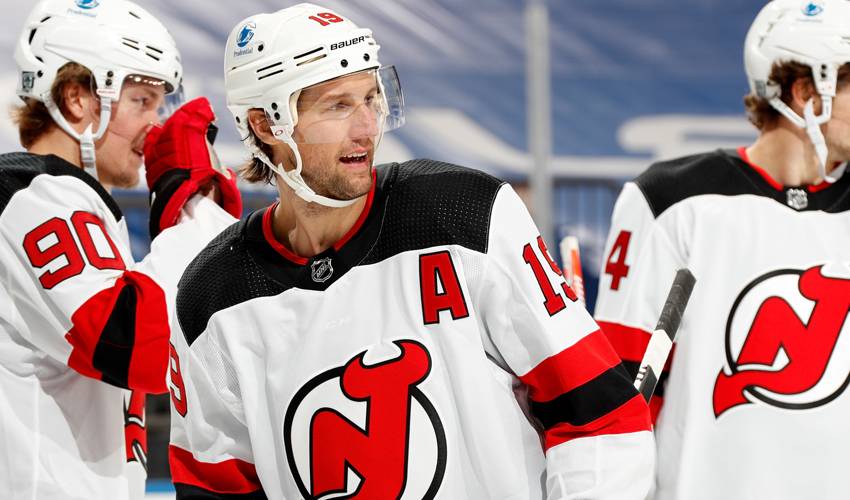 Feature photo: Getty Images
---
The feeling, the one Travis Zajac experienced before the puck dropped on the first game of New Jersey's 2020-21 NHL campaign, was quite familiar to him.
In the seconds leading up to the opening face-off of the Devils' curtain raiser against the Boston Bruins January 14, the veteran forward wearing the 'A' on his jersey took a deep breath and exhaled.
It was, in many ways, a replay of a similar scene back on October 6, 2006, the date of his first NHL game.
"I do remember the first game," Zajac started. "It was in Carolina. I was on a line with Patrik Elias and Jamie Langenbrunner – so two great players – and it's a dream come true, that first game. Being a part of the NHL is something you dream of as a kid. I'm fortunate to be where I am now."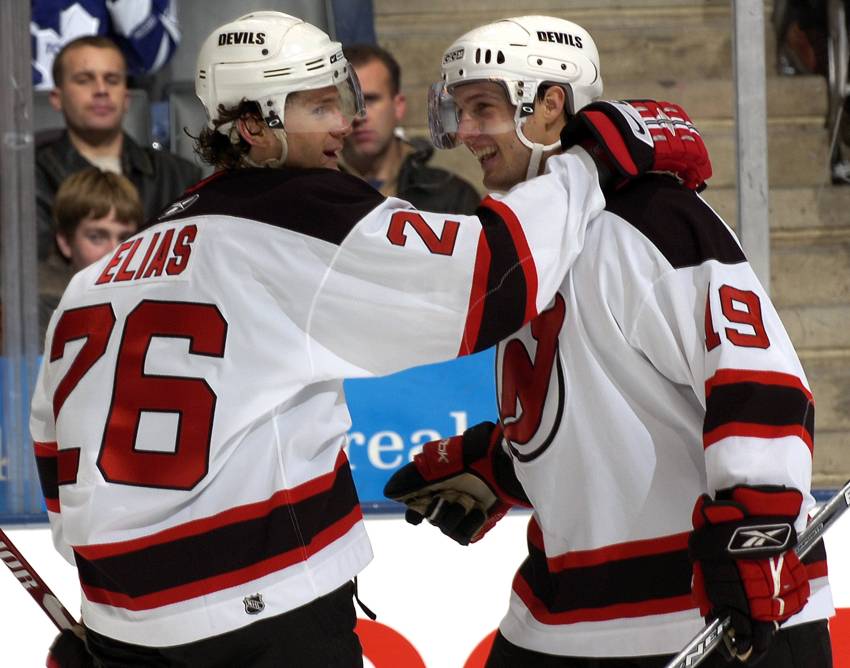 Where he is, specifically, is less than handful of games away from 1,000 for his career.
The milestone is slated to happen January 31, an afternoon game in Buffalo.
"I'm still enjoying it and still having fun. That's the most important thing. When I look back at that home opener [this year], I still get butterflies. That's a good thing. I want to play as long as I can, as long as I'm enjoying the game.
"I've played on some good teams with some good players and got close to winning. When I look back at it, it's a great career, and I still think I've got some left in the tank, so I'm looking forward to the next few games and next few years and hopefully I can continue to make an impact and contribute."
A first-round pick, twentieth overall, of the Devils in the 2004 NHL Draft, Zajac helped the University of North Dakota reach the NCAA Frozen Four in back-to-back seasons (2005, 2006). He was named to the NCAA Championship All-Tournament Team, the NCAA East All-Tournament Team and WCHA All-Rookie Team as a freshman in 2005.
The Winnipeg-born winger, whose wife Nicole was a standout collegiate hockey player with the University of New Hampshire, signed with the Devils April 13, 2006 and scored his first NHL goal October 7 against the Dallas Stars, the very next night after his NHL debut against Carolina.
He set NHL career highs in goals (25) and points (67) in 2009-10 and played in a Devils record 401 consecutive games between October 26, 2006 and April 10, 2011, passing the previous standard set by defenceman Ken Daneyko (388).
"It was just to stay in the lineup, to be honest," offered Zajac, of his early NHL goals. "I took it a day at a time. I didn't know I made the team until the first day of the season when I saw my jersey hanging there. I wanted to take advantage of that and continue to push myself to be better and improve, and stay in the league. I really never had a number or any years along that line.
"For me, it was just trying to get better as a player. That's what's always driven me, proving to myself that I could always be better the next game, a person who could contribute on and off the ice, and be a good teammate."
Despite having to spend some time on the sidelines over his career, the 35-year-old, who names Joe Thornton, Joe Sakic and Steve Yzerman as players he idolized growing up, has made the most of his opportunities.
Although Zajac missed the majority of the 2011-12 season with a leg injury, he returned for the Stanley Cup Playoffs and netted 14 points (seven goals, seven assists) in 24 games, helping New Jersey reach the Stanley Cup Final, where they lost to the Los Angeles Kings.
He as reached double-digits in goals in six consecutive campaigns and had nine tallies when the 2019-20 season was paused March 12 due to the coronavirus.
"Travis is the ultimate teammate," said Devils forward Kyle Palmieri. "He is a guy that night in and night out you can rely on him to make an impact. He does all the little things that help everyone on the ice be better and more effective. His professionalism never wavers and he always approaches each day looking to better himself and his teammates.
"What impresses me most about Travis is the way he goes about every day. He brings passion and attention to detail with everything he does. Whether it's a practice, games, his family life, or offseason training, he approaches every day with the search of becoming a better hockey player or human being."
Tough times and tough losses aside, Zajac, whose father Tom played college hockey, hasn't lost his zeal for playing on the same ice with and against the best players in the world.
Travis Zajac is 6 games away from Game 1,000

He's been to cup finals, has won games in OT, and played part in other key moments

He STILL gets this excited about regular season goals....

Travis Zajac is a Devil for life #NJDevils pic.twitter.com/HsRRHkUbbH

—

Gianni 👹 (@GianniNJD) January 17, 2021
When he does eventually hang up his skates, he'll have little regrets.
"I eventually want to leave the game knowing I left it all on the ice, that I was a good teammate. That I did things the right way both on and off the ice, and was someone who was respected by his peers, battled every day and competed."
Until he calls it a career, Zajac has other business to take care of, including a milestone to add to his hockey résumé.
And he'll no doubt be ready for it, butterflies and all.