Player of the Week | Tyler Toffoli
Tyler Toffoli led the league with five goals and shared the lead in points with eight through four games on his first road trip as a Montreal Canadien.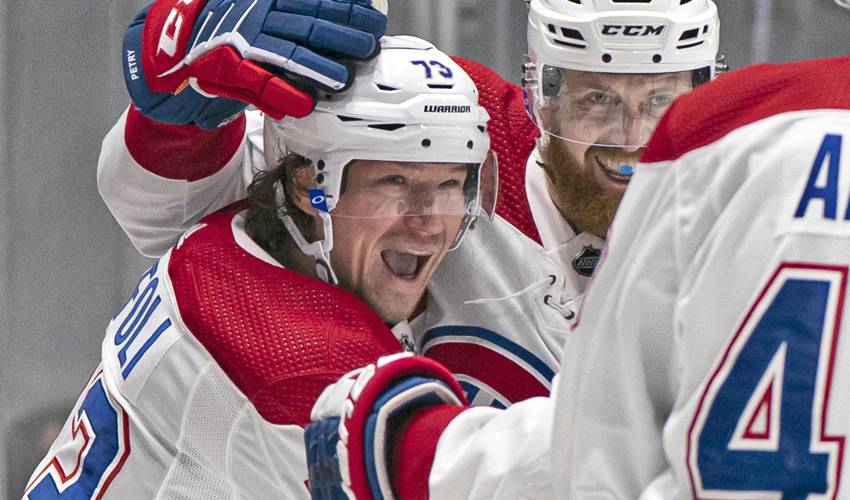 Feature photo: Getty Images
Tyler Toffoli
JAN. 18–24, 2021
5-3

–

8 OVER 4 GP
LEAGUE-LEAD IN GOALS; CO-LED IN POINTS
HAT TRICK IN RETURN TO VANCOUVER
FOUR-GAME POINT STREAK
---
Tyler Toffoli could not have asked for a better week on the road with his new Montreal Canadiens teammates, leading the league with five goals and sharing the lead in points with eight through four games.
The 28-year-old, in his first season with Montreal after signing a four-year contract in October, didn't take long to make an impact – scoring a hat trick as part of seven points in his return to Vancouver.
Toffoli's five goals have him tied for the league lead in the category, and he's been a major contributor to the Canadiens' balanced attack. Toffoli credits his linemates' ability to remain patient when they get their chances as part of the reason for their success early on.
"I think just doing a better job holding onto pucks," Toffoli explained. "They're big guys, and I'm not small by any means, but holding onto the puck and making smart plays and not really giving the puck away so we weren't really chasing it."

LOOKING BACK

JAN. 18
0-1

–

1, 2 SOG, 16:03 TOI
---
MTL 3
EDM 1
Toffoli recorded an assist to help the Canadiens earn their second straight win over the Edmonton Oilers 3-1 at Rogers Place Monday evening.
With Montreal leading 1-0, Toffoli assisted on Shea Weber's first goal of the season to record his first career point with the Canadiens. It also ended up being Weber's 103rd career power-play goal, moving the captain into 10th place on the all-time list among NHL defencemen.
#GoHabsGo Shea Weber scores his 103rd career PP goal, moving into sole possession of 10th on the NHL's all-time list among defencemen.

—

Sportsnet Stats (@SNstats) January 19, 2021

JAN. 20
3-0

–

3, 5 SOG, 14:10 TOI, GAME'S FIRST STAR
---
MTL 5
VAN 6, F/SO
Toffoli scored a hat trick for the Canadiens in their 6-5 shootout loss to the Canucks at Rogers Arena Wednesday night.
It was the first time Toffoli played against the Canucks since signing in Montreal during the off-season.
Trailing 1-0 in the second period, Toffoli scored his first goal with the Canadiens as he found a way to sneak behind the Canucks' defence as teammate Jesperi Kotkaniemi made a perfect pass to send him in alone to beat netminder Braden Holtby.
Later in the period, Toffoli notched his second goal of the game as Nick Suzuki found him along in front of the net for a tap-in goal. In the third period, Toffoli gave the Canadiens the lead as he tipped in the point-shot to complete the hat trick against his former team.
While it was a great individual performance for Toffoli as he was named the first star of the game, he wished it came with a victory as Montreal saw their two-game winning streak come to an end.
"I don't think that was our best game overall as a team," he said after the game. "We let them stay in it, gave them a lot of power plays, and obviously their power-play is really good. It's a tough loss."
Despite the loss, for his three-goal performance, the charity of Toffoli's choice will still receive $1,000 as part of the Enterprise Hat Trick Challenge.

JAN. 21
2-1

–

3, 6 SOG, SHG, 18:11 TOI, GAME'S THIRD STAR
---
MTL 7
VAN 3
Toffoli continued his strong play against the Canucks, scoring three points in the Canadiens' 7-3 victory over Vancouver at Rogers Arena Thursday night.
The Canadiens winger got things going with his fourth goal of the season as he found the puck through a crowd of players in front of the net.
In the second period, Toffoli broke a 2-2 tie with the Canadiens' second short-handed goal of the game. Canadiens forward Joel Armia picked off a pass from Canucks forward Elias Pettersson to send Toffoli in on a breakaway, beating netminder Thatcher Demko with a deke for his fifth goal of the season.
Toffoli earned a rare milestone as he became the first player in NHL history to score his first five goals with his new team against his former team.
Montreal's third line of Toffoli, Armia and Kotkaniemi had a strong two-game effort, especially on the penalty kill. Toffoli credits his team's attention to detail for the success they had against the Canucks while short-handed.
"I think we're just making good reads," Toffoli explained after the game. "The four of us on the ice at all times are putting a lot of pressure on them on the break-ins. They tried to make some plays and we got sticks on it and had little breaks."
The Canadiens improved to 3-0-2 through their first five games on the road and looked to finish their road trip on a high note.

JAN. 23
0-1

–

1, 2 SOG, 19:27 TOI
---
MTL 5
VAN 2
Toffoli registered a point in his fourth straight game as the Canadiens ended their six-game road trip with a 5-2 win over the Canucks at Rogers Arena Saturday night.
In the second period, Toffoli helped another newcomer earn his first goal with Montreal by assisting on Corey Perry's goal, who made his debut with the club that night.
The assist also gave Toffoli the team lead for the week, and a share of the league lead, in scoring with eight points through six games to start the season.

LOOKING AHEAD

Toffoli's efforts helped Montreal start the season 4-0-2, putting them in the company of the 1968-69 Canadiens as the only team in NHL history to open a season with at least a point in six road games.
Toffoli will look to keep his scoring streak going as the Canadiens make their long-awaited return home for two games against the Calgary Flames January 28 and 30 in Montreal at Bell Centre.