Miller ready to contribute to special Ducks group
Ryan Miller has a few milestones within striking distance, but he's most looking forward to continuing along with and contributing to a special group.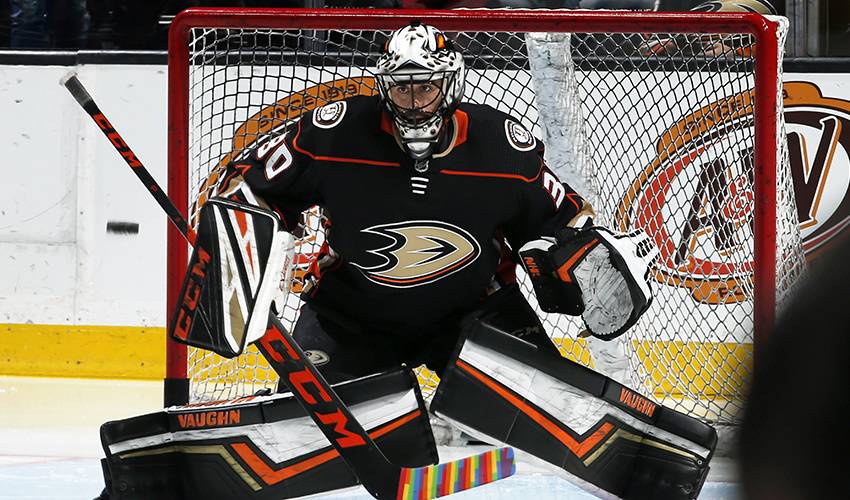 Feature photo: Getty Images
---
Ryan Miller's Mario Kart skills aren't what they used to be, but his competitive spirit between the pipes is still top-notch.
"I'm trying to give some gaming tips to my son, but I don't think I'm the best teacher," said the decorated veteran goaltender. "I was pretty good at Mario Kart when I was in college, but not so much anymore."
While Bodhi Miller might get the better of his dad when it comes to gaming, the winningest American-born goalie in the history of the NHL has still got game.
The 40-year-old backstopper, sporting a 387-281-86 record with a 2.62 goals-against average and a .915 save percentage in 18 seasons with Buffalo, Vancouver and Anaheim, signed a one-year deal with the Ducks December 23, 2020.
Since coming to Anaheim in 2017, Miller has recorded a 29-19-12 record accompanied by a 2.72 GAA, a .916 save percentage and five shutouts.
A fifth-round pick (1999) of the Sabres, Miller played 11 seasons with Buffalo, twice making a trip to the Eastern Conference finals.
He was dealt to St. Louis on February 28, 2014, and then signed with Vancouver in July of that year. Three years later, he signed as a free agent with Anaheim.
Sitting 15th on the all-time goalie wins list – trailing hall of famer Dominik Hasek (389) by only two wins – Miller is looking forward to the opportunity to strap on the pads for another season. He sits just 13 wins shy of 400 and 20 appearances away from 800 over his 17-season NHL career.
"I really can't wait to get back at it again. Each day, you get a little more excited about getting things underway."
Miller will be sporting a new look in 2021, courtesy of new gear he had created over the off-season.
It will pay homage to his days as a member of the Michigan State University Spartans, where he set an NCAA record with 26 career shutouts and won the Hobey Baker Award in 2001, a year when he led the U.S. collegiate level in all major goalie categories.
"I'm going to be wearing some stuff geared towards a college theme," said Miller, who hails from East Lansing, Michigan. "I got some stuff this summer and put it on social media. I was going to wear it last year, but it obviously, that kind of got sidetracked. We're going to put it into use early on in the season. It should be fun with the Ducks having the new throwback jersey, so we'll do something around that."
The fifth-round draft pick of the Sabres in 1999 has been enjoying what became unexpected months away from the game, including the chance to spend more time with his wife, Noureen, and their son.
"Early on, like everybody, we were spending a lot of time watching movies, documentaries, being creative when it came to cooking – just doing things around the house to keep ourselves busy. Like everyone else, we kind of plateaued on that stuff, so we're excited about getting back to work. I know for my son – who had a chance to go back to school in mid-October – getting back into a more normal rhythm has been a positive thing.
"We've been searching out activities for him that are safe, soccer classes and hockey clinics. Obviously, there are protocols in place and there are much less kids in classes than there typically would be. With Bodhi, I really want him to skate and enjoy the game first. Really, it's just been nice to have that time together as a family."
Miller, who earned a silver medal and tournament MVP honours with the U.S. at the 2010 Winter Olympics and was named the Vezina Trophy winner later that season, is looking forward to returning to game action.
Anaheim's first test of the new campaign comes January 14 in a road tilt against the Vegas Golden Knights.
"I'm just excited to play some hockey. It was a startling end to the season last year, so it was nice to have nice to have opportunity to come back. A big part of this, coming back to Anaheim, is the group of guys we have here. They are a great group and it felt like the right thing to do. I have been here three years and you've seen a lot of the guys move forward with their careers. I wanted to keep accomplishing with this team because it's something where it's really comfortable and I got to know a lot of the guys. You just want to do your part to contribute."
Miller is just as passionate when it comes to his contributions off the ice.
Through his Steadfast Foundation, launched in 2006, Miller has assisted countless numbers of initiatives and individuals.
The foundation has raised money and awareness for numerous causes, including Wigs for Kids, Carly's Club, MSU Ice Hockey, Sled Hockey America, FreeWheel Fund, and Sledge Hockey fund.
When COVID-19 hit, Miller and his Anaheim teammates delivered help (and food) to frontline workers and vulnerable families.
An auction, including signed sweaters by Jack Eichel, Nathan MacKinnon, and Jeff Skinner, along with three sets of autographed game-worn pads courtesy of Miller, helped raise money for a trio of initiatives.
"We've looked at various ways to help out the communities I've played in throughout the years. When COVID started – we see now just how people have been affected – you had the sense it would impact a lot of a families. So, we looked at food banks and families in need, things like that.
"We had the auction that raised money for food banks in Buffalo and southern California. It ended up being pretty successful from our view. As we've done over the years, any time we can get a conversation started, we think that's a great thing. We'll continue to help out and start those conversations whenever and wherever we can."
For now, it's all about game on for Miller.
"To have the chance to play again, to get back out on the ice and compete, it's something I'm really looking forward to."