Colin Wilson announces retirement after 11 NHL seasons
Colin Wilson has officially announced his retirement from the National Hockey League (NHL) today following 11 NHL seasons and 632 regular-season games.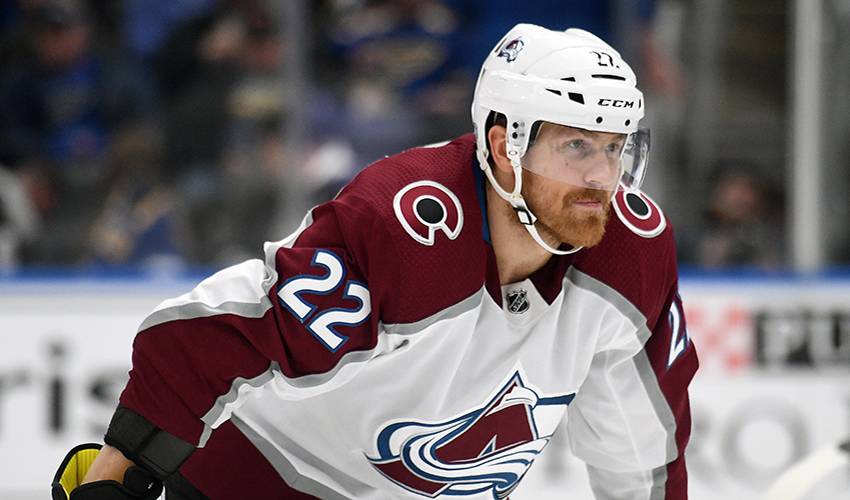 Feature photo: Getty Images
---

COLIN WILSON ANNOUNCES RETIREMENT AFTER 11 NHL SEASONS
…First round pick from 2008 NHL Draft played for Nashville and Colorado
TORONTO (Jan. 5, 2021) – Colin Wilson has officially announced his retirement from the National Hockey League (NHL) today following 11 NHL seasons and 632 regular-season games.
Born in Greenwich, Connecticut, and raised in Winnipeg, Manitoba, Wilson was drafted seventh overall by the Nashville Predators in the 2008 NHL Draft. The 6-foot-1, 215-pound forward played for two NHL franchises – the Predators and the Colorado Avalanche. Always a reliable contributor to each of his teams, Wilson recorded 286 regular-season points (113-173–286) along with 33 points (17-16–33) in 65 playoff games. His playing career was truncated last season after he underwent double hip surgery in December 2019.
"At this time, I am left to reflect on the 8-year-old kid from Winnipeg who couldn't be dragged off a pond or outdoor rink. I can only imagine his excitement in learning of his career he would have in the NHL. I would like to thank the game of hockey for the incredible experiences and amazing people I was exposed to along my path. It is very bittersweet to retire as I leave my childhood passion behind but look forward to what comes next," said Colin Wilson.
Prior to reaching the NHL, he was already an accomplished player. Wilson's strong play for the U.S. National Team Development Program over two seasons was immediately followed by two stand-out years at Boston University where he recorded 90 points in 80 games. In 2008-09, he was named the USA Hockey College Player of the Year as he topped off his college career by helping the Terriers win the national championship while also being named to the 2009 Frozen Four All-Tournament Team.
Wilson made his NHL debut Oct. 12, 2009 with Nashville, following his father, Carey, and grandfather, Jerry, to become a third generation NHL player. Less than two weeks later he scored his first goal, Oct. 21 at Boston, and he recorded his first playoff point April 26 in Game 6 of the Predators' first round series against Chicago. Wilson scored 16 goals, 34 points and played in all 82 games in 2010-11 – his first full NHL season. He followed up that season with 15 goals and 35 points, and he tied for second on the team in game-winning goals (5), helping the Predators qualify for the playoffs for the third straight season. Wilson enjoyed a strong start to the lockout-shortened 2012-13 season when he scored 19 points in 25 games before shoulder surgery ended his season. After recording 33 points in 81 games in 2013-14, Wilson set career-high marks in goals (20) and points (42) in 2014-15, and he placed third on the team in game-winning goals (5), while helping Nashville return to the playoffs after a two-season absence.
He enjoyed his most productive postseason in 2016 when he led the Predators in points (13) and tied for the lead in assists (8) over 14 games, which included a seven-game point streak – setting a mark that remains tied for the franchise-record. Wilson recorded a career-best in assists (23) in 2016-17 prior to playing in 14 playoff games as a part of the Predators' playoff run to the Stanley Cup Final.
During his eight seasons in Nashville, Wilson was relied upon as a mainstay in the Predators' lineup. From 2009-10 through 2016-17, Wilson played in the second-most games (502), third-most playoff games (47), recorded the third-most assists (142), tied for third in points (237), scored the fifth-most power-play goals (22) and the second-most game-winning goals (19) on the team. He remains tied for 11th in franchise history among all skaters in games played.
Wilson was traded to the Avalanche July 1, 2017. He helped Colorado reach the playoffs in each of his first two seasons – including the 2019 playoffs when he recorded four goals and four assists over 12 games. This past season, 2019-20, Wilson's health permitted him to play in only nine games with Colorado before undergoing surgery, which would ultimately end his career.
Internationally, Wilson has represented the United States twice at the World Junior Championships (2008, 2009) as well as once at the World Championship (2009) where he was the sole college player on the team's roster. He tied for the overall lead in goals (6) at the 2008 World Junior Championship, and the subsequent year he was named Team USA's most outstanding player.
As a player, Wilson was actively involved in the NHLPA. He served as a Player Representative for three years while he played in Nashville.
Wilson resides in Brooklyn, New York, with his girlfriend.