Emersyn Slavin leading offseason Storm Surge
The 2020-21 NHL season hasn't even started, but there's a Carolina Hurricanes Storm Surge favourite that's already in the lead.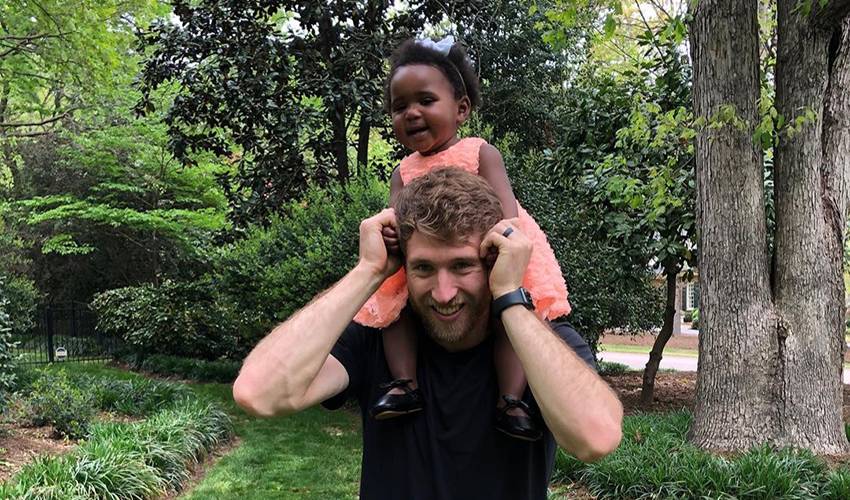 Feature photo: IG / @jslavin74
---
It was the celly and laugh heard (and seen) around the Internet.
Emersyn Slavin, daughter of Carolina Hurricanes defenceman Jaccob Slavin and his wife Kylie, is garnering plenty of attention – and likes – for a video her father recently shared.
After netting a floor hockey goal, Emersyn topped off her tally with a top-shelf celebration as her proud parents looked on. Her dad showed off some sweet moves of his own, showcasing some slick stickhandling skills for a goal of his own, shouting an enthusiastic "Yes!" followed by a fist pump.
The 26-year-old's efforts were rewarded with a big laugh from Emmy, who then emulated her dad in both words and action.
"She doesn't understand that her dad doesn't score that many goals, so I think she has more practice with her celebrations in her year-and-a-half than I do over my whole career," deadpanned Jaccob.
Which is why the blueliner with 377 games of NHL experience might start taking notes ahead of puck drop on the upcoming season.
"I should probably pick up a couple of tips from her. She definitely knows her celly game's strong."
What Emersyn hasn't figured out, at least not yet, is her growing popularity on social media.
She does, however, take great delight in seeing herself in action.
"Emmy watches herself on video, but she doesn't how big it is yet," said Jaccob. "We watch it at least two to three times a day, and pretty much every night before we go to bed. It's the last thing we see before we turn everything off. There are plenty of other videos of her. Most people look at that video and think, 'Oh, man… she's so fun.' But that's her 24/7, honestly."
Needless to say, mom and dad never grow weary of their one-and-a-half-year-old's on- and off-screen charisma.
There are many others that feel the same way.
Wherever she happens to be, Emersyn manages to leave a lasting impression, including on the staff at a local grocery store.
"She says 'Love you' to almost everybody," offered Kylie. "Any time we as a family say goodbye to another, no matter who it is, we say 'Bye… love you.' So, it could be someone working at a grocery store and if we tell Emersyn to say goodbye, she'll say, 'Bye… love you.' And at that point, they don't really know to do with that. She's just very loving."
For her proud parents, having time to spend together as a family over the past few months has been a blessing.
Although he can't wait to get back on the ice with his Carolina teammates, the pandemic has provided an unexpected and welcome opportunity for Jaccob to do more things with Kylie and Emersyn.
You can include a recent trip to a live nativity scene as one of the cherished moments.
"It's given me the chance to enjoy the family life a little bit more," said Jaccob. "It's probably the only time in my career that I will have had an opportunity like this. Typically, during normal circumstances, we're back home with either my family or my wife's family. They're in different towns so we've been alternating the years for Christmas.
"We're doing some advent things for Christmas, just making sure our hearts are in the right place with the meaning of Christmas. We've had our Christmas tree up since Halloween night. I've come to terms with the fact that she'd like the tree up all year. Really, it's just all about spending that time together, no matter what we're doing."
"It's such a fun age for Jaccob to be able to see Emmy day-to-day," added Kylie. "With the nativity scene, I would have had to go by myself with her, and he would have to watch it through a video later on. So, it's been really wonderful to have this time together."
Fans of Emersyn will be glad to know some new material emerged from that family outing.
And it's gold.
"We walked there and stayed for 15 minutes and Emersyn was just in awe because they had a camel there," Jaccob started. "She called it a 'hump hump horsey.' There was also a cow and a donkey, and she was making all the animal noises. We had a video of our night there and every time Emersyn sees it, she will say, 'hump hump horsey.' She wants to see the video of that. We thought would she probably tell her it's a camel, but it's too cute right now."
The reaction across social media to her celly video certainly caught her parents off guard.
As for what for Jaccob will share next, fans will have to continue to monitor his Instagram page.
Whenever and whatever it is, it's sure to generate some much-needed smiles at this time of the year.
"I don't think we realized how great her laugh is," said Kylie. "You see all these cute babies online who have great giggles, and I just thought that was all babies. People will comment on her laugh all the time. After that video blew up, I realized she has one of those laughs that just makes everyone else laugh."
Dad included.
"You never get tired of that," said Jaccob. "It makes my wife crack up every time. I think it's my wife's fault though because it's so easy for her to laugh, and Emersyn can make her laugh with just about anything. As parents, it makes those little moments fun. For lack of a better term, it warms your heart."
And lights up social media.